Shooting of Oregon occupier LaVoy Finicum justified - prosecutor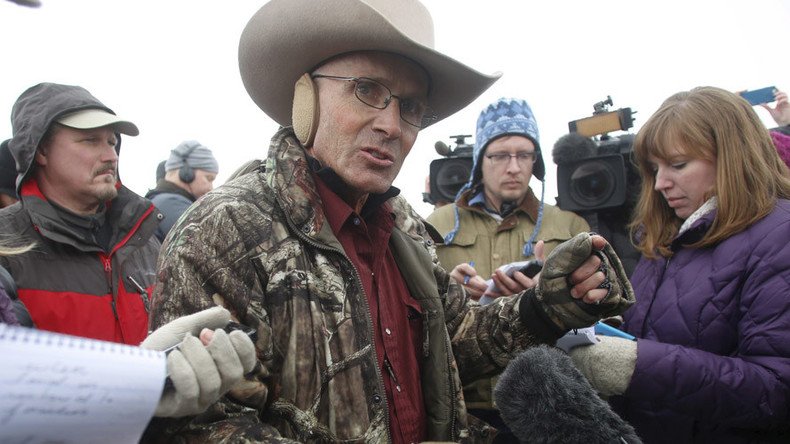 The Oregon state trooper who shot and killed Robert 'LaVoy' Fincium, one of the leaders of the armed occupation of the Malheur Wildlife National Refuge, was cleared of any wrongdoing by prosecutors.
Finicum was killed January 26 when a convoy headed from the refuge to a community meeting was met by FBI and state troopers. Late Tuesday, the Deschutes County Sheriff's Office released a synced video used during the investigation.
Two troopers shot Finicum in the back a total of three times, one of which pierced his heart, the Oregonian reported. A prosecutor ruled the shooting was legally justified, noting that Oregon state law allows the use of deadly force when officers believe that a person is likely to seriously injure or kill someone else.
Finicum had a loaded handgun in his pocket at the time of the encounter with law enforcement and kept moving his hands towards that pocket. There was an Oregon trooper in front of the 54-year-old, the prosecutor said.
"All six shots fired by the Oregon State Police, the three into the truck and the three that struck Mr. Finicum, are justified," said Malheur County District Attorney Dan Norris in a prepared statement. He noted that the shots were "in fact, necessary."
However, the US Department of Justice is investigating an unnamed FBI agent who fired twice at the Arizona rancher, but didn't report the shots. The four other members of the agent's Hostage Rescue Team, an elite FBI unit, are also under criminal investigation for potentially helping the shooter cover up the shooting. Neither of the bullets struck Finicum.
The revelation was part of the release of the findings by a team of local investigators, according to the Oregonian.
READ MORE: Oregon standoff: Militia member loses foster kids, blames 'pressure from the feds'
In February, Finicum's family said that he was "executed in cold blood," and accused law enforcement of deliberately misleading the public about the events in late January. Three days after his death, the FBI released video of the shooting.
The Oregon State Police and the FBI planned the peaceful arrest of the occupiers for days, investigators said, adding that they plan to release police reports, interview transcripts, photographs, the autopsy report and new video to allow the public to evaluate their findings in Finicum's death.
You can share this story on social media: