Oregon standoff: Militia member loses foster kids, blames 'pressure from the feds'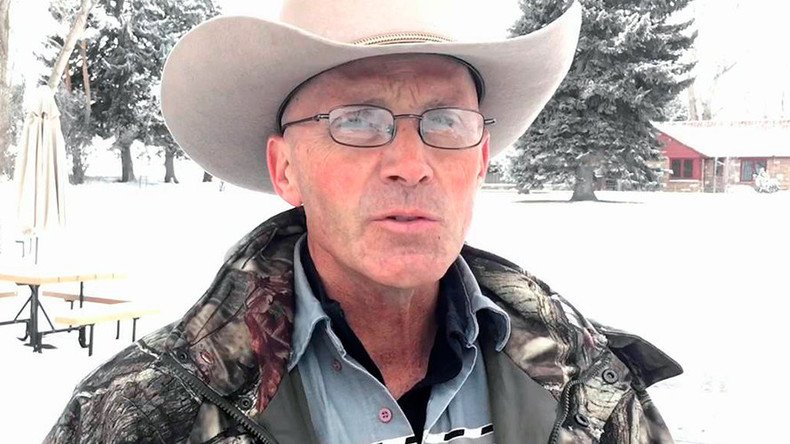 One of the most visible members of the armed militia that took over a wildlife refuge in Oregon says his four foster sons were taken away due to his involvement in the standoff, and he blames the federal government who "must have gotten to the governor."
Robert "LaVoy" Finicum and his wife Jeanette have fostered more than 50 boys over the last decade at their ranch near Chino Valley, Arizona. The couple is licensed and has a care contract with the Catholic Charities Community Services. Many of the children came from mental hospitals, drug rehabs and group homes for emotionally distressed youth, he told Oregon Public Broadcasting (OPB).
"My ranch has been a great tool for these boys," Finicum said. "It has done a lot of good."
He traveled to Oregon to take part in the takeover of the Malheur National Wildlife Refuge at the beginning of January, leaving Jeanette to care for the four boys. But now the Finicums have no more fosters to care for.
A social worker began removing the last four of the family's foster kids on January 4, the fourth day of the Oregon standoff. The last left five days later, he said.
"They didn't go out at the same time," Finicum said. "One was there for a year, one of the boys was there six months, another eight months, and a month. I don't know where they ended up."
He blamed the kids' removals on "pressure from the feds."
"They were ripped from my wife," Finicum said. "We are very successful [foster parents]. Our track records are good, it's been a good relationship. [Federal authorities] must have gotten to the governor, who told the state to get them out of there."
A 2010 tax filing showed that Catholic Charities paid the Finicums $115,343 to foster children in 2009, OPB reported. That year, foster parents in Arizona were compensated between $22.31 and $37.49 per child, per day. If the couple was paid the maximum rate, they would have cared for an average of eight children a day in 2009.
"That was my main source of income," Finicum said. "My ranch, well, the cows just cover the costs of the ranch. If this means rice and beans for the next few years, so be it. We're going to stay the course."
The last year for which Catholic Charities itemized the amount it paid the Finicums is 2009. However, the organization has significantly increased its foster-care payments since that time, according to OPB.
Critics point out, however, that by helping the Bundy brothers take over federal property in Oregon, he could potentially be arrested for committing crimes.
"[H]aving one parent away from the home for a significant period of time committing a number of high profile federal crimes would seem like at least a plausible reason to remove the children," Josh Marshall wrote for the Talking Points Memo Editor's Blog. "This doesn't seem to occur to Finicum."
Another militia member, Blaine Cooper, also said that his children were taken from him in a video posted to Facebook on Saturday. The video was apparently removed later.
SHARE BREAKING UPDATE BURNS OREGON! FBI AND CPS KIDNAPS BLAINE COOPER'S KIDS! DONALD CAN YOU HELP? Brooke Agresta Brandon Curtiss Chris Trinka Eric Ej Parker

Posted by Blaine Cooper on Saturday, January 16, 2016
Cooper believes the FBI and Child Protective Services "are doing this to draw me out but they will fail horribly," he wrote in a Facebook comment shared by All Your Based. Are Ours.
Finicum hopes that he will be able to foster again, as his license has not be revoked. However, he said, the couple is no longer receiving referrals to care for children. Finicum believes the loss of his four foster kids was a sacrifice worth making for the cause.
"I hope people are seeing the sacrifices we're making here," Finicum said. "I want to show what my government is doing. You need to understand the cost being paid by many people."
Last week, Finicum and militia leader Ryan Bundy traveled to Utah to meet with county officials in the Beehive State who are reportedly eager to start a similar standoff with federal authorities over public land management, he told OPB.
Iron County, Utah Commissioner David Miller says he & others met w/ LaVoy Finicum on 1/13 recruitment trip to Cedar City. #Oregonstandoff

— Chris Zinda (@chris_zinda) January 18, 2016
"We went fast, and came back fast," said Finicum. "I doubt [law enforcement] even knew we were gone. Probably they did. But they were nice enough to let us go and come back."
The two returned to the Malheur Refuge by Friday, when Finicum reportedly took down a surveillance camera atop an electric pole that was suspected to be operated by the FBI. The Arizona rancher has served as a spokesman of sorts for the group.
You can share this story on social media: