'We may be breaking codes, but not supreme law of the land' - Bundy (EXCLUSIVE)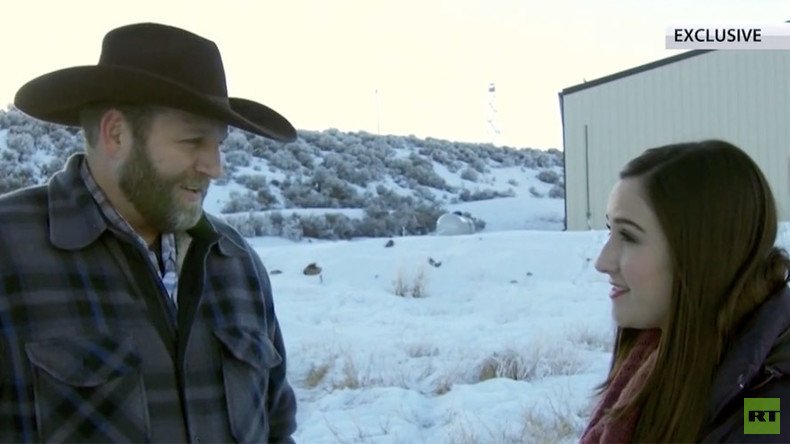 On the 10th day of an armed standoff on federal property near Burns, Oregon, the leader of a rancher militia, Ammon Bundy, said he and his supporters "are breaking codes and regulations, but we are not breaking the supreme law of the land."
RT's Simone Del Rosario took a tour around the Malheur National Wildlife Preserve with Bundy, who led militia members and anti-government activists in a takeover on January 2. They believe that the federal ownership of the land is unconstitutional and that it should belong to the local community.
"The laws on the books that are not constitutional, they are so tremendous, there are so many of them that every day you and I are breaking them and that's part of the problem," Bundy said. "Government has got to the point when they think they can make laws on anything."
Bundy says that people are left with the choice of either obeying the government-imposed codes or making the government follow the US Constitution.
His group, which came up with the name "Citizens for Constitutional Freedom" (CCF) after repeated media queries, is not lacking in resources, despite what some have assumed. There are offices, bunkhouses, workshops and a mess hall stocked with plenty of food.
One conference room, where CCF meets with locals or the militia-aligned "Committee of Safety," is also used for storing federal government documents. Bundy admits to poring over files detailing how the feds interact with each other as well as neighboring ranchers.
"We always put everything back in where they're supposed to go, but we're definitely looking through and seeking for different things, like, you know, how did they take so-and-so's water rights away and kind of what their perception of those things are," Bundy said.
The group has also made use of the federal government's, or as Bundy would have it, "the people's" heavy-duty farm machinery. In one case, they drove a Caterpillar loader to a fence separating federal land from private property, then they knocked down the fence to open up more grazing space for a neighbor rancher's cattle.
"It's been used against them for so long, and now we're going to use it for their benefit," Bundy said. "For example, they go out and they use this equipment to build fences, and it cuts out their ranch, and so they can't use it anymore."
While it is not clear exactly how many people are occupying the federal grounds, the passion of many is undeniable. James Stanton, a disabled and retired Navy diver from Ft. Sumner, New Mexico, arrived with a heartfelt gift for Bundy. Stanton's old Navy uniform jacket symbolizes his past military service, and was dedicated to Bundy.
For Bundy, it's an example of "what's happening across the country."
"I don't think people would be here if they did not see that there is truly a problem, and that if they did not have hope that we could resolve it, and that's what we're doing here," Bundy said.
The activists, many of whom are not from Oregon, claim that they are standing up for a pair of local ranchers who are serving a five-year prison sentence for what they deem to be trumped-up charges.
Dwight Hammond and his son Steve were charged under the Anti-Terrorism and Effective Death Penalty Act for a couple of fires they set on their own property, but which reached federal land. The first was in 2001 and was put out by the Hammonds, but the second, in 2006, was put out by federal firefighters. The judge that sentenced them ignored the mandatory minimum provisions of the law and sentenced Dwight to three months in jail, while Steve received a year and a day. However, they were forced back to jail after serving those sentences when federal prosecutors successfully appealed for the mandatory minimum sentence of five years for each man.
The militia activists are also unhappy with the way the government manages the land in the area, saying it leaves little for local ranchers.
You can share this story on social media: