Oregon militia tears down gov't fence, wants ranchers released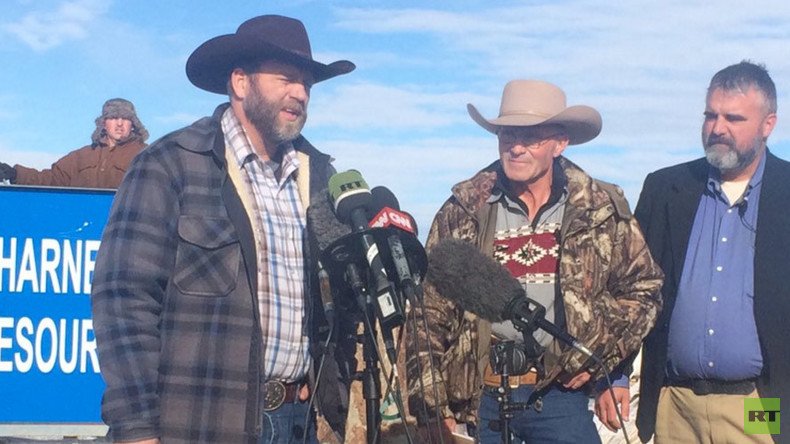 Armed men occupying Malheur National Wildlife Refuge in Oregon are tearing down part of a fence erected by the government to keep ranchers out of federally owned property.
The escalation comes 10 days into the standoff at the fowl sanctuary south of Burns, Oregon. Ammon and Ryan Bundy, who head the group occupying the refuge, announced they would be tearing down the portion of the fence and replacing it with a gate, to allow local ranchers access to pastures.
The Bundy brothers also said they would not end the occupation until Dwight and Steven Hammond, the two ranchers recently imprisoned by the government, are set free. The Hammonds were prosecuted by the government under a terrorism statute, over fires set on their property that damaged 140 acres of federally owned land. Government prosecutors insisted on a five-year mandatory minimum sentence.
Following a peaceful protest in Burns on January 2, the Bundys and their fellow militia members seized the empty building at Malheur. The group has been camped at the refuge ever since, calling for the government to abide by its own rules and stop the heavy-handed treatment of the ranchers. Their father, Nevada rancher Cliven Bundy, successfully faced down federal agents in 2014 in a dispute over grazing fees and land use.
The militia insists they are taking the land back on behalf of the locals. While initially sympathetic to the stunt that highlighted their difficulties, Harney County residents called on the militia to leave peacefully, following a town meeting on Friday. Harney County Sheriff David Ward likewise asked the militia to depart the refuge, but was rebuffed.
On Saturday, the brothers' mother Carol Bundy sent out a call for more supplies, including sleeping bags, toiletries, food, coffee and cigarettes, suggesting that the group was preparing to stay for the long haul.
READ MORE: Oregon refuge occupiers dismiss armed supporters, start negotiating with FBI
Later that day, a convoy of almost 20 vehicles brought in rifle-armed volunteers from the Pacific Patriot Network, but the Bundys turned them away. Fellow rancher LaVoy Finicum said that while the PPN's help was appreciated, "we want the long guns put away."
State lawmaker Dallas Heard (R-Roseburg) and several of his colleagues from Washington and Idaho also visited the refuge over the weekend. There were also reports that Nevada state lawmaker Michele Fiore called in. She famously backed the Bundys during their 2014 standoff with armed agents of the Bureau of Land Management.
Cliff Bentz, the Republican lawmaker whose district includes Harney County, called the visit by Heard and his colleagues "inappropriate," according to The Oregonian.
You can share this story on social media: