New Orleans cops plead guilty to shooting Katrina survivors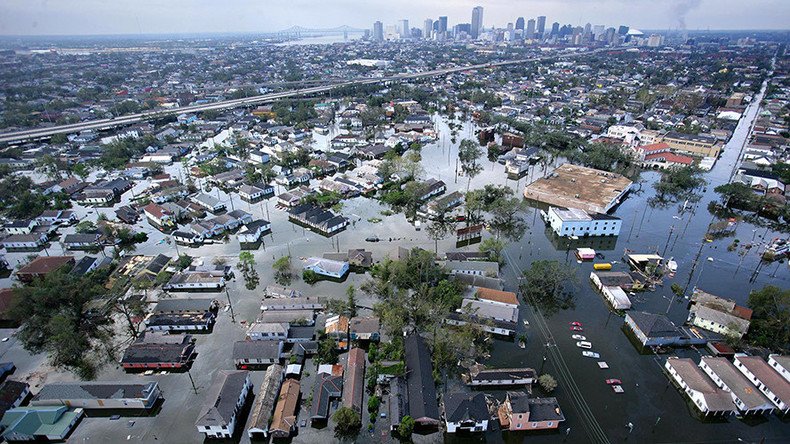 Five former New Orleans police officers have pleaded guilty to the shooting of six unarmed civilians who were crossing Danziger Bridge in the wake of Hurricane Katrina.
The guilty pleas have come more than a decade after the shootings, which killed two people - a mentally disabled man and a teenager - and seriously injured four others.
The defendants also pleaded guilty for their roles in what the US Justice Department termed "an extensive cover-up of the shooting".
The victims were among a group of black families and friends crossing the bridge in search of food and relatives in the aftermath of Hurricane Katrina on September 4, 2005.
Initial police accounts from the incident claimed the officers were responding to reports of gunshots on the bridge, resulting in the pursuit of six suspects. The officers involved claimed they opened fire in self-defense.
Sgt. Kenneth Bowen, Sgt. Robert Gisevius, Officer Anthony Villavaso, Officer Robert Faulcon, and detective Arthur Kaufman - who was assigned to investigate the shooting - were initially indicted in 2007.
Convicted in 2011, the officers were sentenced to terms ranging from 38 to 65 years while Detective Kaufman was sentenced to six years.
A new trial was ordered, however, after a federal judge ruled prosecutors had engaged in "grotesque" ethical misconduct.
READ MORE:Danziger Bridge convictions overturned, ex-cops granted new trial over online slander
All five officers were handed down reduced sentences on Wednesday, ranging from three to 12 years. They will get credit for time already served.
Sherrell Johnson, the mother of teenage victim James Brisette, said she felt some degree of closure through the trial.
"I finally got what I wanted, someone confessed," she told The Times-Picayune.
"I pray that no family will ever have to go through this, what we have gone through," said Lance Madison, the brother of the 40-year-old, mentally disabled, victim Ronald Madison.
US attorney Kenneth Polite noted "while an imperfect resolution, today's proceeding ensures that these defendants are held accountable for their criminal actions."
"Those of us who continue to serve as prosecutors must embrace the lessons learned from this Danziger case," he added.
The Mayor of New Orleans, Mitch Landrieu, took to Twitter to show his support for the victims and their families.
We remember the victims of Danziger Bridge, pray for their families & reaffirm our commitment because too much is at stake.

— Mitch Landrieu (@MayorLandrieu) April 20, 2016
Police misconduct &abuse will not be tolerated. Today we're implementing a sweeping #NOPD consent decree to ensure constitutional policing.

— Mitch Landrieu (@MayorLandrieu) April 20, 2016
You can share this story on social media: