Grab some tissues: Heartwarming stories of 2015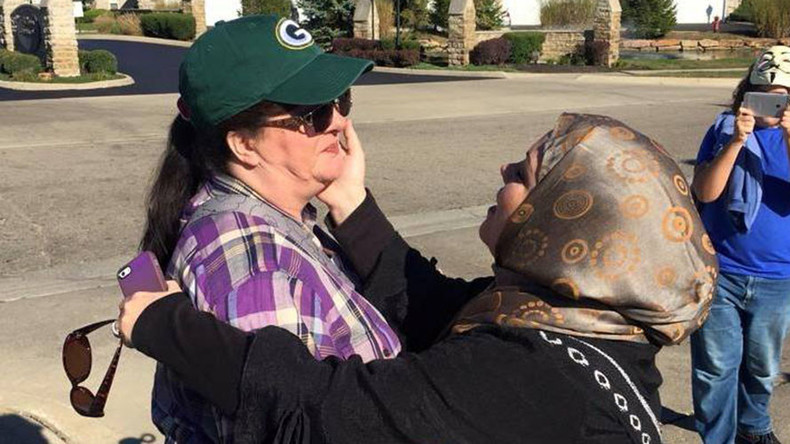 From cops delivering babies to the granting of dying wishes, there were many stories that melted hearts in 2015. We've chosen 15 that restored our faith in humanity… and a few more, because we couldn't forget about man's best friend while we were at it.
Dashcam records Seattle cop delivering baby in backseat of car
When a Seattle police officer pulled over a car in August for running red lights and speeding, he had no idea what lay in store for him. The routine stop turned into a beautiful moment, with the cop delivering a healthy baby girl in the backseat ‒ and it was all captured on video, thanks to his dashcam.
'Quiet hero': Photo of cop feeding baby after mom's seizure melts hearts online
Another policeman, this one in Kansas, also was captured on camera in the midst of a heartwarming moment. Officer Andy Black was working off-duty at a mall in May when he responded to a call about a woman having a seizure. While she recovered and her husband talked to the paramedics, Black's grandfatherly intuition kicked in, and he fed their baby.
PLEASE SHARE !!!!!I just had to stop, chat and ask if I may take his photo....Paramedics were helping this little...

Posted by Jilli Nel on Sunday, May 31, 2015
Grandmother hears anti-Muslim rhetoric, brings Muslim doctor heartwarming gift
Grandmotherly intuition kicked in for a 91-year-old Mormon woman in Idaho in mid-December, in the wake of the San Bernardino and Paris terror attacks this fall. With Islamophobic acts and rhetoric on the rise, the woman, nicknamed "Grandma Louie," decided to give shower her Muslim doctor with gifts of stuffed animals she had crocheted.
#Hugsmatter: 'Hardcore' anti-Islam protester puts down banners after hug from Muslim
One Islamophobe's mind was changed after a show of love from a Muslim woman in Ohio in October. An anti-Islamic woman was the lone person to arrive at a protest near a mosque, where she was surrounded by counter-protesters who tried to prove her wrong. The situation was becoming more and more tense until Cynthia Eugenia Cox de Boutinkhar, a Muslim, asked the protester, identified only as Annie, if she could hug her. After embracing, the two women then entered the mosque, where they were greeted with cheers.
Muslim groups fundraise to restore black churches, 'support victims of arson'
Muslims haven't been the only group under attack this year. In the wake of a race-related shooting at a historic black church in Charleston, South Carolina, eight similar places of worship burned down; several of the fires were believed to be arson. In response, Muslim organizations raised thousands of dollars to rebuild the churches during the holy month of Ramadan. The groups touted the connections between the Muslim and African-American communities in the US.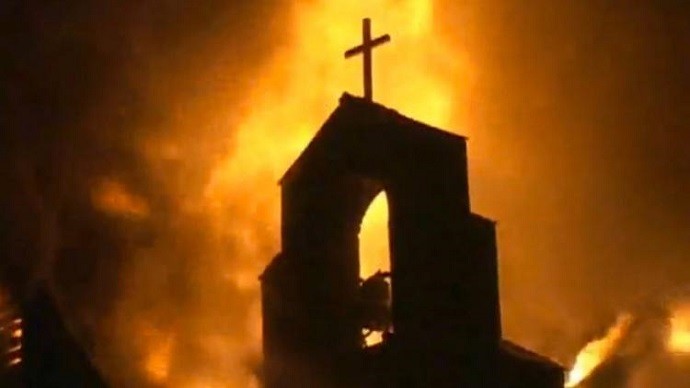 Homeless Florida 'piano man' crowdfund raises thousands in just 1 day
Another fundraiser took in thousands of dollars in 2015, this time for a homeless man in Florida who plays the piano in downtown Sarasota. Video of Donald Gould, 51, a former Marine who's been homeless for nearly seven years, performing 'Come Sail Away' by Styx went viral in early July. Blown away by Gould's street performance, locals volunteered to help him by launching a GoFundMe campaign, which raised more than $12,000 from 536 people in one day.
Portlandia: Student melts hearts, warms those in need
Further north, a different type of fundraiser for the homeless warmed hearts… and bodies. As temperatures began dropping this winter, a student decided to tape heavy jackets to lampposts in downtown Portland, Maine for any homeless people feeling the cold. Gabby Kaper, 20, spent just $5 on chunky coats at a thrift shop before wrapping them around streetlights along with the message: "I am not lost! Please take me if you need me."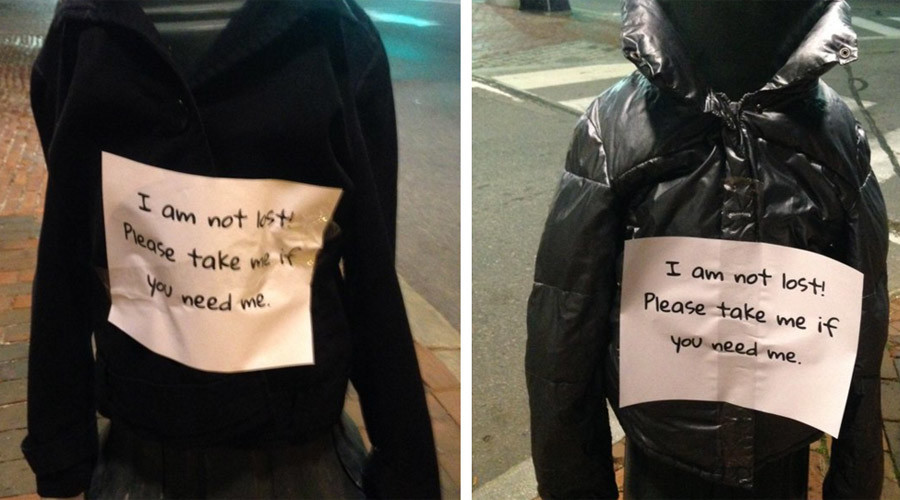 Pic of Chicago cop buying meal for homeless man wows social media
In Illinois, a homeless man was also helped by the deeds of a Good Samaritan, this time by a Chicago police officer. District Town Hall Sergeant B. Hagarty was finishing his lunch in a fast-food restaurant in the Windy City in September when he noticed a homeless man digging through the trash outside. The 35-year veteran of the police force asked the man if he was hungry. When the latter nodded 'yes', the officer motioned him to come inside. Hagarty then paid for the man's meal. At the end, the two shook hands "like it was no big deal."
'He's like a friend to me': Cop spends own money on hotel, shoes, food for homeless family
An Ohio police officer went even further later in September, paying for more than just a meal for one person: He also rented a hotel room for a homeless woman who had just been evicted from her home and bought shoes for her two sons with his own money. When Deputy Brian Bussell arrived to work Sunday morning and discovered that the threesome had slept in the lobby of the Butler County Sheriff's Office, he immediately booked a hotel room room for them. Then he took the family shopping at Walmart, where the boys got new clothes, toiletries and snacks. When they asked if they could get shoes, Bussell accommodated them. He even gave them money out of his own wallet.
Viral video shows Illinois officer helping mentally disabled woman
In Illinois, a police officer touched hearts across social media by helping a mentally disabled woman get home. The Bloomingdale Police Department had responded to a call that the 21-year-old had wandered away. Officer Michael Giovenco discovered the woman walking along a roadway, and held her hand as he guided her home.
'We help people regardless of skin color, nationality or beliefs': Black cop who helped KKK man
One cop went above and beyond to help a man many people would have thought he'd have ignored: A black police officer in Columbia, South Carolina assisted a member of the Ku Klux Klan who was suffering from heat-related illnesses at a KKK rally in favor of the Confederate flag being flown on the state capitol grounds. "Our men and women in uniform are on the front lines every day helping people – regardless of the person's skin color, nationality or beliefs," the officer, Leroy Smith, said. "As law enforcement officers, service is at the heart of what we do."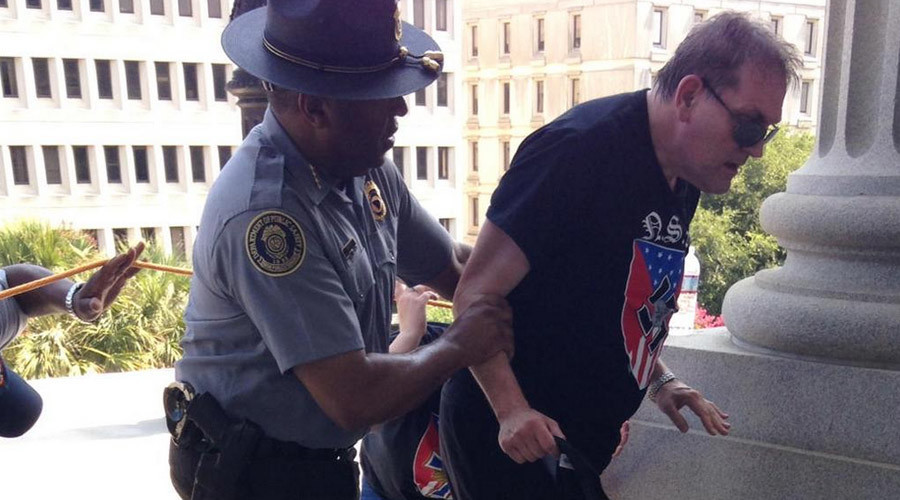 Dance power: DC cop and teen turn confrontation into dance-off
In the nation's capital, a police officer handled an interaction that could quickly have turned confrontational in an unexpected way: She did the 'Nae Nae'. A group of teens were fighting when the officer approached. One of the teens challenged her to a dance off. The cop agreed, and said that if her opponent won, the group could stay where they were, but if she won, they would have to leave. Each side claimed they were the winners of the dance off and hugged each other before everyone left the area
So basically I was trynna get to this girl but the police told me to go home so we made this deal if i win u leave but if u win I step andddddd she step 󾰴✌🏽️

Posted by Adore Liyah on Tuesday, October 27, 2015
Marine surprises little brother after being away for 6 months
An 11-year-old named Tyler had an unexpected experience of his own when he was on his way to the movies. Instead, his older brother Nick emerged from the door behind him for a surprising reunion. Nick is a Marine who had been away for six months. For Tyler ‒ and everyone who watched the video of his reaction ‒ brotherly love was way more important than any movie.
'I believe in love now': Video of 92yo man singing to dying wife goes viral
The importance of a different kind of love came across in another video, that of a 92-year-old man singing to his wife of 73 years in a hospice facility. In order to support his soul mate as she lay dying, Howard performed their favorite song, 'You'll Never Know', a tune that Laura took comfort in while he was fighting in the World War ll. Viewers commented that the 'sad and beautiful" footage made them believe in love.
#ForceforDaniel: Star Wars fan who saw special 'The Force Awakens' screening dies peacefully
A man in Texas received his dying wish, thanks to a hashtag that reached a galaxy far, far away. Daniel Fleetwood, a 32-year-old Texan, suffered from a rare and aggressive form of connective soft tissue cancer. When doctors told him he had only a month or two left to live this fall, he knew he would not survive to see the release of Episode 7 in theaters in mid-December. So he asked Disney and Lucasfilm if he could preview 'The Force Awakens' before his death. Days before he passed, Fleetwood's dream came true in his home.
Of course, as we promised, we couldn't leave man's best friend languishing in the dog days. Here are some animal acts that will warm the cockles of even the most frozen hearts.
Aww-inspiring: Dog watched over trapped canine pal for a week until help came
When two "inseparable" dogs went missing together in September, one of them ‒ Phoebe, a basset hound ‒ fell into a cistern. Her pal Tillie, a reddish setter mix, refused to let her languish there alone. For nearly a week, Tillie stayed close to Phoebe, leaving for no more than 10 minutes each day to seek help and then run back to her friend. Rescue came after a local resident spotted Tillie on his property and called for a search party. The pair of pups was found together, with Tillie lying above the concrete rubble that trapped Phoebe.
Heartbreaking pic of 2 hugging dogs saves them from being euthanized in US animal shelter
Puppy love also saved the lives of two dogs that were set to be euthanized in northern Georgia. A rescue group posted a Facebook photo of Kala, a brown hound mix, hugging Kiera, a black boxer mix, in a last-ditch effort to get the pair adopted. Just two hours and six minutes later, an adopter was found thanks to the hug seen 'round the world.
A hero's welcome for the last remaining search-and-rescue dog from 9/11
Another dog was feted for her role as a search-and-rescue canine at the World Trade Center in the days and weeks after the 9/11 terrorist attacks. Bretagne, a 16-year-old golden retriever, is believed to be the last remaining dog that had been tasked with sniffing out survivors among the rubble at Ground Zero. In August, she and her handler returned to New York City to celebrate her birthday, where Bretagne was treated to a hero's welcome, complete with a stay in a luxury hotel, a Times Square billboard dedicated to her and treats galore.