'I believe in love now': Video of 92yo man singing to dying wife goes viral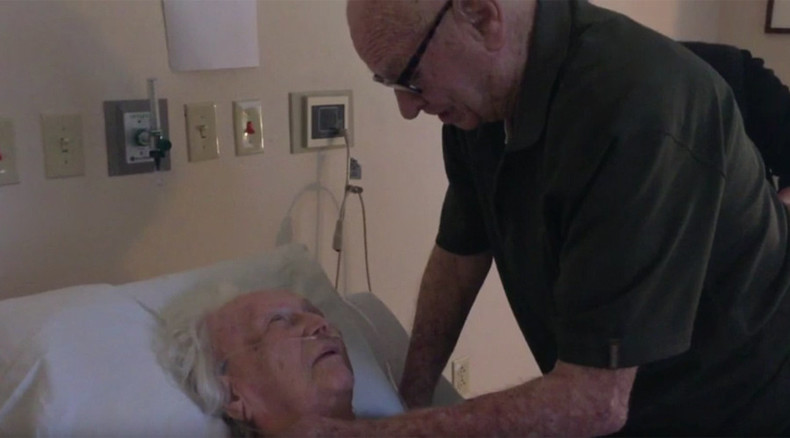 A video of an elderly man singing the song 'You'll Never Know' to his dying wife, has gone viral, with viewers commenting that the 'sad and beautiful' footage made them believe in love.
Howard, who is 92 years-old visited his spouse Laura, who is 93, in a hospice facility where she was "making peace with her final days."
The couple, who have been married for 73 years, have managed to show their love and affection for one another throughout their lives.
In order to support his soul mate, Howard performed their favorite song, which Laura took comfort in while he was fighting in the World War ll.
The heartwarming moment was captured on camera by their granddaughter, Erin Solari, who posted the video online.
Howard was held by his relatives as he is unable to stand unaided, while Laura "is now too weak to sing, but that doesn't stop her from saying the words to him," Solari wrote in a description to the video on YouTube.
Her grandfather has also lost most of his hearing – so performing a song was true feat for him, while his wife suffers from macular degeneration and can only see shadows and light, she added.
The man sang 'You'll Never Know,' which was from the 1943 movie 'Hello, Frisco, Hello' and won an Oscar that year.
Originally performed by Alice Faye, it was later recorded by numerous artists, including Frank Sinatra and Dick Haymes.
The version of the song used in the video was performed by Rosemary Clooney with Harry James (1952).
"Our family prefers this version because everyone always said Grandma had a voice just like Rosemary Clooney," Solari wrote.
She says when Howard and Laura renewed their wows after fifty years of marriage, they performed "You'll Never Know" as a duet at the family reception.
READ MORE: Tenor performs Schubert during brain tumor surgery (VIDEO)
Since the video was posted, there has been a slight improvement in the Laura's health as "all the outpouring of love lifted everyone's spirits... including Grandma's," Solari wrote.
Her grandmother, who was initially given a week to live, was released from hospice "to go back home to live out her remaining few days," she added.
The commentators online called Howard and Laura an example for themselves, praising their love and the people from the "Great Generation."
"Such a sad and a beautiful video at the same time. We all must die someday, but love never dies. They will be together forever," a commentator wrote on YouTube.
While another person confessed to shedding a lot of tears over the clip, adding that he "started to believe in love now."