Tenor performs Schubert during brain tumor surgery (VIDEO)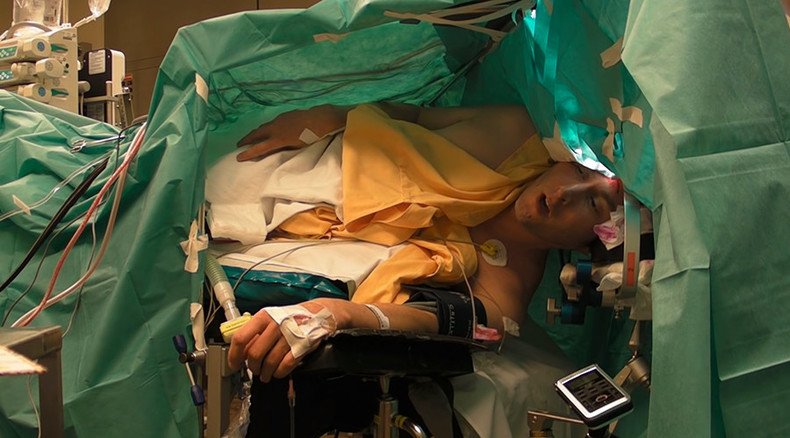 An opera singer from Slovenia was performing Schubert while undergoing a brain cancer surgery in a Dutch clinic, later posting the video from the operating room online.
The doctors at the University Medical Center Utrecht asked Ambroz Bajec-Lapajne to sing in order to monitor his ability to vocalize and recognize the key change during the brain tumor surgery.
The tenor opted for 'Gute Nacht' (Good Night) by Austrian 19th century composer, Franz Peter Schubert, performing the opening and the final couplets from the song.
The doctors were clearly impressed by the young man's talent.
In the most dramatic moment of the video, Bajec-Lapajne stopped singing and appeared to be drifting away, but the tenor was able to restart his song from the beginning after a short break.
"I'm just a singer and tenor at that… I believe he rewired my brain for a while and that was the result. I could not control my tongue anymore and could not stop phonating. It was a very weird feeling," the singer is cited by UPI.
An awake craniotomy was performed on Bajec-Lapajne in order to tackle GMB or Glioblastoma multiforme.
CREAD MORE: Cellphones, wireless devices connected to cancer - study
GBM is the most common and most aggressive malignant primary brain tumor, which involves glial cells and accounts for over a half of functional tissue brain tumor cases.
About 50 percent of the patients diagnosed with the disease die within one year, while 90 percent within three years.
Bajec-Lapajne's operation took place on June 13, 2014 and went well.
"It's been more than a year since and I'm doing fine, continuing my professional singing career," he wrote in the description to the video.
You can share this story on social media: