#Hugsmatter: 'Hardcore' anti-Islam protester puts down banners after hug from Muslim (VIDEO)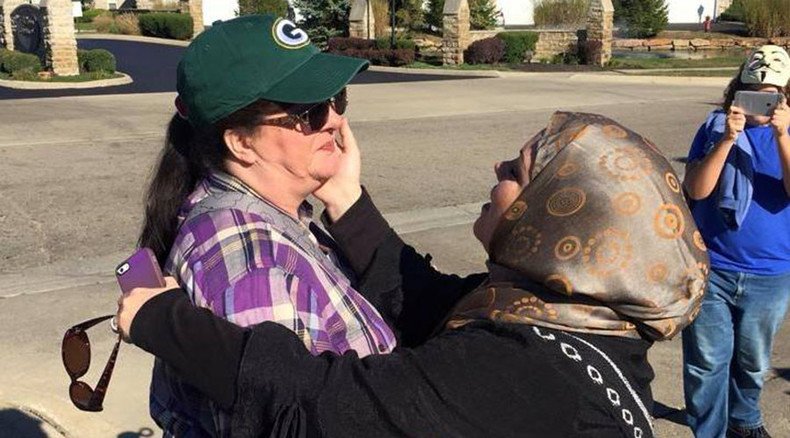 An anti-Islam protest near a mosque in Ohio, US, finished almost before it started after a Muslim woman gave a hug to the only demonstrator who showed up. Both then went to a mosque, where they were greeted with cheers.
"I was surprised to see there was only one protester because this was going to be a big national protest. She [the protester] was hardcore, 'I hate Islam', 'You're terrorists', 'You're murderers', 'You're Satanists'," Cynthia Eugenia Cox de Boutinkhar, a Muslim and one of the two main characters in this amazing story recalled in an interview with RT's show In the Now.
A woman came to protest Islam outside a mosque and ends up hugging a Muslim...#islamophobiaStarring https://www.facebook.com/cynthia.ubaldo

Posted by In the NOW on Tuesday, 13 October 2015
The anti-Islam protester, identified by media as Annie, was in fact surrounded by a group of counter-protest participants, who tried to prove her wrong. The situation was becoming more and more tense, so here is what Cox de Boutinkhar did: "I just walked to her and I said, 'Can I hug you?"
This helped: "I could feel her, kind of, relaxing."
Cox de Boutinkhar then described to the protester the side of Islamophobia that she was witnessing, how people attacked her several times in parking lots, shopping centers, in grocery stores.
"I had to have stitches," she told RT.
Afterwards, Cox de Boutinkhar invited Annie into the mosque. When the woman entered, holding her banners, the Muslims inside started to applaud.
Cox de Boutinkhar decided to find out where Annie was getting her ideas from.
"And she said, 'I googled "beheadings and Islam".' I mean, you google any two things, and you're going to find a picture!"
After a few hours, something seemed to have changed.
"She did apologize, she said, 'I had no idea that people would be so nice to me, especially after me walking around with these signs.'"
The story quickly became viral, with over 110,000 views on YouTube and over 1,500 reposts of Cox de Boutinkhar's post on Facebook.
"It amazes me how one hug has made international news!" Cox de Boutinkhar told RT.
You can share this story on social media: