Viral video shows Illinois officer helping mentally disabled woman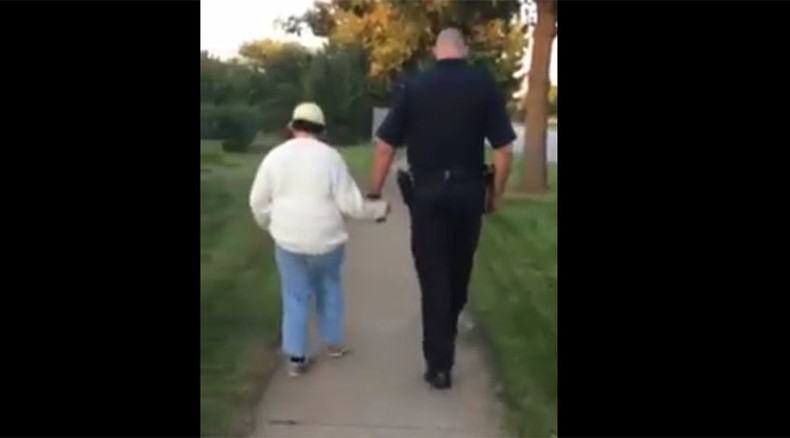 A touching video of an Illinois police officer helping a mentally disabled woman get to her home has gone viral.
The 42 second video showing Officer Giovenco walking hand-in-hand with the woman on a suburban sidewalk has received more than 740,000 views since being posted online Saturday.
On Friday evening, the Bloomingdale Police Department said they received a call concerning a 21-year-old woman with mental disabilities who had wandered away from her home. The police found her walking along a roadway.
"She was visibly scared and upset and would not come with the police," the description of the encounter, which was posted with the video, said.
After Giovenco was able to calm her down, she told him that she just wanted to walk the "trails," police said. The officer told her that he would walk with her, and she agreed to return home.
Giovenco escorted her back, "which really seemed to put her at ease," the police said on the Facebook post.
In the video, the uniformed officer is seen towering over the woman as they take a leisurely walk back toward her home.
"You won't ever see this kind of stuff, police doing really great things in their community, on the mainstream news channels because it doesn't fit their agenda. Keep up the good work guys," Facebook user Brandon Kachmarik said in a comment.
"Thank you Brandon – We as the Police nation wide have a tough job, we truly care and want to do what is right. I am proud of all of our staff, the efforts of Officer Giovenco is a small example of what we do," Chief of Police Frank Giammarese said in response to the previous comment on the Bloomingdale Police Department Facebook account.
Officer Giovenco has been with the police department since March 2015, reported Chicago television station WGN-TV.