​'Quiet hero': Photo of cop feeding baby after mom's seizure melts hearts online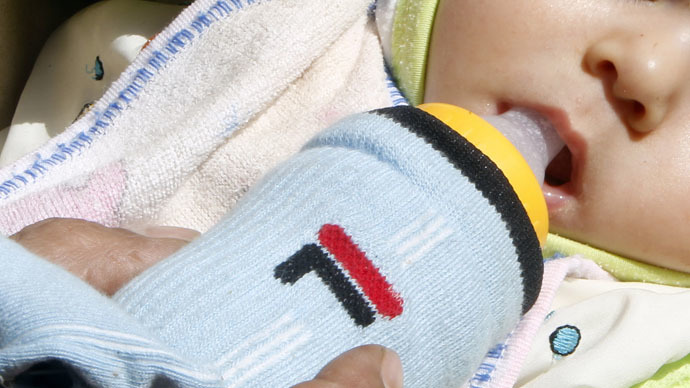 Officers take an oath to serve and protect, but one Kansas cop went beyond the call of duty for a tiny citizen. Acting on his grandfatherly intuition, the officer fed a baby girl. The photo has been melting hearts since it was posted online.
While working off-duty at Oak Park Mall on May 30, Officer Andy Black responded to a call about a woman having a seizure.
When he arrived at the scene, the woman had somewhat recovered, but was disoriented. Her husband was talking to the paramedics.
"She was still shaking very badly, and I was afraid that she would drop the baby," Black told local news outlet Fox 4.
He then asked if he could hold the child.
"[The mother] had the baby and was putting the bottle in her mouth, and when she gave her to me, she handed me the bottle," Black said.
The baby started to cry as soon as she was in Black's arms, but the grandfather of 14 knew exactly what to do.
"I'm a grandpa. I took the bottle, and I fed the baby," he said.
The moment of kindness was snapped by Jilli Nel, an artist who was walking by and witnessed the event.
"I looked and the next thing I saw Officer Black, and there he was, holding this little tiny bundle of joy, just feeding her, the two of them in their own little world," Nel said.
She added that it "touched her heart so much" that she asked Black if she could take his picture.
Black obliged, and Nel shared the image on Facebook.
PLEASE SHARE !!!!!I just had to stop, chat and ask if I may take his photo....Paramedics were helping this little...Posted by Jilli Nel on Sunday, May 31, 2015
That picture has since tugged at the heartstrings of internet users around the world, many of whom have sent Black personal messages.
Fans of the photo left messages on Facebook, with many calling the picture "beautiful."
Another stated: "Hooray for those who are supposed to be the good guys and truly ARE."
Meanwhile, a Reddit user remarked on the officer's kind appearance: "I love his face. You can hear him making noises at the baby like any good grandpa would do."
According to Nel, the photo shows a different side of police officers, amid recent negative stories about cops and racism.
While some have alleged that the photo was a set-up, Nel insists there was no posing involved – and that police officers have "got hearts too."
Black has been with the Overland Park Police Department for over 26 years. He has been working off-duty at Oak Park Mall for 25 of those years.