Pic of Chicago cop buying meal for homeless man wows social media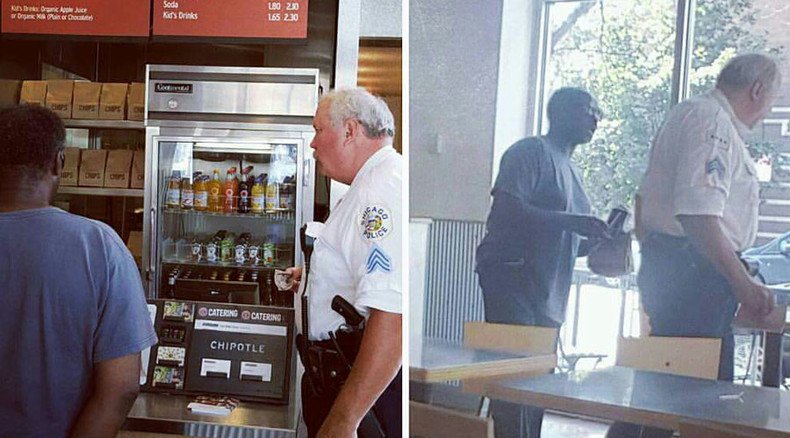 A heartwarming picture of a Chicago police officer who decided to pay for homeless man's meal has become hugely popular on social media, with users branding his gesture "kindhearted" and saying the cop has a "heart of gold."
District Town Hall Sergeant B. Hagarty was finishing his lunch in a fast-food restaurant in Chicago when he noticed a homeless man digging through the trash outside.
"The cop [Hagarty] knocked on the window, getting the homeless man's attention," witness Rachel Mitchell wrote on Facebook, as cited by Chicago Police.
Hagarty, who's served 35 years on the job and is planning to retire by the end of the year, asked the man if he was hungry. When the latter nodded 'yes', the officer motioned him to come inside.
"The cop told him to set what belongings he had next to him and told him to order what he wanted because he would pay for it. They stood in line together and at the end the cop paid for the man's meal," Mitchell said.
Soon after the meal, the officer and the homeless man shook hands "like it was no big deal."
"Touched my heart so much, with all the (crap) police are getting these days it reminds me there's so much more good out there than anyone ever wants to give credit. If everyone did something simple like this every day the world would be a better place," Mitchell added.
READ MORE: 'We help people regardless of skin color, nationality or beliefs': Black cop who helped KKK man
The photo of the pair was posted on the website of Chicago Police Department and has received over 20,000 'likes' so far.

Hagarty apparently didn't know that he'd become a local celebrity until his friends sent him photos from social media.
"He did not think he had done anything out of the ordinary. He did not want to brag about what he had done," Chicago Police wrote after talking to the officer.
You can share this story on social media: