'We help people regardless of skin color, nationality or beliefs': Black cop who helped KKK man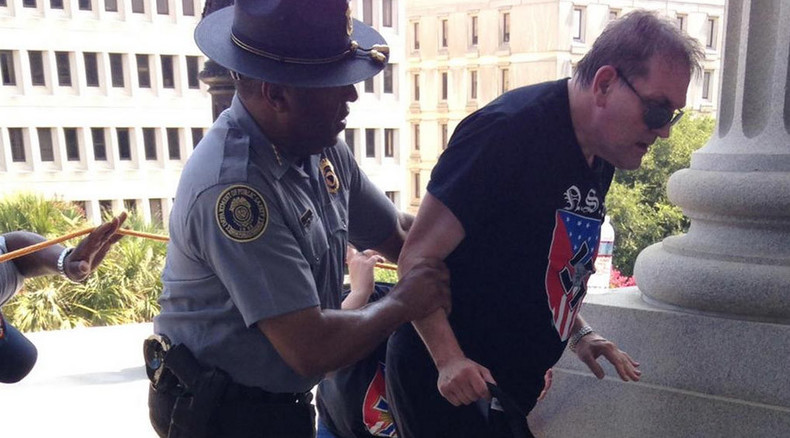 Police help everybody, regardless of color, race or creed, said a black officer commenting on a photo of him helping a KKK member. The photo went viral and the policeman hoped the picture would be "a catalyst" for people to overcome hatred and violence.
Leroy Smith, of the South Carolina Department of Public Safety (SCDPS), was on duty during a Ku Klux Klan (KKK) Confederate flag rally, when he was asked to help two KKK supporters "who appeared to be suffering from heat-related illnesses," the SCDPS said in a press release.
READ MORE: KKK face off against Black Panthers at Confederate flag protest in S. Carolina
Smith assisted one of the men up the stairs to the Statehouse "so he could be treated." The moment was captured by Rob Godfrey from Governor Nikki Haley's office and later went viral on social media, being retweeted over 5,000 times.
Aubrey Jenkins, the Columbia Fire Department chief, who is himself African-American, also helped the stricken KKK man. Jenkins's hand could be clearly seen in the photo.
Smith said he was surprised by how the picture "has taken off and gone viral around the world."
"Our men and women in uniform are on the front lines every day helping people – regardless of the person's skin color, nationality or beliefs," he said.
"As law enforcement officers, service is at the heart of what we do."
According to Smith the picture shows "who we are in South Carolina" and represents "what law enforcement is all about."
"I am proud to serve this great state, and I hope this photo will be a catalyst for people to work to overcome some of the hatred and violence we have seen in our country in recent weeks."
On Saturday, tensions ran high at South Carolina's Statehouse as hundreds of members of the New Black Panther Party and the Ku Klux Klan (KKK) attended two separate rallies for and against the Confederate flag. Five arrests were made for disorderly conduct, assault, and breach of the peace.