KKK face off against Black Panthers at Confederate flag protest in S. Carolina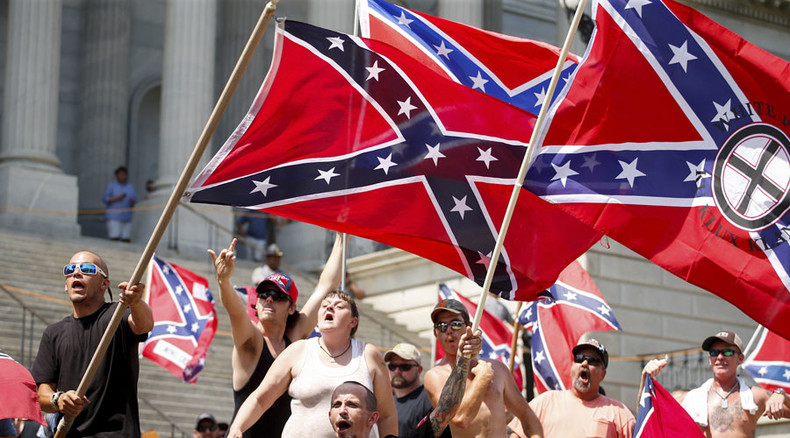 Tensions ran high at South Carolina's Statehouse as hundreds of members of the New Black Panther Party and the Ku Klux Klan (KKK) attended two separate rallies for and against the Confederate flag. Scuffles broke out with at least five people arrested.
The removal of the Confederate flag in South Carolina has reignited a debate in the US on the legacy of the "Stars and Bars," with some calling it a symbol of hate while others claim it is part of their heritage.
There were a total of 2,000 people gathered at the time the two rallies collided according to the South Carolina Department of Public Safety. Protesters were shouting at each other, with reports of scuffles erupting.
READ MORE: Dixie down: S. Carolina lawmakers vote to remove Confederate flag
There were five arrests made for disorderly conduct, assault, and breach of the peace, the department said.
None of the police officers who were monitoring the situation were injured, but local emergency services received 23 calls and seven people required medical transportation. Richland County Emergency Service admitted that the majority of cases were due to high heat.
The first rally was organized by Black Lawyers for Justice and Black Educators for Justice, which is a Florida-based organization connected to the New Black Panther Party. Initially, around 200 people gathered on the north side of the Statehouse, where the Confederate flag was taken down on July 10.
The numbers at the rally quickly grew into hundreds once the protests got underway, however, with people shouting "Black power!"
The decision to take down the flag came after the racial killing of nine worshippers at Charleston's historic Emanuel African Methodist Episcopal Church by Dylann Roof, a 21-year-old white supremacist.
READ MORE: Charleston church shooting suspect charged with 9 counts of murder, firearm possession
Meanwhile, the North Carolina-based Loyal White Knights of the Ku Klux Klan began a protest of their own on the opposite side, where members spoke out against the flag's removal.
Around 40 KKK members carried Confederate flags up the Capitol steps while shouting slogans, as the crowd from the other rally watched and booed them.
In about an hour, dozens of police officers in bullet-proof vests, helmets, and camouflage, ushered everyone away from the Capitol. Worsening weather, with a storm forecast, also chilled the crowds down.
Prior to the KKK rally, Governor Nikki Haley asked people to avoid the Capitol on Saturday.
"Our family hopes the people of South Carolina will join us in staying away from the disruptive, hateful spectacle members of the Ku Klux Klan hope to create over the weekend and instead focus on what brings us together," Haley said in a statement. "We want to make the Statehouse a lonely place for them."
'Are you comparing black people to horses?'
The nationwide debate has uncovered scars that people in Southern US states would prefer were left alone, RT's Maria Finoshina said in her latest report, as she traveled through the South to gauge opinion. Finoshina is now in North Carolina, asking locals about racial divisions.
One person said "I have no control of what happened two hundred years ago... I didn't do it, you didn't do it, we'd better start thinking about today," when referring to the legacy of slavery.
Some said they rejected racism, but other replies appeared to only help strengthen stereotypes about racial attitudes.
"It's like your horse. You own your horse. You don't abuse it your horse. You take care of him, you pet him, you feed him good," one white resident said.
"Did you just compare black people to horses?" Finoshina wondered in disbelief, only to get a response: "You know, it is part of our history."
For more, watch Maria Finoshina's full report from N. Carolina: