Muslim groups fundraise to restore black churches, 'support victims of arson'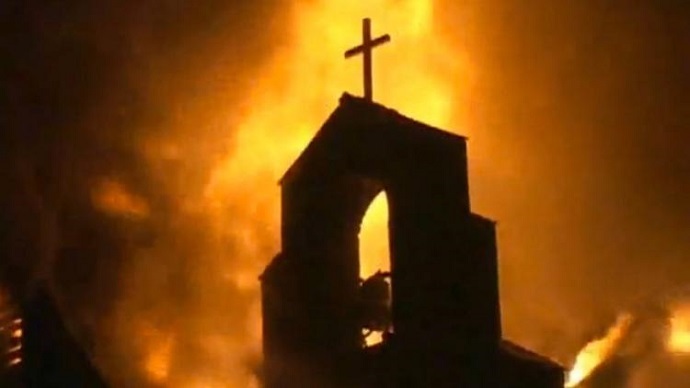 Muslim organizations have raised $23,000 to help rebuild eight historically black churches that have burned down since the deadly attack on a prayer group in South Carolina. Three fires are believed to be arson, while the rest are under investigation.
The groups ‒ including Muslim Anti-Racism Collaborative, the Arab American Association of New York and Ummah Wide ‒ encouraged Muslims to reach out during their holy month of Ramadan. They touted the connections between Muslim and African-American communities in the US, saying the groups are "profoundly integrated in many ways, in our overlapping identities and in our relationship to this great and complicated country."
"ALL houses of worship are sanctuaries, a place where all should feel safe, a place we can seek refuge when the world is too much to bear," the groups wrote on a LaunchGood fundraising page. "We are calling on you to help add our support to faith communities across the country pooling their resources to rebuild these churches."
The fires ‒ seven of which occurred in southern states and one in Ohio ‒ have drawn suspicion of foul play, beginning just days after 21-year-old Dylann Roof killed nine people at Emanuel African Methodist Episcopal (AME) Church in Charleston, South Carolina in mid-June. Indicted on nine counts of murder and three counts of attempted murder on Tuesday ‒ and facing possible federal hate crime charges ‒ Roof reportedly told the police he wanted to "start a race war."
UPDATED MAP: The *eight* black churches that have burned across six states since June 21. #WhoIsBurningBlackChurchespic.twitter.com/qIrAk7aTVy

— bernie lubell (@bernielubell) July 2, 2015
"These kinds of attacks on Black churches are a very old form of intimidation in the South, historically used to strike fear into the hearts of Black people," the Muslim groups wrote.
In a call for donations, Imam Zaid Shakir said Muslims in America can relate on some level to the historical oppression directed at African-Americans in the US.
READ MORE:South Carolina Senate votes to remove Confederate flag from state capitol grounds
"The American Muslim community cannot claim to have experienced anything close to the systematic and institutionalized racism and racist violence that has been visited upon African Americans," he said. "We do, however, understand the climate of racially inspired hate and bigotry that is being reignited in this country. We want to let our African American brothers and sisters know that we stand in solidarity with them during this dark hour."
The groups had set a goal of $20,000, but are close to $23,000 ‒ as of 11:00 a.m. ET ‒ after launching on July 2.
Churches in Charlotte, North Carolina; Macon, Georgia; and Knoxville, Tennessee, were deliberately set aflame, according to law enforcement. Fires in Gibson County, Tennessee and Tallahassee, Florida are believed to have been caused by a lightning strike and an electrical fire, respectively. Authorities suspect a lightning strike ignited the blaze at Mt. Zion AME Church in Greeleyville, South Carolina. Causes of fires in Elyria, Ohio, and in Warrenville, South Carolina are undetermined.
READ MORE: Confederate flags just the beginning? Other controversial symbols which may soon be history
From 2007 to 2011, fires broke out at more than 1,700 religious structures per year, including religious schools and funeral parlors, according to a 2013 report by the National Fire Protection Association.
About a quarter of the fires started in kitchen areas, while downed electrical lines or lightning caused 10 percent of the fires. Arson was responsible for 16 percent of the fires, according to the report.
African-American churches in the US have long been targets of arson attacks. In the summer of 1964, amid the drive to register black voters in Mississippi, three dozen black churches were bombed or burned, according to Doug McAdam, author of 'Freedom Summer'.
Following a spike in attacks during 1995 and 1996, when 30 black churches burned within 18 months, Congress and the Clinton administration passed the Church Arson Prevention Act, increasing sentences for perpetrators and giving federal investigators more power to investigate such crimes.
You can share this story on social media: