Confederate flags just the beginning? Other controversial symbols which may soon be history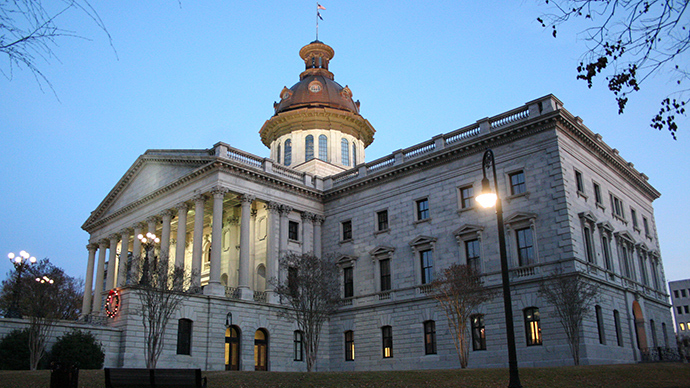 ​The South Carolina Senate has voted overwhelmingly to remove the Confederate flag from state Capitol grounds, but as questions arise over the object's place in modern American life, debate continues over how appropriate other historic symbols are, too.
Some of the debate has remained couched in Civil War rhetoric, taking aim at Confederate monuments located not just on government grounds but also on university campuses and elsewhere. Other controversial symbols have their roots in America's political, and even religious, past.
The (Confederate) monuments men
Ever since a 21-year-old white man took the lives of nine African Americans in Charleston, South Carolina during a June shooting, the Confederate flag's meaning has been hotly contested. Those who wish to see it continue waving above the South Carolina Statehouse – and elsewhere, for that matter – believe it is an appropriate sign of heritage. Opponents, however, see it as a symbol of state-sanctioned slavery.
Now, the debate is moving beyond the flag and onto individual monuments, including those of Confederate generals and those meant to honor the memories of soldiers who died while fighting for the rebellion.
READ MORE: Erasing Robert E. Lee: Baltimore County wants to rename city park
In Birmingham, Alabama, officials decided to consider whether the government should remove a Confederate memorial from a park named after Confederate captain Charles Linn, which features swords and guns engraved onto it.
In Richmond, Virginia, there have been renewed questions about what to do with the statue of Jefferson Davis, the president of the Confederacy, and others lining Monument Avenue. The statue praises him as a defender of states rights but does not allude to his support of slavery.
Physical monuments aside, some places in the US are even considering renaming streets and buildings donning the titles of Confederate generals. A petition at Connecticut's Yale University is asking the school to rename Calhoun College, titled after John C. Calhoun, who was a US vice president and a staunch supporter of slavery, which he termed "a positive good."
The idea of renaming streets and park names has stretched from New York to Alaska, with proposals often sparking discussions over whether changes are necessary or a way of eliminating an uncomfortable conversation.
Andrew Jackson on the $20 bill
Outside of Civil War politics, the movement looking to get a woman placed on US currency gained steam earlier this year when a national campaign proposed booting Andrew Jackson, the seventh US president, off the $20 bill and replacing him with someone such as the abolitionist Harriet Tubman, civil rights icon Rosa Parks or First Lady Eleanor Roosevelt. Ultimately, Tubman was voted as the preferred choice.
5 Reasons We Should Kick Andrew Jackson Off the $20 Bill http://t.co/rv53xIFQFSpic.twitter.com/LS3pjtGvmw

— Larry Cooper (@coopah) June 20, 2015
But why remove Jackson? Despite founding what became Democratic Party and earning a reputation as a populist, Jackson has come to be a controversial figure. He owned hundreds of slaves during his lifetime and also vigilantly enforced the Indian Removal Act, which systematically uprooted Native American tribes from the American southeast.
So far, it seems that Jackson may be safe for now. In June, US Treasury Secretary Jacob Lew announced a woman would grace the front of the $10 bill, currently honoring founding father Alexander Hamilton.
Washington Redskins still under fire for offensive name
READ MORE: Obama admin. to block new Redskins stadium over team name
Meanwhile, the sports world continues to deal with controversial monikers and symbols for teams, the most famous of which belongs to the NFL's Washington Redskins. Aside from the name, the Redskins logo depicts a red-skinned Native American with feathers in his hair and markings on his face. Both the name and logo have been denounced as racially offensive, with the term "redskin" seen as a damaging slur.
Attempts to change the logo and/or name have been stymied over the years, though the opposition movement has gained steam recently. Prior to the July 4 weekend, a report surfaced stating that the Obama administration would block the construction of a new stadium in Washington, DC unless the team changed its name. Dozens of media outlets have also taken action against the team by refusing to use the word "Redskins" in their coverage.
However, team owner Daniel Snyder remains adamant that no changes will be made and that the term "Redskins" actually honors Native Americans.
Controversies over 10 Commandments in Oklahoma and a Jesuit priest in St. Louis
In a couple of cases, years-long disputes are already forcing the removal of monuments. In Oklahoma, the state Supreme Court recently ordered the removal of a 10 Commandments monument that was placed on capitol grounds. The 7-2 ruling stated that placing the statue on government grounds violates the Constitution, which holds that public property should not be used to benefit any particular religion.
Supporters argued the monument marked a historical event, not a religious one, but justices were not convinced by the argument.
JUST IN: OK Supreme Court rules 10 Commandments monument at the state Capitol must be removed. http://t.co/P6ukVeZea9pic.twitter.com/zcIy71pfyV

— Fox News (@FoxNews) June 30, 2015
Meanwhile, a statue of Jesuit missionary Pierre-Jean De Smet was recently removed from its outdoor location at St. Louis University following debate over its place there. The statue depicts Smet praying over two Native Americans, one on his knees and another in full traditional garb, while holding a cross high above their heads.
"The statue of De Smet depicts a history of colonialism, imperialism, racism and of Christian and white supremacy," wrote Ryan McKinley wrote at the University News school paper. "This message to American Indians is simple: "You do not belong here if you do not submit to our culture and our religion."
Instead, the statue will be taken to the art museum.
St. Louis University removes statue of Jesuit Missionary because he… http://t.co/SYscdK8a46#pjnet#tcot#ccotpic.twitter.com/7RexL9cll6

— Robert McClary (@kc8ysl) May 29, 2015
You can share this story on social media: