​Fire at predominantly black church in N.C. ruled arson, possible hate crime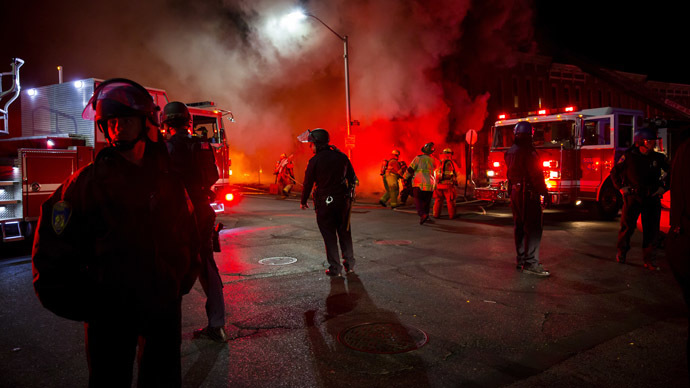 A fire that engulfed a predominantly black church in North Carolina this week has been ruled arson, according to local investigators. Authorities are trying to determine whether the act was a hate crime.
"We completed our work on the scene and determined this was intentionally set," Charlotte Fire Department Senior Investigator David Williams said, as quoted by AP. He did not say what evidence was found to prove it was arson.
Investigators are unsure whether the act against the church was racially motivated, but are trying to determine the facts.
Briar Creek Road Baptist Church in Charlotte, N.C., was set ablaze on Wednesday.
READ MORE: Confederate war memorials vandalized with 'Black Lives Matter' text
The Charlotte Fire Department said it took about an hour and 15 minutes to get the flames under control, adding that one firefighter was taken to a local hospital and another was treated at the scene after battling the fire in "extremely hot and humid conditions," Reuters reported.
The department said the total damage to the church is estimated at more than $250,000.
"Pretty much the whole church was affected with some degree of smoke damage," Sr. Fire Investigator David Williams said, as quoted by local news station WBTV. "One wing of the church sustained significant fire damage."
The church is home to a congregation of 85 people, according to Pastor Mannix Kinsey. He said it is diverse, but mainly African-American.
The blaze comes just one week after 21-year-old Dylann Roof opened fire at an African-American church in Charleston, South Carolina, killing nine people.
READ MORE: Obama's n-word race relations explainer melts Twitter, breaks internet
The federal government is considering filingfederal hate crime charges against Roof, who already faces nine counts of murder and could face the death penalty. The suspect, who is being held in jail without bond, reportedly said that he wanted to start a race war.
Just one day after the fatal Charleston shooting, a Virginia man was taken to a mental hospital after he turned up at a predominantly African-American church in Virginia, threatening to kill congregants.
The Charleston killings have reignited debate over the Confederate flag, which many associate with the years of slavery in the American South. The flag still flies at the South Carolina State Capitol, although the state's governor called for it to be removed from the grounds earlier this week.
Some of the United States' biggest retailers have also announced plans to remove the Confederate flag from its stock, including Walmart and eBay.
You can share this story on social media: