Confederate war memorials vandalized with 'Black Lives Matter' text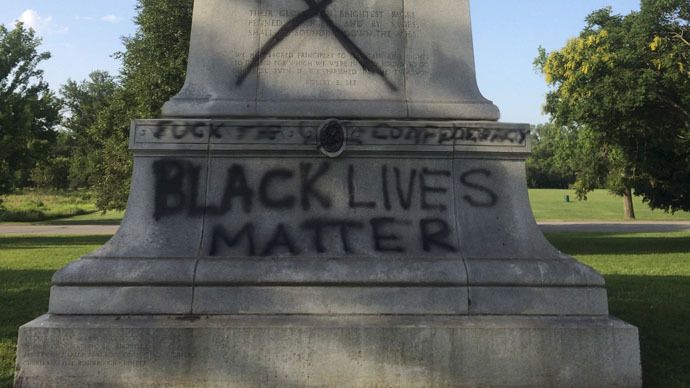 Amid an intense debate about the place of the Confederate flag on government property, and following the racially-motivated Charleston church shooting, activists around the country have taken to vandalizing statues honoring the Confederate dead.
A statue paying tribute to Confederate fatalities in Baltimore, Maryland, the city that was rocked by protests and riots about police brutality in the death of black man Freddie Gray, was recently defaced with "black lives matter" text. The statue is inscribed with the words "Gloria Victis," Latin for "Glory to the Vanquished," and depicts an angel carrying off a soldier, an uplifting reassurance that the defeated dead were nonetheless cared for. Maryland itself was a member of the Union during the Civil War.
A Baltimore statue's message honoring #Confederate soldiers has been written over. #BlackLivesMatterpic.twitter.com/FKqNSpC6ma

— Kevin Rector (@RectorSun) June 22, 2015
There is currently an effort underway to rename Baltimore's Robert E. Lee Memorial Park, which is named after the famous Confederate general who was widely respected by enemies and allies alike.
A statue in Charleston, South Carolina honoring the defenders of Fort Sumter was defaced with the same slogan. The vandalism took place after 21-year-old Dylann Roof massacred nine people in a historic black church in Charleston just last week.
Confederate Defenders of Charleston statue at The Battery vandalized with #BlackLivesMatter#chsnewspic.twitter.com/z4UFgW7whm

— Philip Weiss (@PhilipDWeiss) June 21, 2015
A statue of the Confederate President Jefferson Davis at the University of Texas at Austin was also painted on in protest. Campus activists have called for its removal.
'Black Lives Matter' painted on 3 Confederate statues on UT campus http://t.co/tSQoCHq3dD by @nicolecoblerpic.twitter.com/Tk75flhRki

— Kolten Parker (@KoltenParker) June 23, 2015
In Asheville, North Carolina, an obelisk commemorating Confederate Colonel Zebulon Baird Vance was vandalized. Vance was also a post-war governor and senator of North Carolina.
Slaves were sold here and Zebulon Vance was allegedly a member of the KKK. Shoutout to my city. #Ashevillepic.twitter.com/ZSK84LItWV

— Briana Younger (@TheQueenBRI) June 23, 2015
Fredrik DeBoer, a popular left-wing blogger and academic, praised the action as effective "agitprop," a term originally used by the Bolsheviks meaning "agitation and propaganda." This contrasts with DeBoer's usual criticism of others on the left as taking fashionable but ineffective action.
Could be an object lesson in agitprop done right. Excellent work. http://t.co/6f3eyQuofM

— Freddie (@freddiedeboer) June 24, 2015
You can share this story on social media: