S. Carolina church shooting suspect arrested; identified as Dylann Storm Roof, 21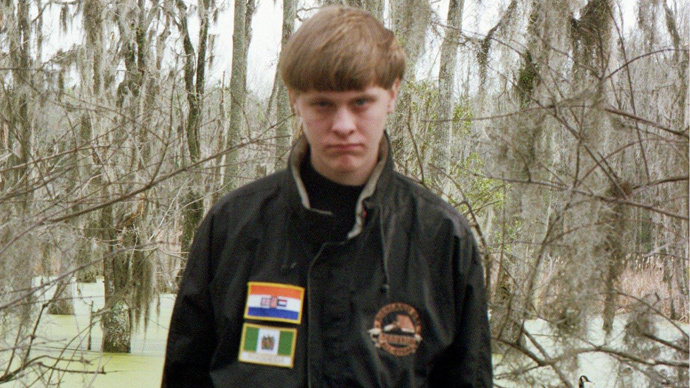 South Carolina police have released the identity of the suspect in the church shooting Wednesday night as Dylann Storm Roof, 21. Local media report he was arrested Thursday morning.
A law enforcement source told WLTX that Roof has been arrested in Shelby, North Carolina, almost 250 miles (400 km) - about three and a half hours' drive - away from Charleston. The arrest was reported shortly after shortly after 11 am local time, and confirmed by US Attorney General Loretta Lynch at a press conference.
Roof was transported back to South Carolina on Thursday afternoon.
#BREAKING: Here's the first video of #CharlestonShooting suspect #DylannRoof: pic.twitter.com/c4bqrs3MUp

— Mike Manzoni (@MikeWSPA) June 18, 2015
Charleston police chief Greg Mullen said that local police stopped the suspect's car after a citizen called in about "suspicious activity." Mullen said the suspect was "cooperative" with the officer who pulled him over.
#Update: Shelby City Police caught Dylann Roof as he was passing thru on HWY 74 @ Plato Lee Rd.Posted by Catawba County Weather on Thursday, June 18, 2015
Roof's car was spotted on Highway 74 by a florist shop employee on her way to work, reported the Shelby Star. She followed the car and called her boss, who informed the authorities. Within 20 minutes, Shelby PD was pulling Roof's black Hyundai over.
Meanwhile, a prayer vigil for the victims at the nearby Morris Brown AME Church was interrupted by an anonymous bomb threat. The police cleared the area and searched for explosives, but found none.
And I've just been told by police that there's a bomb threat at the church. #CHSnews

— CS Tyson (@SamInteractive) June 18, 2015
A gunman attacked parishioners at Charleston's historic Emanuel African Methodist Episcopal Church on Wednesday evening, killing 9 people.
The names of those who died in the #CharlestonShooting#chsnewspic.twitter.com/63tXLP4Tu6

— Melissa Boughton (@mboughtonPC) June 18, 2015
#Obama: "Let's be clear, at some point we as a country will have to reckon with the fact that this type of mass violence...Posted by RT America on Thursday, June 18, 2015
Shortly after noon, President Obama made a statement expressing "deep sorrow over the senseless murders that took place last night."
"Mother Emmanuel is more than a church," Obama said. "It is a place of worship founded by African Americans seeking liberty." That church was a "sacred place" in the history of Charleston and America, he said.
While he said he was aware of the attitudes in Washington concerning gun control, Obama called for a "shift in how we think about the issue of gun violence collectively" in the wake of the Charleston tragedy.
Obama goes there on gun violence in first statement post-Charleston church shooting. pic.twitter.com/OwRS6p5ww3

— Domenico Montanaro (@DomenicoNPR) June 18, 2015
Sylvia Johnson, cousin of Pastor Clementa Pinckney who was killed at the church, told NBC News that one of the survivors told her the gunman reloaded five times and told a victim, "I have to do it. You rape our women and you're taking over our country. And you have to go."
Witnesses say the suspect attended a prayer meeting for an hour, before he began shooting. Three men and six women were killed. There were three survivors.
AG Lynch on Charleston: "acts like this one have no place in our country and no place in a civilized society." @GreenvilleNews

— Mary Orndorff Troyan (@orndorfftroyan) June 18, 2015
Police are describing the shooting as a hate crime.
Outside of Dylan Roof's home in Eastover. Officer on scene, but no frantic movement going on. #CharlestionShootingpic.twitter.com/Zu56uc9pTI

— Cynthia Roldan (@CynthiaRoldan) June 18, 2015
A Facebook photo shows Roof wearing a jacket with two flag patches: one of Apartheid-era South Africa, and the other of Rhodesia, before it became majority-ruled Zimbabwe.
Roof's uncle, Carson Cowles, told Reuters in a phone interview that the 21-year-old received a .45-caliber handgun as a birthday present from his father in April.
Breaking: Suspect named in #CharlestonShooting Dylan Storm Roof pic.twitter.com/2IeffUCfGV

— SPLC (@splcenter) June 18, 2015
Arrest records indicate that Roof was detained on charges of felony drug possession in March, and misdemeanor trespassing in April of this year. He had no prior criminal record.
Roof lived in in Lexington, SC, about 120 miles northwest of Charleston, where he attended White Knoll High School.
"I did have a couple classes with the guy in middle and high school," tweeted Lexington resident Kimberly Taylor, "But he wasn't my best friend or someone I kept in contact with."
Dylann use to be a super emo, with long blonde hair and he was pretty quiet

— Kimberly Taylor (@Ms_Michele_T) June 18, 2015
His MySpace page contains only a music track from the Christian death metal band "A Thousand Times Repent."
Help police find the suspect in the shooting @ 110 Calhoun St pic.twitter.com/92GW7fMCTA

— Charleston P.D. (@CharlestonPD) June 18, 2015
A "Dylann Storm Roof" was arrested in South Carolina on April 26 for trespassing http://t.co/niwiMty35g

— Glenn Greenwald (@ggreenwald) June 18, 2015
The FBI, the Bureau of Alcohol, Tobacco, Firearms and Explosives and several other agencies have joined in the manhunt, police chief Gregory Mullen said.
A memorial on my seat mate's State Senate desk, Clementa Pinckney. RIP my friend. #EmmanuelAMEpic.twitter.com/mTyipyQfNL

— Vincent Sheheen (@vincentsheheen) June 18, 2015
According to the police, six women and three men were killed in the shooting, including Reverend Clementa Pinckney, the church's pastor, who was a Democratic member of the State Senate. Eight people were killed inside the church and one more died at the hospital soon after the incident.
At a press conference Thursday morning, Charleston Mayor Joseph P. Riley called the shooting "the most unspeakable and heartbreaking tragedy."
"The only reason that someone could walk into a church and shoot people praying is out of hate," Riley said. "It is the most dastardly act that one could possibly imagine, and we will bring that person to justice. … This is one hateful person."
READ MORE: 9 people killed in S. Carolina church shooting, police investigating 'hate crime'
Three people survived the attack, although police have not revealed their identities yet. The president of the Charleston NAACP, Dot Scott, said the gunman told one survivor he would let her live so that she would tell others what happened in the church, local newspaper The Post and Courier reported.
Early Thursday, Charleston police released photos of the suspect as well as of the black sedan car he was leaving in, obtained from security cameras.
Police chief Gregory Mullen described the suspect as a clean-shaven white man with sandy blond hair and slender build, wearing a gray sweatshirt with blue jeans and Timberland boots.
You can share this story on social media: