Arson, hate crimes may be behind black church fires across US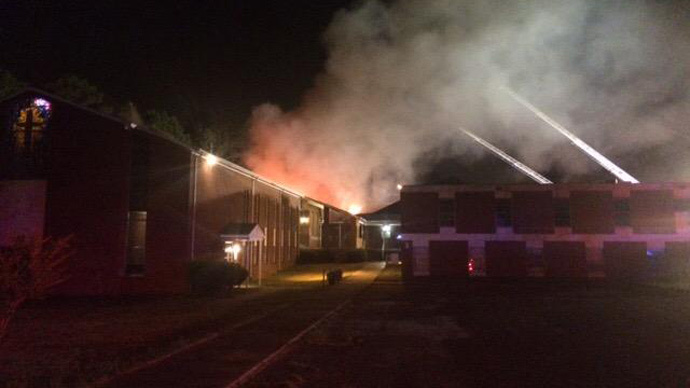 Six mainly African-American churches in five US states have burned down since the deadly attack on parishioners in Charleston, and officials say at least three fires were set deliberately. The arson cases are being investigated as possible hate crimes.
Historically black churches in Tennessee, North and South Carolina, Florida, and Georgia have been damaged or destroyed in fires that began last Monday. In two cases, the fires may have resulted from natural causes, while three were determined to be arson, and one is still being investigated.
Six black churches burned within seven days, FBI investigating http://t.co/FlXZCGjEwc

— theGrio.com (@theGrio) June 29, 2015
The fires have drawn suspicion of foul play, beginning just days after 21-year-old Dylann Roof killed nine people at a historic African-American church in Charleston, South Carolina. Facing nine counts of murder and possible federal hate crime charges, Roof reportedly told the police he wanted to "start a race war."
Arson: Tennessee, Georgia, North Carolina
The College Hills Seventh Day Adventist Church in Knoxville, Tennessee was damaged in a fire set last Monday. Fire department spokesperson D.J. Corcoran said bags of dirt and bales of hay were set on fire outside the church door, damaging the building. The congregation's van was destroyed in the parking lot.
"It's sad either way that someone would put their mind to try to damage a church that's trying to help people," Pastor Cleveland Hobdy III told the local ABC affiliate.
Tuesday's fire that destroyed God's Power Church of Christ in Macon, Georgia was also set on purpose, local authorities said. They confirmed that Federal Bureau of Alcohol, Tobacco, Firearms and Explosives (ATF) investigators were called in, which is standard procedure for church fires. According to the Macon-Bibb County Sheriff's Department, there was no indication of a hate crime in that incident.
"We are not seeing anything at this time that's pointing us in that direction," Sergeant Ben Gleaton said. According to police reports, the church has been targeted by burglars twice in recent weeks, and has reported the theft of sound equipment and air conditioners.
READ MORE: Fire at predominantly black church in N.C. ruled arson, possible hate crime
On Wednesday evening, the Briar Creek Road Baptist Church in Charlotte, North Carolina went up in flames. Charlotte firefighters put out the blaze, which caused $250,000 worth of damage in the sanctuary and the gymnasium intended for children's summer camp.
"We completed our work on the scene and determined this was intentionally set," Charlotte Fire Department Senior Investigator David Williams said.
"Our investigators did not find any direct evidence that would lead them to believe at this time that this is a hate crime," Charlotte FD spokeswoman Cynthia Robbins Shah-Khan told the Southern Poverty Law Center (SPLC), but added that it remained a possibility.
Under investigation: South Carolina
The word is still out on a fire that completely destroyed the Glover Grove Missionary Baptist Church in Warrenville, South Carolina. According to Aiken County Sheriff's Captain Eric Abdullah, the presence of ATF and FBI agents on the site should not be regarded as evidence of foul play.
"We just want to have them assist us," Abdullah told the Augusta Chronicle. "Fire investigations are a long process."
Glover Grove Missionary Baptist Warrenville, SC Burned Friday, June 26 pic.twitter.com/A2RfsOhclE

— Aisha Satterwhite (@smarttechgirl) June 28, 2015
The 130-year-old church has about 35 active members and has been in its current location for around 30 years. Its former building was lost to a suspected arson and had issues with vandalism, according to the pastor, Reverend Bobby Jones.
Lightning and power lines: Tennessee, Florida
Preliminary reports indicate last Wednesday's fire that destroyed the Fruitland Presbyterian Church, a 19th-century landmark in Gibson County, Tennessee, may have been caused by a lightning strike, reported the local TV station WBBJ. The State Fire Marshal and ATF agents are still investigating.
"We want to be sure, 100 percent sure, that this was an accidental fire, not on purpose," Gibson County Fire Chief Bryan Cathey told WBBJ.
On Friday, a tree limb fell on the power lines near the Greater Miracle Apostolic Holiness Church in Tallahassee, Florida, causing an electrical fire. The church was completely destroyed, with property damage estimated at $700,000.
According to statistics compiled by Huffington Post, African-American churches have been targets of arson attacks for decades. Following a spike in attacks during 1995 and 1996, when 30 black churches burned within 18 months, the Clinton administration passed the Church Arson Prevention Act, giving federal investigators more power to investigate such crimes and increase sentences for perpetrators.
You can share this story on social media: