#ForceforDaniel: Star Wars fan who saw special 'The Force Awakens' screening dies peacefully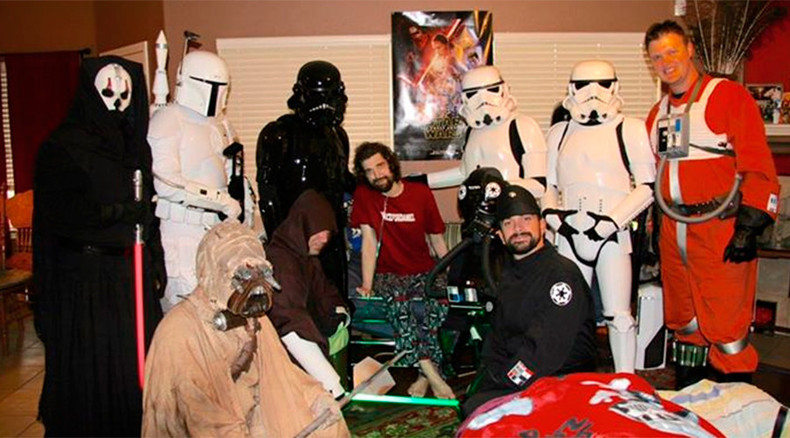 Honorary member of the Imperial 501st Legion Daniel Fleetwood has fought his last battle against the rebels… and cancer. The terminally ill Star Wars fan whose dying wish was to see the series' upcoming chapter passed away days after his dream came true.
Fleetwood's wife Ashley announced his death on Facebook in the early morning hours on Tuesday.
"Daniel put up an amazing fight to the very end. He is now one with God and with the force," she wrote. "He passed in his sleep and in peace. He will always be my idol and my hero."
Daniel, a 32-year-old Texan, suffered from spindle cell sarcoma, a rare and aggressive form of connective soft tissue cancer. When doctors told him he had only a month or two left to live this fall, he knew he would not survive to see the release of Episode 7 in theaters on December 18. So he asked Disney and LucasFilm if he could preview 'The Force Awakens' before his death.
At the end of October, Ashley posted on Facebook to ask for help in getting her husband's wish granted.
"Does anyone happen to know when the critics will be able to review Star Wars before it's open to the public? I've been told Daniel may possibly get an early screening due to his terminal condition, however not until the movie is 100% complete," she wrote. "The end is getting close for him."
A day later, the #forceforDaniel hashtag was born… and quickly went viral.
Along with pleas to the film's producers, social media flooded the Fleetwoods with well-wishes and homemade gifts.
The grassroots campaign received support from Star Wars actors Mark Hamill, Peter Mayhew and John Boyega.
On Thursday, Daniel's wish was granted in his home, where he was shown an unedited version of the movie. Two days later, members of the Star Garrison of the 501st Legion and the Kessel Base of the Rebel Legion visited him and inducted him as an honorary member of the Star Garrison ‒ the local Imperial costuming organization ‒ which "made [his] day and will forever be a lasting memory for me to cherish," Ashley wrote.
'The Force Awakens' director JJ Abrams, who also managed the Star Trek reboots, had granted a similar wish in 2013 for a terminally ill fan of that series, who was able to see 'Star Trek Into Darkness' before it was released. That man also died a few short days after seeing the film.
Abrams had called the Fleetwoods earlier in the week to let them know the good news, which Daniel's family said meant a lot to him, according to the Hollywood Reporter.
Ashley has thanked everyone profusely for their outpouring of support throughout the whirlwind few weeks since she first posted her request on Facebook. However, the #forceforDaniel hashtag quickly overshadowed another appeal she has made: one for financial help, BAE Daily reported.
Daniel was a counselor for the mentally impaired and Ashley is a teacher for the visually impaired. The couple both had to take unpaid leave from work under the Family Medical Leave Act (FMLA), and medical bills have taken their toll.
"We are still facing previous medical bills on top of new medical bills, and now we are living on a one person income (on a teachers salary)," Ashley wrote in September.
Ashley set up a GoFundMe page 14 months ago on which she requested $100,000. To date, just over 1,400 people have donated $50,216.