Maryland cop buys food & housing for mother, daughter fleeing domestic violence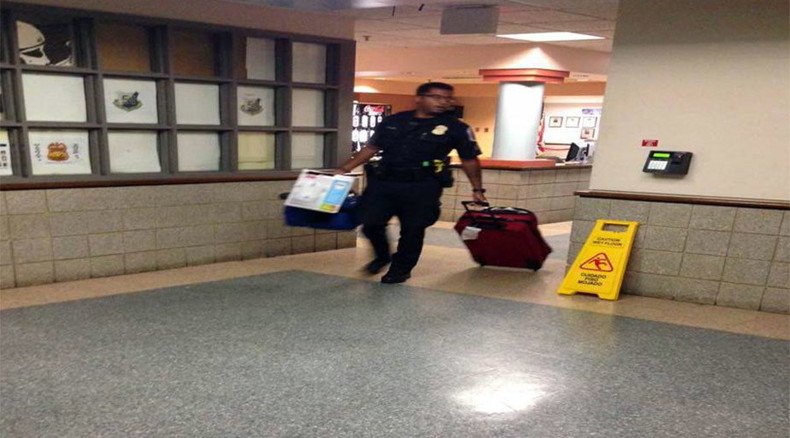 A Maryland police officer's kindness towards a woman fleeing domestic violence with her one-year-old daughter was noticed by his sergeant, captured in pictures and posted on the department's Facebook page. The post quickly went viral.
As of Monday, the Prince George County Police Department's Facebook page had received 14,000 likes and more than 1,300 comments regarding Corporal Che Atkinson's assistance to the mother and child.
"I'm a little overwhelmed and shocked. And the reason why is it didn't seem like a big deal to me because I see other officers do stuff like this all the time," Atkinson told WUSA 9. "It's not a big deal."
It all began last Wednesday morning, when Atkinson noticed a woman sitting in the lobby of the police precinct with a small child and several bags. Atkinson talked to the woman and discovered she had fled domestic violence abuse. She was also homeless.
The officer sought help from local agencies and tracked down a family friend who was willing to pick up the mother and child. He then went out on patrol.
On Thursday morning, Atkinson went to work and found the mother and daughter in lobby. After making inquiries, police officers told him the family had spent the night there. It turned out the family friend couldn't pick them up until Friday morning.
Atkinson spoke to the mother and then found out that the pair hadn't eaten for two days. That's when he decided to use his own money to rent a hotel room and buy them food and drink.
"It was here's somebody here with a child – one-years-old - had nowhere to go," Atkinson told WUSA9. "I had the extra money. What would it hurt just to put them up for a night to make sure they're safe?"
He also tracked down a car seat for the child. As Atkinson packed their luggage in a patrol car, his sergeant was taking photos without Atkinson's knowledge.
ICYMI: An amazing act of kindness: a police officer uses his own money to get a woman and her child off the streets. http://t.co/SxXrIeiQJQ

— Ellison Barber (@ellisonbarber) August 31, 2015
Those photos went up on the department's Facebook page with a description of what happened. It said that Atkinson had "reinforced the department's pledge to not only protect citizens but serve them as well."
Within hours the post had over 9,000 likes.
Out of a slew of comments, Elisa Carballo-Castillo from Virginia wrote:
"It's great to hear stories like this. I work with victims of domestic and sexual violence and unfortunately resources and shelters are very limited. Great job officer, i wish there were more officers like him."
READ MORE: Maryland first state in US to issue guidelines on police profiling
Atkinson's work was also appreciated by Maryellen McNamara Madeja from Pennsylvania:
"People are always putting the police officers down and complaining. This is what our law enforcement officers do and never get the credit. I hope the woman and her child are safe and have a wonderful life all because of one act of kindness from a police officer."
The act of kindness came the same week that Maryland became the first state to adopt rules against police profiling. Under guidelines issued by the state's attorney general, police officers are forbidden from using race, religion, or sexual orientation as factors in making routine stops and are banned from stopping everyone in a neighborhood when a crime is reported.