A hero's welcome for the last remaining search-and-rescue dog from 9/11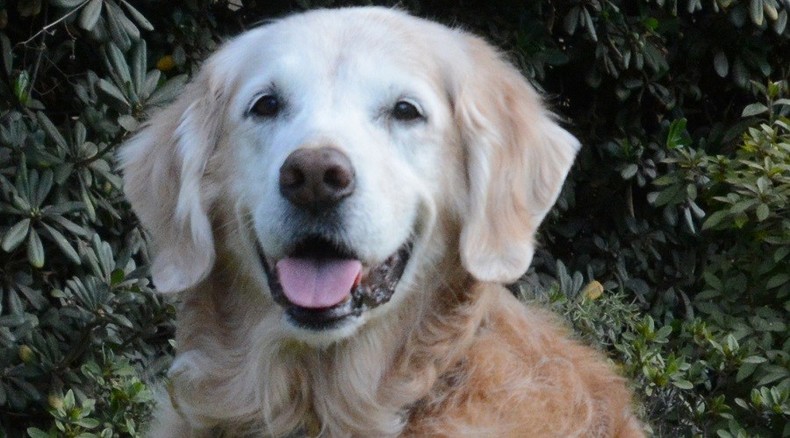 On the 14th anniversary of the 9/11 terrorist attacks, a 112-year-old hero (at least in dog years) of the search-and-rescue efforts at the World Trade Center was honored for her work, sniffing out survivors among the rubble.
The golden-haired rescuer ‒ now tinged with grey ‒ was much younger the morning of September 11, 2001 as two planes crashed into the Twin Towers. It was her first deployment with Texas Task Force 1, and she worked tirelessly to find trapped people among the wreckage.
She had just celebrated her birthday three weeks before when she joined hundreds of others like her at Ground Zero. It had only been her second big day, which of course made her 14 in dog years. Now she's believed to be the only September 11 search-and-rescue dog still living.
"When our task force arrived in Ground Zero, I just couldn't believe the magnitude," her owner, Denise Corliss, told WABC. "And I looked down at her, and she seemed stoic and ready to work."
Recently, the pup ‒ a golden retriever named Bretagne ‒ and Corliss returned to the site of her first deployment to celebrate her 16th birthday (in human years). She was treated to a hero's welcome, thanks to BarkPost, the content site for Bark & Co.
"Bretagne's story really hit home for BarkPost since we are based in New York. To be able to have the chance to thank one of the dogs who helped our city when we needed it most was an unforgettable experience," Laura Hartle, creative producer for BarkPost Video, told USA Today.
The company flew Bretagne and Corliss to New York, where they were feted at LaGuardia Airport before settling in at their luxury hotel off Central Park. There, the golden retriever received a hamburger, other treats and a birthday cake.
Then they were off again in a vintage cab.
They stopped in Times Square, where a billboard thanked them: "NYC Welcomes You And Your Mom," it read, showing a photo of the dog and her handler together.
The pair then returned to Ground Zero, the place they had spent 12-hour days scrambling over heaps of twisted metal and concrete in their attempt to find survivors. But soon their job changed from search-and-rescue to recovering the bodies of those who had perished at the site.
The task was physically and emotionally draining for Corliss and the other first responders, but Bretagne was a comfort to those around her, Corliss told the New York Daily News.
"I was just so grateful to have a canine partner that helped me get through it," she said.
BarkPost shared the video of their trip, which took place in August, in the days leading up to the 9/11 anniversary. It quickly went viral, having been shared nearly 500,000 times in two days.
Bark & Co.'s most famous subsidiary is BarkBox, a monthly subscription service of dog products.