Cover that butt! Facebook unveils nudity, terrorism, revenge porn policy updates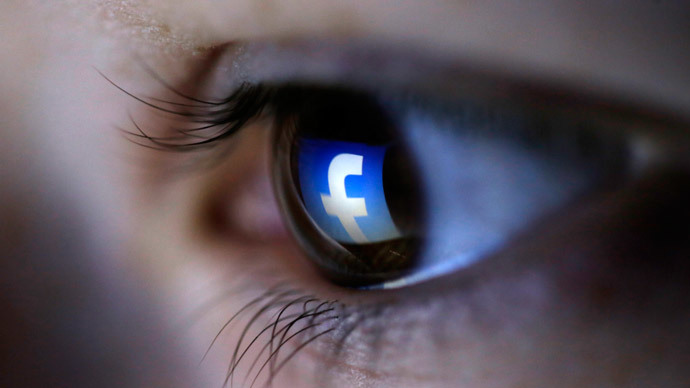 Facebook doesn't want its users posting naked butts or women's nipples on the social network, according to its newly clarified Community Standards. The company also outlined what constitutes hate speech, revenge porn and terrorism.
In a detailed explanation Monday, the company outlined its new Community Standards, which replace the previous version. The updated policy, at nearly 2,500 words, is almost three times longer than the old guidelines, BBC reported. The guidelines are designed to respond to criticism it has faced and questions raised over how content on the site is moderated.
"These standards are designed to create an environment where people feel motivated and empowered to treat each other with empathy and respect," Monika Bickert, Facebook's head of global policy management, and Chris Sonderby, Facebook's deputy general counsel, said in the post. "In particular, we've provided more guidance on policies related to self-injury, dangerous organizations, bullying and harassment, criminal activity, sexual violence and exploitation, nudity, hate speech, and violence and graphic content. While some of this guidance is new, it is consistent with how we've applied our standards in the past."
The 1st rule of #FacebookClub is... You DO NOT talk about any of these things on Facebook: http://t.co/vvzJ2XEUDtpic.twitter.com/oih9IzINKV

— That Matt Navarra (@MattNavarra) March 16, 2015
Bicket told the BBC that the rewrite was intended to address confusion about why some takedown requests were rejected. She stressed that the changes were meant as a clarification to the current guidelines, rather than a change in policy.
"We [would] send them a message saying we're not removing it because it doesn't violate our standards, and they would write in and say I'm confused about this, so we would certainly hear that kind of feedback," she said.
"And people had questions about what we meant when we said we don't allow bullying, or exactly what our policy was on terrorism," Bicket continued. "[For example] we now make clear that not only do we not allow terrorist organisations or their members within the Facebook community, but we also don't permit praise or support for terror groups or their acts or their leaders, which wasn't something that was detailed before."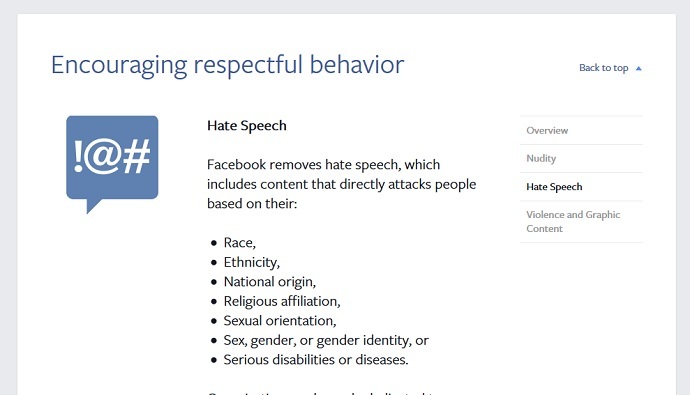 In the last year alone, Facebook received heavy criticism for: Limiting Russian users' access to a page created in support of Russian activist and blogger Aleksey Navalny (but not blocking copycat pages); doing too little to monitor terror plots; suspending Native Americans' accounts over its "real names only" policy ‒ after allowing drag queens to keep their stage names on their accounts and apologizing to the LGBT community; not allowing teachers, victims of domestic violence and others to use aliases for their personal safety; manipulating its users' emotions as part of a psychological experiment ‒ and not apologizing for it; allowing fake tribute pages for Malaysia Airlines flight MH17 to link instead to pop-up ads for online gambling, pornographic websites and other suspicious products; contemplating whether to penalize websites that use "click-bait" headlines; and introducing a "satire" tag to help unaware users understand that they are not a reflection of reality.
In its section on nudity, the social media network will now "remove photographs of people displaying genitals or focusing in on fully exposed buttocks," and "restrict some images of female breasts if they include the nipple, but we always allow photos of women actively engaged in breastfeeding or showing breasts with post-mastectomy scarring."
Facebook updated its "community standards" — you should be ashamed of your body, unless its educational or satirical. pic.twitter.com/1uLIYr0q8j

— Jeremiah Lee (@JeremiahLee) March 16, 2015
Always is a relative term. Facebook's official policy to allow (most) breastfeeding pics was only instated in June 2014. The shift came after feminists initiated a campaign against what they believed was gender-based discrimination.
The company also banned "revenge porn," or sexually explicit content posted without the subject's permission. A Texas woman has sued Facebook for failing to delete falsified, lewd images of her after repeated requests. Google, Twitter and Reddit have all banned the sharing of sexual imagery without permission. The UK, multiple US states and elsewhere have all made sharing revenge porn a specific criminal offense.
Members of the five independent organizations that comprise Facebook's safety advisory board applauded the move, though with some reservations.
"I think it's great that Facebook has revamped its community standards page to make it both more readable and accessible," Family Online Safety Institute (FOSI) chief executive Stephen Balkam told the BBC. "I wish more social media sites and apps would follow suit."
However, Balkam noted that the site has done nothing to allow members to prevent young users from seeing graphic videos that automatically play until Facebook has received a complaint. At that point, the company's staff can add an interstitial image warning.
Why Facebook don't want you to see bare bottoms http://t.co/JvaR0JXb3Cpic.twitter.com/GZXZMXMRPj

— Daily Star (@Daily_Star) March 16, 2015
"It is frustrating that after all this time, Facebook users are still not able to put up interstitials on violent or controversial images and videos," Balkam said. "Facebook has done the right thing to place interstitials themselves once a user has reported an image or extreme content, but my hope is that they will bring this to ordinary users sooner rather than later."
The social media site clarified how it will handle posts that violate a country's laws, even if they don't violate the Facebook Community Standards.
"Questions about free expression and how governments regulate it are some of the most difficult and important issues we face," Facebook founder Mark Zuckerberg wrote in a post on the site. "In an ideal world, we would all feel empowered to express everything we want, freely and safely. In reality, there are many obstacles in the way. Every country, including the United States, has laws preventing you from sharing certain things to protect public safety and intellectual property."
"[I]f a country requests that we remove content because it is illegal in that country, we will not necessarily remove it from Facebook entirely, but may restrict access to it in the country where it is illegal," Bickert and Sonderby wrote, citing hate speech as an example.
At the beginning of March, an American helicopter mechanic working in the United Arab Emirates was arrested and now faces charges for cyber slander in the UAE after he criticized his employer and made disparaging comments about "filthy Arabs" in a Facebook post. In December, a Moroccan-born Danish bookseller was given a four-year jail term for supporting terrorism after writing extremist views on his Facebook page.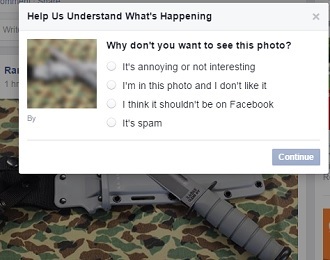 It remains up to Facebook users to report violations of the updated guidelines, and the company will not automatically scan and remove potentially offensive content, Bickert told the New York Times in an interview.
As well as outlining the policy modifications, the company's blog post also discussed its Global Government Requests Report, which was also released Monday. The report, which covers the latter half of 2014, lays out all the information about government requests Facebook has received for content removal, account data and national security requests.
The company promised to "scrutinize each government request and push back when we find deficiencies," Bickert and Sonderby wrote. "We will also continue to push governments around the world to reform their surveillance practices in a way that maintains the safety and security of their people while ensuring their rights and freedoms are protected."
Post by Mark Zuckerberg.
You can share this story on social media: