Facebook takes down drag queens' profiles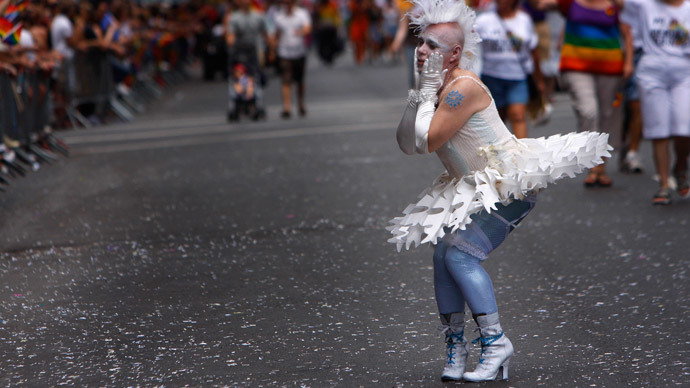 At a Wednesday meeting, frustrated drag queens couldn't convince Facebook to reverse its policy of forcing people to use their real ‒ not stage ‒ names on the popular social media site. If they don't comply, the drag queens' profiles will be deleted.
A group of well known San Francisco drag queens, along with San Francisco Supervisor David Campos, met with two employees from Mark Zuckerberg's company ‒ a public relations staffer at City Hall and a content policy employee who joined the meeting via satellite. Their hope was to get Facebook to acknowledge that forcing people to use legal names that they may not identify with in any way other than on legal documents and credit cards "was wrong and misguided."
Met w @Facebook, discussed safety concerns around #RealName. No changes today, meeting again in near future #MyNameIspic.twitter.com/RsYU9FbqZN

— David Campos (@DavidCamposSF) September 17, 2014
"That, unfortunately, was not accomplished," Campos said to reporters after the meeting, but "we are committed to continuing to work with Facebook."
Drag queens have been targeted for name reporting over the last few weeks, many members of the community have said. Their profiles have been completely shut down without warning.
#FacebookDragVictim#MyNameIs#SisterFace#HectorHoyos Someone Is Reporting A Drag Divas... @PageSix Its Very Bigoted pic.twitter.com/AR8R3lHXES

— HRH SisterFace (@HRH_SISTERFACE) September 15, 2014
As a minor compromise, Facebook announced it has temporarily restored hundreds of deleted accounts for two weeks. After that the affected people will either have to change their name to their real name or convert their profile to a fan page.
Sister Roma, a member of the Sisters of Perpetual Indulgence, was forced to make changes when Facebook locked her out of her account.
"This issue is way bigger than a bunch of drag queens complaining because we can't use our stage names," Roma said in a news release. "This policy is discriminatory and potentially dangerous to a variety of Facebook users, including abused and battered women, bullied teens, political activists, sex workers, and especially members of the transgender community; all examples of people who use pseudonyms to ensure their safety and privacy."
.@SisterRoma has received 100s of emails from victims of abuse using fake names on FB to protect themselves #mynameispic.twitter.com/x6cYtHtbyR

— threat model (@LeeHepner) September 16, 2014
Entertainer, actor, columnist and activist BeBe Sweetbriar, whose real name is Kevin Junious, agreed.
"[The policy] doesn't stop a spousal abuser from finding the abused, who may be trying to stay safe. Facebook says [that] the real name policy is for safety reasons, but real name use for many may be unsafe," Sweetbriar wrote in an e-mail to the Bay Area Reporter.
"The enforcement of a real name policy doesn't match their recent expansion of personal profile gender identifiers. I am sure Facebook is using some kind of matrix to search profiles to see if they fit their real name requirement," Sweetbriar continued. "If I use a transgender female as a gender choice because I have been living as a female, but use my legal name as required by Facebook, which is male, the two don't match. Is that going to raise a red flag with Facebook?"
In a KQED call-in radio show, a woman said she is in a witness protection program and lives out of state because someone was stalking her family and she needed to use a fake name.
Facebook said it understands those issues.
"We recognize that a person's real identity is not necessarily the name that appears on a person's legal documents, and that is why we accept a broad variety of different forms that can be used to confirm that a person's profile name does reflect the name they use in everyday life," Facebook spokesman Andrew Souvall told the Reporter in an e-mail.
BREAKING: @Scott_Wiener supports #MyNameIs campaign Drag Queens vs Facebook! #LGBT#SFhttps://t.co/OVg8KDes25pic.twitter.com/VCXvJbhXSn

— Patrick Connors (@uppityfag) September 15, 2014
But Lil Miss Hot Mess, who recently ‒ and reluctantly ‒ came out as Harris David on Facebook, told KNTV that the policy (which the social media site says is "designed to keep the community safe") is backfiring.
"Facebook is discriminating by basically not allowing a large part of the community access to a public forum because of this policy," she said. "Their policy is to provide a safe environment, but we feel that by requiring people to use their legal names it makes people more unsafe by opening them up to attacks."
In July, rival social media site Google+ ended its real name policy. In a blog post, the company admitted that the requirement "excluded a number of people who wanted to be part of it without using their real names."
"For this we apologize, and we hope that today's change is a step toward making Google+ the welcoming and inclusive place that we want it to be," the post added.
The Facebook policy has come under fire before. Activists have long denounced the requirement as dangerous for political dissidents living in countries where criticizing the government is illegal. In 2011, Chinese blogger and activist Michael Anti, whose legal name is Zhao Jing, had his profile deleted because he was not using his given name — even though his professional identity has been established for more than a decade and is better known, the Associated Press reported.
Seattle-area performer Olivia LaGarce has started a petition on Change.org, asking Facebook to change its rules and accept people's "chosen names." The entreaty has nearly 20,000 signatories.
You can share this story on social media: