Facebook frees the nipple: Ban on breastfeeding photos lifted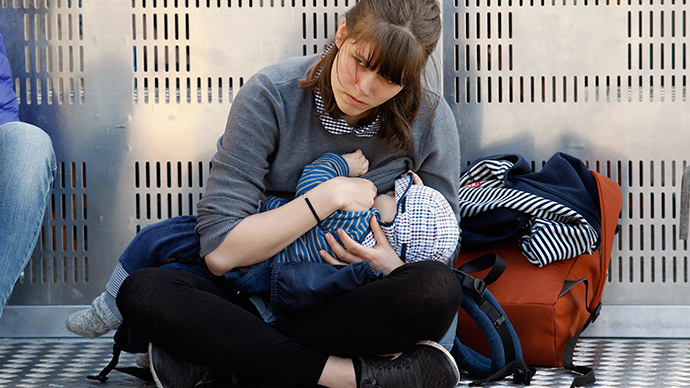 Facebook is now officially safe for photographs of women's' breasts – at least in some circumstances.
In a win for feminists, the social media giant has revised its policy towards breastfeeding photos and will now allow users to post such pictures without fear of having them deleted by Facebook later.
The change was first reported by The Independent, which noted that Facebook had revised its community standards to have a more diplomatic stance regarding nudity and breastfeeding. The standards note that while Facebook does "impose limitations" on nudity, it will "aspire to respect people's right to share content of personal importance," including images of breastfeeding.
Furthermore, The Verge also pointed out that Facebook's Help Center has been updated to illustrate the move. The social network now states:
"We agree that breastfeeding is natural and beautiful and we're glad to know that it's important for mothers to share their experiences with others on Facebook. The vast majority of these photos are compliant with our policies."
The new policies don't completely abandon Facebook's previous rules, which still prohibit artistic photos featuring women's breasts from being shared online. Should those kinds of images be reported, chances are they will still be removed.
As noted by Time, the ban on photos featuring female nipples came under fire last year when feminists initiated a campaign against what they believed was gender-based discrimination. After amassing support through more than 60,000 tweets and 5,000 emails, it appears that Facebook is willing to bend, at least when it comes to breastfeeding.
In order to test out the new rules, parenting blogger Paala Secor posted a photo of herself breastfeeding her child to thousands of Facebook followers. The social network actually removed the image and temporarily took her page down, but subsequently apologized and restored the image.
Speaking with The Independent, Secor welcomed the policy revision, even if it might take some time for Facebook to sort out its execution.
"Like so many other important issues, social media is going to help reach more people very quickly, and everyone will soon understand that shaming women for breastfeeding, for having female bodies, for using them to feed their babies, is not okay," she said. "Or at least, that's our hope."
Francesa Entwistle of Unicef's National Infant Feeding Network also praised the change.
"It's good that Facebook have finally responded to the concerns of users who wanted nothing more than to capture shared moments with their babies, and we hope that this new policy helps reduce the stigma around images of breastfeeding," she said. "Many women often encounter negative comments and attitudes when breastfeeding in public and anything that helps to normalise such an instinctive behaviour – a mother feeding her hungry baby – is to be welcomed."