Founder of 'Russia's Facebook' sells 12 percent stake, but 'not going anywhere'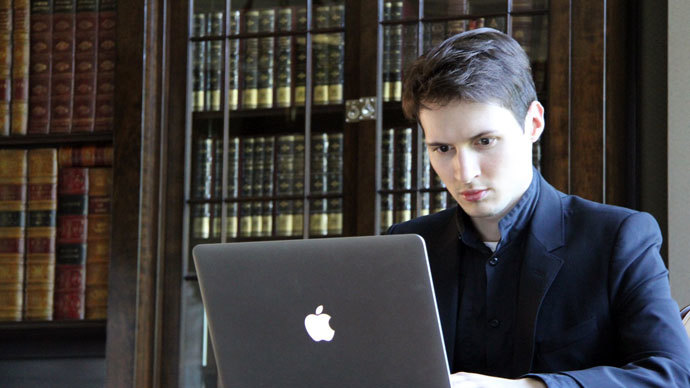 ​Founder and CEO of Russia's largest social network, Pavel Durov, has sold his 12 percent stake in VKontakte to an ally of the company's second-largest shareholder. Experts polled by Vedomosti newspaper estimate the sale is worth $360–$480 million.
Ivan Tavrin, the CEO of Megafon, one of Russia's largest mobile carriers picked up the shares of the social network often referred to as "Russia's Facebook". Tavrin is a business partner of VKontakte's second-biggest shareholder Alisher Usmanov, who owns shares through his Mail.Ru Group Ltd.
"What you own, sooner or later starts to own you," Durov, 29, wrote on his own VKontakte page. VK, for short, means "in contact" in Russian.
"I'm not going anywhere and will continue to watch over the quality of VKontakte," Durov said. The site draws 60 million users a day according to Durov, and is the most popular social network for Russian-speaking internet users, with four times as many as Facebook. Durov touts it has the "best communication platform in Russia".
Details were finalized in December 2013, as Durov's exit came after months of internal conflict among shareholders and major management reshuffles.
In April, United Capital Partners (UCP) bought 48 percent of the company. Ilya Sherbovich, a former board member of state-owned oil major Rosneft, is now the social networks' largest stakeholder.
Sherbovich was reportedly "unhappy" with Durov's role as CEO, and was trying to replace him, according to a leaked letter published by Forbes Russia.
Just before UCP bought shares in VKontakte, Durov was accused of running over a policeman with a car in St. Petersburg, Russia. It's an accusation he vehemently denies, saying he doesn't even drive, but uses the metro.
Usmanov, Russia's wealthiest individual, and his associates now control 52 percent of the company, with 40 percent owned by Usmanov's Mail.ru.
"I bought the stake as I believe in the future of this company," Tavrin told Bloomberg News. Usmanov was an early investor in Facebook, which paid out nearly 10-fold when he started selling his shares in 2013.
Usmanov acquired Facebook shares through his Mail.ru group in 2009, when the social media network was valued at $6.5 billion. Usmanov's company sold a $1.7 billion stake during Facebook's initial public offering in May 2012, pocketing $1.4 billion in the deal.
St.Petersburg-based VKontakte, was founded in 2006, just a few months after Mark Zuckerburg launched Facebook. It has over 190 million registered users in Russia, Ukraine, Belarus, and other former Soviet territories. Its estimated capitalization is between $2-4 billion.
The social network was used as a major platform for organizing protests and meetings against Vladimir Putin in 2011-2012.
Durov prides his site as being safe from government interference, which is now changing as media watchdogs are cracking down on users' ability to freely upload copyrighted music and videos to their pages.
The head of the social network, Pavel Durov, came forward with a job offer for Edward Snowden back in August, but the ex-spy agency contractor didn't answer at the time.
Messenger, a free messaging system for smartphones, was pioneered by the programer and uses sophisticated encryption making it difficult for security services or governments to tap into.
You can share this story on social media: