Investor scrutiny: Microsoft, Russia's Facebook founders pressed to resign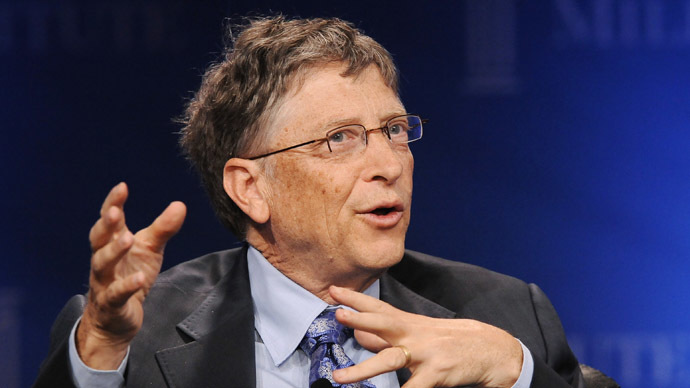 Investors in Microsoft and Vkontakte, Russia's Facebook, are insisting the companies' founders should step down, worried the two men will interfere with the key challenges the firms are now facing.
The search for a successor to head the world's largest software maker Microsoft has caused shareholders to re-think the role of founder and Chairman Bill Gates. Investors are worried he will have too much say in who will replace CEO Steve Ballmer. 
Three of the top 20 investors in Microsoft Corp have lobbied for Gates to step down as chairman, Reuters reported. 
Shareholders started to be disenchanted with Gates when he moved away from his daily operations role in 2008 to focus more of his attention on his charity the Bill & Miranda Gates Foundation.
Gates, who founded the Redmond, Washington-based company 38 years ago, owns roughly 4.5 percent of the company, making him the largest individual shareholder, valued at $277 billion. The three 'attackers' collectively hold 5 percent of company stock.  
An undisputed leader in the tech industry, it is the first time major stakeholders have gone after Gates personally. Gates supported Ballmer in his role of CEO, even when shareholders voiced their concern over his management tactics. 
Russia's Facebook shareholder scandal
Pavel Durov, the founder and owner of 'Russia's Facebook' VKontakte, is facing similar unrest with shareholders, and may be forced out of the country's largest social network he founded. 
Durov has a 12 percent controlling interest in the most popular social network for Russian-speaking internet users.
In April, United Capital Partners (UCP) bought 48 percent of the company. Ilya Sherbovich, a former board member of state-owned oil giant Rosneft, is therefore the social networks' largest stakeholder. 
Scherbovich is reportedly 'unhappy' with Durov's role as CEO and is mulling his replacement, he wrote in a letter to UCP partner Yuri Kachuro, published by Forbes Russia. 
UCP suspects Durov of malpractice in his new company Messenger Telegram, believing he has violated employee contracts and intellectual property rights associated with Vkontakte. 
Among other complaints, Kachuro said that Durov "spends most of his time on personal projects and is absent for long periods, which de-motivates colleagues."
"The company itself and the market have different talented people who would be interested in dealing with the development of Vkontake", the letter said, Vedomosti reported.
Durov has rebuffed the accusations as 'aggressive' and a tactic to rile shareholders.
"Your aggressiveness at the shareholder level has a negative impact on team atmosphere, and now I must make an effort not to lose employees," Durov said in correspondence with UCP representatives, reported by Vedomosti. 
Just before UCP  bought shares in VKontakte, Durov was accused of running over a policeman with a car in St. Petersburg, Russia. Its an accusation he vehemently denies, saying he doesn't even drive, but uses the metro.
The other major shareholder is Russia's richest man Alisher Usmanov, who owns shares through his Mail.Ru Group Ltd. 
VKontakte or 'VK' as it's known in Russia, was founded in 2006, just a few months after Mark Zuckerburg launched Facebook. It has over 190 million registered users in Russia, Ukraine, Belarus, and other former Soviet territories. Its estimated capitalization is between $2-4 billion. It was used as a major platform for organizing protests and meetings against Vladimir Putin in 2011-2012.