Russian tycoon Usmanov tops UK rich list with £13.3 billion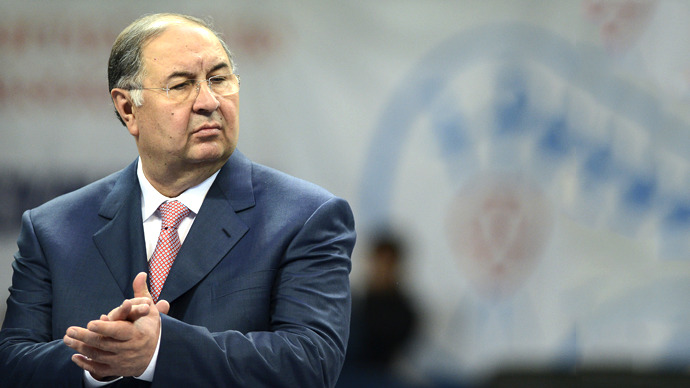 Russian billionaire Alisher Usmanov, the owner of Russia's biggest iron ore producer Metalloinvest, and co-owner of Arsenal Football Club, has topped the annual issue of Sunday Times newspaper's "rich list".
Usmanov, the 59-year-old mogul, started building his mega fortune manufacturing plastic bags. Now he owns a 30% stake in Arsenal FC, 40% of Russia's major internet company Mail.ru Group and also a stake in one of Russia's three major mobile phone operators - MegaFon. His fortune was estimated at £13.3 billion ($20.3 billion).

Last week the man was also named the richest person in Russia. Usmanov's furtune however was estimated in that instance to be $17.6 billion.
Steel magnate Lakshmi Mittal with a fortune of £10 billion ($15.2 billion), slid down to fourth pace after topping the Sunday Times rich list for eight years.
The second richest man in the UK is also of Russian origin. Russian-born owner of Warner Music, Len Blavatnik, soared in the top rankings as his fortune increasing almost four times from £3.4 billion last year to £11 billion ($16.8 billion) this year. The sale of his stake in Russian oil and gas giant TNK-BP for a reported £2 billion only added to his worth. The sale came as part of the deal between AAR consortium of Mikhail Fridman, Viktor Vekselberg and Len Blavatnik selling their stake in TNK-BP to Russia's state-run Rosneft for $28 billion.
Another Russian, Chelsea football club owner Roman Abramovich, has dropped two places to fifth on the list, with a value of £9.3 billion ($14.1 billion).
According to AFP, the combined fortunes of the 1000 richest people in the UK and Ireland totals almost £450 billion ($685 billion). The fortunes of the top 200 combined make a whopping £318.2 billion ($484.7 billion).