Abramovich falls off Forbes Rich List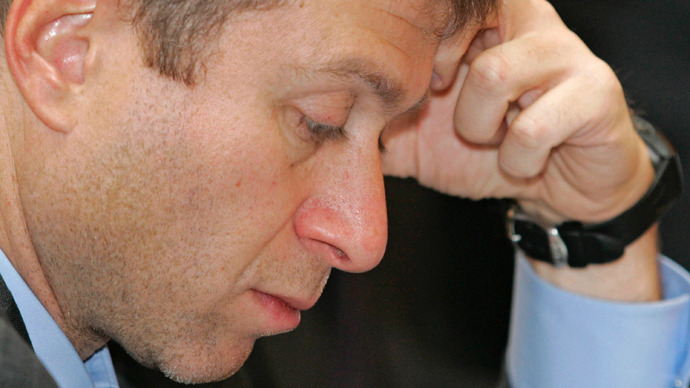 Russian billionaire Roman Abramovich has significantly dropped down in Forbes list of the richest men, sliding from 68th to 107th spot. Abramovich's wealth has decreased by $1.9 billion over the past year and now amounts for $10.2 billion.
Roman Abramovich is best known outside Russia as the owner of the English Premier side Chelsea, but the billionaire's day job is the owner of investment company Millhouse LLC.
Abramovich was orphaned as a child and went to public schools in the Soviet Union. He was an average student until his incredible rise in the 1990s which made him one of the youngest billionaires in Russia. He built on his success in the mid-2000s and topped the Russian rich-list for a few years.
He made his impact is a politician as well serving as the Governor of the Russian Far Easter region of Chukotka from 2003-08 and reportedly spent $1.3 billion of his own money on the area.
He became a society column regular following his divorce from the mother of his five children and his subsequent marriage to Daria Zhukova. There then followed a headline grabbing London court battle with former partner Boris Berezovsky. He has a palatial home in London, expensive yachts for throwing celebrity studded parties, and a massive security staff to make sure he comes to no harm.
Mexican telecom tycoon Carlos Slim Helu, with $73 billion in his accounts, remained top of the pile as the world's richest man. Microsoft founder, Bill Gates and a founding chairman of the Inditex fashion group, Amancio Ortega are sitting second and third with $67 billion and $57 billion respectively. Mr Ortega was the year's biggest gainer, adding $19.5 billion to his fortune and making it to the list for the first time.
Russia's richest man, Alisher Usmanov, has lost six positions this year and now occupies number 34 with wealth estimated at $17.8 billion. Head of Alfa-group, Mikhail Fridman comes second in Russia's richest with $16.5 billion and Novotek CEO, Leonid Mikhelson with $15.4 billion is third.
Among other wealthy Russians who made it to the Billionaires' List are Aleksey Mordashov with Severstal steel company and $12.8 billion and  Oleg Deripaska, biggest shareholder of Russia's aluminum giant Rusal with his wealth amounting to $8.5 billion.
The 2013 Forbes Billionaires list now boasts 1,426 names, with an aggregate net worth of $5.4 trillion, up from $4.6 trillion.

You can share this story on social media: