Facebook restricts access to page supporting Russian opposition activist Navalny
Published time: 21 Dec, 2014 18:14
Edited time: 21 Dec, 2014 18:19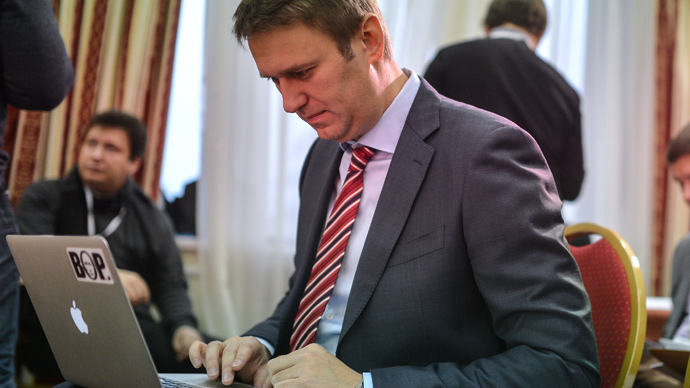 Access to a page, created in support of Russian activist and blogger Aleksey Navalny, has been limited by the social network for Russian internet users. While the move got the online community worried over FB 'censorship', new similar pages have appeared.
A group page, which was created earlier this week by Navalny's supporters, calling for a gathering in central Moscow on the day of his trial and for a "discussion of the sentence", has been blocked by Facebook for Russian internet users. The limited access was enforced by the country's mass media and telecom watchdog Roskomnadzor.
READ MORE: Prosecutors seek 10yr jail sentence for opposition figure Navalny
"Roskomnadzor received a demand from the Office of the General Prosecutor to restrict access to Facebook internet pages, which contain calls to unauthorized mass events," the watchdog's spokesman Vadim Ampelonsky told the Russian media, adding that the social network just complies with the norms of the Russian law.
The law came into force in February, giving Russian authorities the right to block web sources, containing "extremist materials, calls for mass unrest and mass gatherings which do not follow established procedure." This is not a precedent for Facebook, though. According to its own statistics, from January to June 2014 it restricted access to 29 pieces of content at the request of Roskomnadzor. Normally, social media networks comply with the law of countries where they operate.
READ MORE: Russian watchdog to force dithering Facebook, Twitter & Google to register as mass media
New Facebook pages, calling for people to gather in support of Navalny, have been created over the weekend. One of them was joined by even more users than the banned one. It contained comments from the original page creators, who stated that the previous source was closed "unlawfully." A similar page on the popular Russian VKontakte network has also been blocked.
Yves Rocher website has very awkward "10 years" anniversary banner now, in light of @navalny's possible sentencing. pic.twitter.com/o160BRv6qu

— Kevin Rothrock (@KevinRothrock) December 19, 2014
Calls for a "gathering" appeared online after it was announced that Russian prosecutors were seeking 10 years in prison for Navalny's alleged embezzlement from cosmetics giant Yves Rocher and for money laundering. The prosecutors' recommendation coincided with the company celebrating its 10 years in Russia, which was reflected in a banner on its website. The banner was later hidden from the company's page.