Prosecutors seek 10yr jail sentence for opposition figure Navalny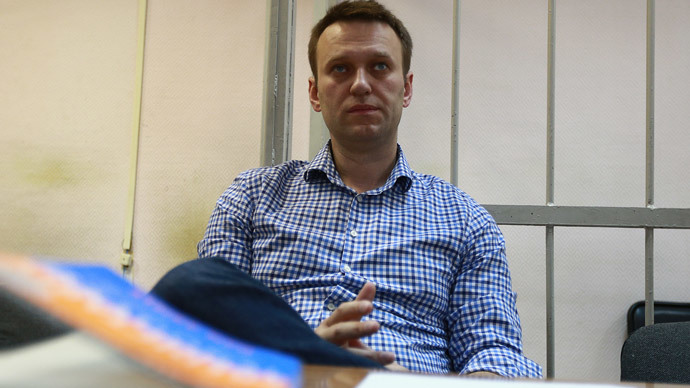 Russian prosecutors have asked that prominent anti-corruption activist Aleksey Navalny be sentenced to 10 years in prison for embezzlement from cosmetics giant Yves Rocher and laundering the money.
On Friday a district court in Moscow ruled to prolong Navalny's house arrest to till January 15, but allowed him to send letters to state agencies and courts, including international ones.
The activist has remained in his apartment since February this year with a ban on using the internet and other means of communication, but continues to update his popular anti-corruption blog by proxy of his wife.
Prosecutors also sought to sentence Aleksey Navalny's brother Oleg, who is suspected of being the main accomplice in the alleged scheme, to eight years behind bars.
They told the court the request for such harsh punishment was motivated by the "cynicism" of the crime and by the fact that it had been allegedly committed by an organized group.
The official charges are based on the statement made in 2012 by several senior managers from Yves Rocher. According to that record, Aleksey Navalny, along with Oleg, a senior manager in a subsidiary of the state enterprise Russian Post, tricked them into signing a transportation contract with their own company at inflated prices.
This company allegedly never provided the services, but instead relied on a subcontract executed by other firms. The scheme worked for four-and-a-half years. The overall amount of money paid by Yves Rocher to the brothers exceeded 55 million rubles (over US$1.6 million at the time) and the pocketed margin was over 20 million rubles ($600,000), according to the claim. Additionally the brothers are suspected of allegedly laundering the money with the help of a different family enterprise.
Both suspects have pleaded not guilty, saying that the scheme was an ordinary go-between business. They also repeatedly called the trial a political process instigated by the authorities as revenge for Aleksey Navalny's constant and sharp criticism of senior officials and top managers of state corporations.
Read more: Investigators search Navalny allies within election fraud case
On Friday, defense lawyers again demanded that the court ruled the suspects not guilty on all charges saying that the process was politicized and prosecutors' evidence was insufficient to prove their claims.
Alexey Navalny also expressed the disagreement with the court position on Friday by posting the following bitter tweet: "Terrific! Today is the last day of court and prosecutors want to prolong the house arrest!"
Офигенно. Сегодня последний день суда, а прокуратура требует продлить домашний арест.

— Alexey Navalny (@navalny) December 19, 2014
He also said in his court speech that he considered it possible for the court to pass the sentence before January 15, 2015.
In mid-2013 Alexey Navalny already received a five-year probation sentence for taking part in a graft scheme involving a state-owned timber company in central Russia's Kirov Region.
You can share this story on social media: