Arizona governor signs law making 'revenge porn' a felony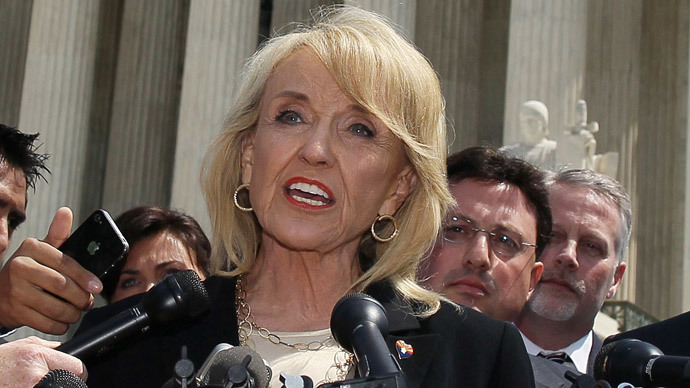 "Revenge porn" is now a felony in Arizona, with perpetrators who post sexually explicit images or videos online without a person's consent subject to jail time and the label of sex offender.
The Arizona Legislature unanimously passed the bill last week, and Gov. Jan Brewer (R-Ariz.) signed it into law on Wednesday, MSNBC reported. Arizona is the ninth state to pass a law against revenge porn, also known as non-consensual pornography, but is the first to make it a felony without an exception for lawful purposes, according to the Daily Dot.
The law makes it a crime "to intentionally disclose, display, distribute, publish, advertise or offer a photograph, videotape, film or digital recording of another person...if the person knows or should have known that the depicted person has not consented to the disclosure."
The only exceptions are when reporting illegal activity to law enforcement, lawful practices of medical treatment, or images involving "voluntary exposure" in public, according to the Phoenix New Times.
Revenge porn is often an attempt to humiliate former lovers by publishing images and videos online of a nude person or a person engaged in a sexual act without his or her permission, according to Reuters.
Holly Jacobs, a revenge porn victim and the founder of End Revenge Porn, detailed her experience of being victimized by an ex-boyfriend in a blog post.
"He started posting explicit pictures and a video of me all over the Internet along with my full name, email address, job title, and specific details of where I worked and how far along I was in my PhD program," she wrote.
"For 3 years damage control was a full-time job. I hired a lawyer to send him a letter. I begged and pleaded with 3 different police stations to file charges against him. I went to the FBI, and I hired an Internet specialist to help me take down the material. Ultimately, those avenues were dead ends," she continued.
Jacobs told MSNBC she is "thrilled" that Arizona will charge perpetrators of revenge porn with a felony.
"I've been pushing for these laws to be felony charges, otherwise it doesn't seem like it gives the police the authority they need to pursue the cases all the way through," she said. "I never dreamed that we would be making as much progress as quickly as we did when we started the campaign."
But legal experts and civil rights activists warn that the new law might be an unconstitutional infringement on free speech.
"It's extremely troubling," Lee Rowland, staff attorney at the ACLU, told the Daily Dot, because the law "also applies to pictures where the person isn't identifiable."
"So posting a disembodied picture of a woman's breast – so long as you 'should have known' they didn't consent – could support a felony charge," she said. "I think the law is overbroad and covers a significant amount of fully-protected speech."
University of Arizona law professor Derek Bambauer cited a hypothetical situation in which someone had an image of Monica Lewinsky and President Bill Clinton engaged in a sex act.
"I publish it in the newspaper," he explained to the Phoenix New Times. "Can I be prosecuted? Clearly not – it's a matter of public concern (the president is having an affair with an intern, a government employee), so the First Amendment blocks the prosecution."
Under the law, perpetrators would face a sentence of 18 months in prison, which could be increased to 2.5 years if the victim is recognizable in the image or video. The "unlawful distribution of private images" can also be considered a domestic violence crime under the new law, which can include even harsher penalties, more intense release conditions from jail, or implications in custody issues, the Phoenix New Times reported.
The bill's sponsor, Republican Rep. J.D. Mesnard, told colleagues that the bill protects minors from receiving a permanent felony record if they engage in revenge porn because those cases will generally be handled in juvenile court, with the option of having their record expunged, the Arizona Daily Star reported.
"I believe the bill is going to do some good," Mesnard said moments after learning that the legislation had been signed, according to Reuters. "It helps with this new form of wrong, with a new form of being able to harm people. It's sad we are being forced to do something like this."
Arizona joins California, Georgia, Idaho, Utah, Virginia, and Wisconsin as states with revenge porn laws on the books. Only in Idaho and Arizona is it a felony on the first offense; it becomes a felony on the second offense in Georgia and Utah. There are more than two dozen similar measures proposed in states nationwide, according to the National Conference of State Legislatures.
Rep. Jackie Speier (D-Calif.) plans to introduce a national revenge porn bill soon, a representative from her office told the Daily Dot.