Gitmo hunger strike: Timeline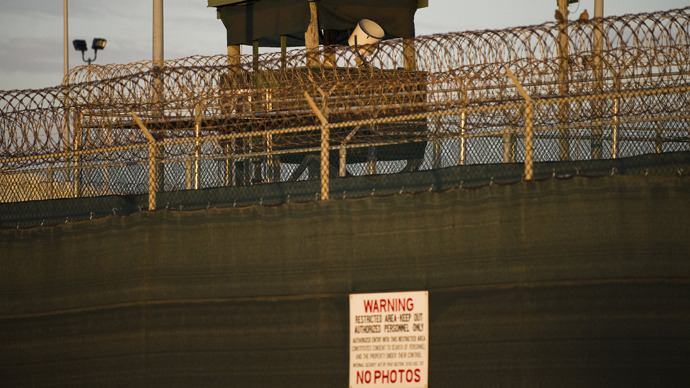 A mass hunger strike has been unfolding in the notorious Guantanamo Bay prison for over three months now. RT has been badgering the UN, prison officials, detainees' attorneys and activists to get a full account of the situation.
October 19
02:08 GMT: A Canadian judge denied Friday a request by former Guantanamo Bay detainee Omar Khadr for transfer from a maximum security federal penitentiary.
Khadr was seeking to move to a provincial facility, as his lawyers argued that the Canadian government was illegally holding Khadr as an adult for offenses committed as a juvenile.
The Edmonton judge upheld Khadr's status in a federal prison based on the International Transfer of Offenders Act that governed his transfer to Canada from the US Navy prison at Guantanamo Bay.
Khadr, 27, was 15 when he was shot and captured by US Special Forces in Afghanistan. He pleaded guilty in 2010 to five war crimes - spying, conspiracy, providing material support, attempted murder and murder of a US soldier in the 2002 firefight. A plea deal offered him a return to Canada to serve the rest of an eight-year sentence.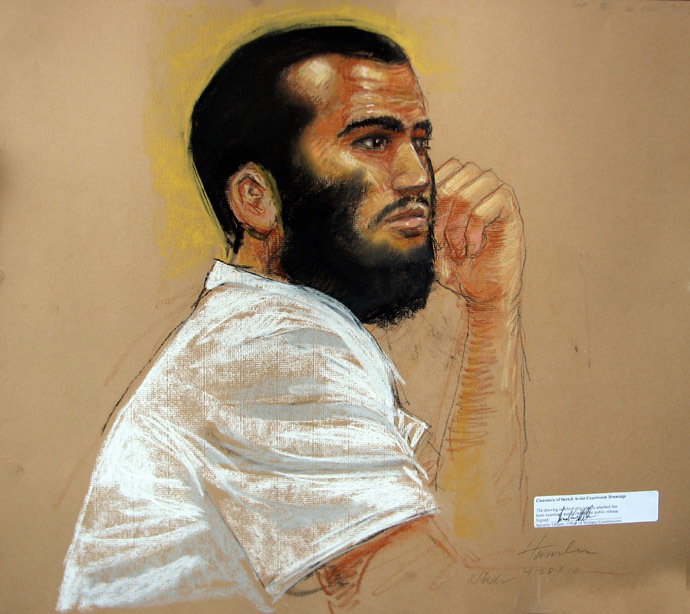 October 18
22:27 GMT: A US appeals court showed openness Friday to allowing Guantanamo Bay hunger strikers to challenge force-feeding procedures. Defense attorneys call the method inhumane, but the Obama administration says it is needed to keep order at the prison.
Two judges on a three-judge panel were skeptical of claims made by government lawyers that the US Court of Appeal for the District of Columbia Circuit had no jurisdiction over the prison at a US Navy base in Cuba.

The judges indicated that lower courts should allow detainees to challenge forced feedings. A decision is likely weeks or months away, yet their posture leaves open the possibility for a new challenge to how the US treats Guantanamo prisoners.
October 17
11:40 GMT: In its decade long-existence, the Guantanamo Bay detention camp has been much discussed and often reviled – but rarely seen. In this special report, RT's Anastasia Churkina was granted access to the world's most infamous prison. (VIDEO)
October 13
00:37 GMT: Guantanamo guards were conducting regular night raids on inmates' cells, putting prisoners in solitary confinement and manipulating temperature in the cells to force an end to the months' long hunger strike in the camp, detainees claim.
Details of alleged mistreatment have emerged from declassified letters and interviews published by the lawyers of some of the 164 men who remain in the US facility on Cuba.
October 10
09:01 GMT: The Pentagon has launched a new board to review the threat posed by prisoners held without charge at Guantanamo military prison. The move is aimed at aiding the eventual closure of the facility, a goal that the Obama administration has failed to achieve.
October 5
06:00 GMT: A federal judge has ordered the US to release a Guantanamo Bay prisoner Ibrahim Idris of Sudan suffering from mental illness who has spent much of his 11 years at the prison in a psychiatric ward.
September 27
01:56 GMT: A US military request for funding to renovate the prison base at Guantanamo Bay, Cuba was denied by Pentagon officials in the Obama administration who, while pledging to close the prison, have been consistently prevented from doing so by Congress.
September 7
02:57 GMT: A US demonstrator was force-fed through a nasal tube in front of the White House in an effort to show that the procedure used at Guantanamo Bay is torture.
Andres Thomas Conteris, weakened by a 61-day fast, went through with the force-feeding in order to raise awareness of the issue and encourage other Americans to speak out against the procedure.
"It feels like endless agony," AFP quoted Conteris as saying. "Any motion is painful, it feels like I'm drowning."
The procedure, dubbed "enteral feeding," is used on hunger strikers at the Guantanamo Bay. US authorities argue that the process is merely uncomfortable – not torturous.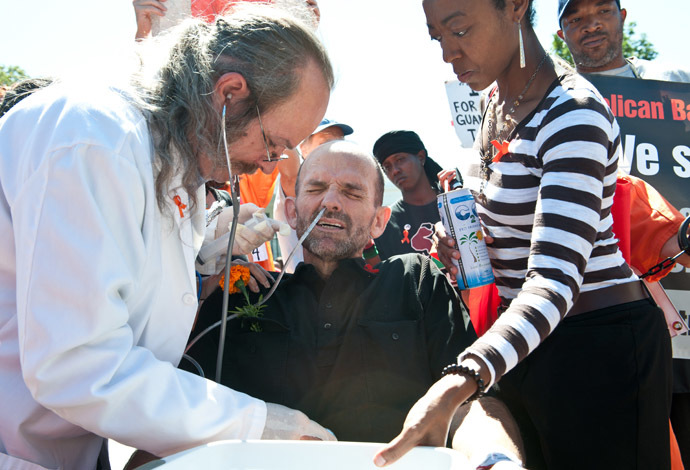 02:56 GMT: As of Saturday, there are 22 detainees on hunger strike - eight less than the day before - with 20 on the enteral feeding list, deputy director of Guantanamo public affairs, Lieutenant Colonel Samuel E. House, said in a letter to RT.
August 29
23:03 GMT: The US announced the release of two detainees from the prison at Guantanamo Bay to their home nation of Algeria, bringing the total number of detainees at the prison to 164. Nabil Said Hadjarab and Mutia Sadiq Ahmad Sayyab were approved for transfer based on a review directed by President Obama. Hadjarab had been detained for 12 years, his lawyer told the Guardian, and was cleared for release in 2007. He took part in the ongoing hunger strike at the prison. More than 37 detainees remain on hunger strike, according to the US military.
August 28
00:38 GMT: Young Guantanamo Bay military personnel get a crash-course briefing on the events of 9/11 and how they connect to the prison, ProPublica reported.
A Freedom of Information Act request shows the FBI gives the briefings armed with a presentation including details about the hijackings, videos of the World Trade Center and recordings of 9-1-1 calls from the towers. The FBI said they withheld nine slides of the presentation "to protect law enforcement tactics." Five detainees are currently on trial at Gitmo for the 9/11 attacks.


August 23
19:03 GMT: Despite military claims that the number of hunger strikers in Guantanamo is decreasing, it is still "grand in duration and in size," Carlos Warner, lawyer for several inmates told RT.

He says the data coming from the prison authorities is "unreliable" as "we don't know what the military use as their metric to say that somebody isn't hunger striking."

18:57 GMT: As the hunger strike entered its 200th day, 37 inmates continued to refuse food, with 33 of them being subjected to force feeding, Guantanamo officials said. The only hunger-striking prisoner, who was previously being treated in the detainee's hospital, has now been returned to his cell.


August 19
16:00 GMT: The existence of the infamous Guantanamo Bay detention center in Cuba - where detainees serve life sentences for terrorism - violates human rights, German human rights commissioner Markus Loening told German news agency Deutsche Presseagentur on Monday. He also stressed that Gitmo brings into disrepute Washington and its allies, with Germany among them. Those fighting to close Gitmo have a valid case, because prisoners are kept there illegally, Loening added. Germany has already granted admission to three ex-Guantanamo prisoners.
August 18
21:36 GMT: Defense lawyers for 9/11 detainees held at Guantanamo Bay are resisting a push by US military prosecutors to rush through controversial evidence and start the trial in September 2014. The decision of the military judge could hinge on how deeply the defense is allowed to delve into details of the defendants' treatment in CIA prisons – before they were brought to Guantanamo. The defense lawyers are protesting that prosecutors have not handed over the most contentious evidence, and are trying to railroad the hearings through without proper time for the defense to review the prosecution's evidence.
August 12
20:20 GMT: The detainees at Guantanamo Bay have been requesting books written by bestselling author John Grisham, best known for his legal thrillers such as "The Firm." However, about two months ago some of them were banned by the US military due to "impermissible content," Grisham wrote in an Op-Ed article for The Guardian on Monday.
August 10
22:05 GMT: A former MI6 officer will begin a week long hunger strike on Monday in solidarity with Shaker Aamer, the last inmate of Guantanamo with British residency. Harry Ferguson, 52, says he is motivated by shame over the behavior of the British intelligence service he once served. Ferguson said that claims that British intelligence officers were covertly campaigning for Aamer not to be repatriated to the UK were the final straw. Aamer is the leading witness in a British police investigation that MI6 were present while Aamer was being tortured.
Ferguson's hunger strike is part of a campaign by the human rights charity Reprieve to support Guantanamo bay hunger-strikers by getting supporters to give up food temporarily. Stafford Smith, Aamer's lawyer, as well as actress Julie Christie and comedian Frankie Boyle are among those who have so far completed a hunger strike in support of Aamer.
August 9
10:00 GMT: Activists calling for closure of Guantanamo Bay prison have launched an online clock, which counts the time since President Obama's latest promise to set free inmates whom the US cleared for release. So far all of the 86 men remain incarcerated.
August 6
20:30 GMT: Moscow has again tried to secure permission for its delegation to visit Ravil Mingazov - the only Russian citizen at Guantanamo, who was arrested in Pakistan in 2002 but presented with no official charge. The Russian Foreign Ministry's representative for human rights, Konstantin Dolgov, said in June that US authorities have not been doing what is in their power to arrange access. He told RIA Novosti on Monday that "we have again put forth that question, and we remain hopeful of progress on the matter and that the US State Department, together with the Pentagon, will play their part and secure a visit for the Russian delegation."
05:00 GMT: The Guantanamo hunger strike has hit the sixth month mark, with more than 60 inmates continuing to starve. Many of the hunger strikers continue to be force fed, a practice that the UN human rights commission classifies as torture. At its peak more than two-thirds of Guantanamo's 166 prisoners refused food. In addition to human rights error and the ongoing urging of President Obama, the escalating cost of keeping dozens of men locked up indefinitely could finally prompt that sort of response, especially during an era of sequestering that has stripped the Pentagon of much of its funding this year already. A little more than a week ago, an analysis, first provided to Secretary of Defense Chuck Hagel and made public last week, concluded that the cost of keeping the Pentagon open will amount to more than $5 billion by the end of 2014. Read more in RT's story.
August 3
6:20 GMT: Moscow has so far not been able to negotiate the terms for its delegation to visit Guantanamo Bay to meet Ravil Mingazov, the only Russian citizen being detained at the facility. Russia-US talks over the issue have reached a deadlock, with Washington claiming Mingazov does not want to see Russian diplomats. The inmate's attorney says his client is not against the meeting, but wants lawyers to be present, a condition which US authorities do not allow.

Moscow has persistently insisted on the visit, according to the Foreign Ministry's Commissioner for Human Rights Konstantin Dolgov.

"It's important to us to assess the overall situation and to what extent human rights are being violated – and we know they are in that prison. The inmates over there have been on a hunger strike for months. We are witnessing a legal vacuum, as there's a whole bunch of serious human rights issues," the Russian daily Kommersant cites him as saying.
August 2
15:15 GMT: Protesters have taken to the streets of the Yemeni capital Sana'a to vent their anger at the detention of dozens of Yemini nationals held in Guantanamo. Protesters gathered outside the home of president Abdrabuh Mansur Hadi on Friday demanding that Yemini nationals be released from the camp.
7:15 GMT: Shaker Aamer, the last British resident imprisoned in Guantanamo Bay, says he suffers from regular assaults, including those of a sexual nature, from the guards.
"I refuse to do what they tell me, even though I know I am about to get beaten up," Aamer said in the phone call, which was published Thursday by British newspaper The Independent. "Sometimes, you just have to make a stand, however pointless that stand might seem to be."
He added that guards sexually assaulted inmates during searches, in what the prisoners call "a Gitmo massage."
Aamer has been imprisoned in the facility for almost 11 years without being formally charged.
August 1
15:34 GMT: Five more detainees have ended their hunger strike, reducing the number of strikers to 61, according to Guantanamo officials. There are 166 detainees at the facility, and 42 of them are still being subjected to force feeding. Two hunger-striking inmates are being monitored in the detainee hospital, but are not suffering from any life-threatening conditions.
July 26
The US Defense Department notified Congress on Friday that it plans to repatriate two Guantanamo detainees to Algeria, White House spokesman Jay Carney said in a statement.

"We are taking this step in consultation with Congress, and in a responsible manner that protects our national security," the statement said.

"We continue to call on Congress to join us in supporting these efforts by lifting the current restrictions that significantly limit our ability to transfer detainees out of Guantanamo, even those who have been approved for transfer," Carney added.
Currently, eighty-six of the 166 Guantanamo detainees are still held in the US prison despite being cleared for release.

Sixty-eight Gitmo prisoners are taking part in the ongoing hunger strike in protest against their indefinite detention, with 44 detainees being force-fed, according to prison officials.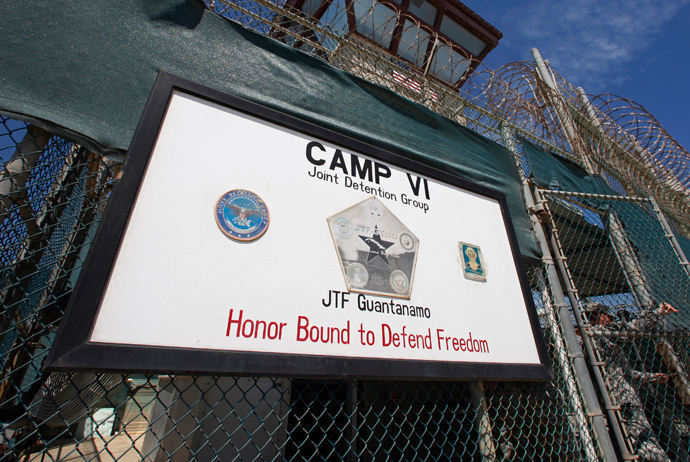 July 20
A US government official has notified the lawyers of Guantanamo prison detainees that their clients who can neither be prosecuted nor released will have their cases reviewed to decide on their indefinite detention, investigative reporter Jason Leopold wrote on The Freedom of the Press Foundation website.

According to an email obtained by Leopold that was sent to attorneys from periodic review secretariat director retired Navy Rear Admiral Norton C. Joerg, "a new Periodic Review Board (PRB) process will review the continued detention of certain detainees to assess whether continued law of war detention is necessary to protect against a continuing significant threat to the security of the United States."

The Board is set to determine the level of "threat" for each individual, and decide if their detention needs to continue, Joerg was quoted as saying. It will not, however, address whether the Gitmo prisoners' "law of war" detention is legal.

This comes some two years after the US President Barack Obama signed an executive order to form a parole board to begin reviewing the prisoners' cases.
July 19
09:00 GMT: The controversial British comic Frankie Boyle has gone on hunger strike in support of Shaker Aamer, the last British detainee in Guantanamo. Boyle took over from the human rights lawyer Clive Stafford Smith, who represents Mr. Aamer, and had been on hunger strike for a week. Boyle donated £50,000 he won in a libel action against the Daily Mirror to Aamer's legal fund in December last year.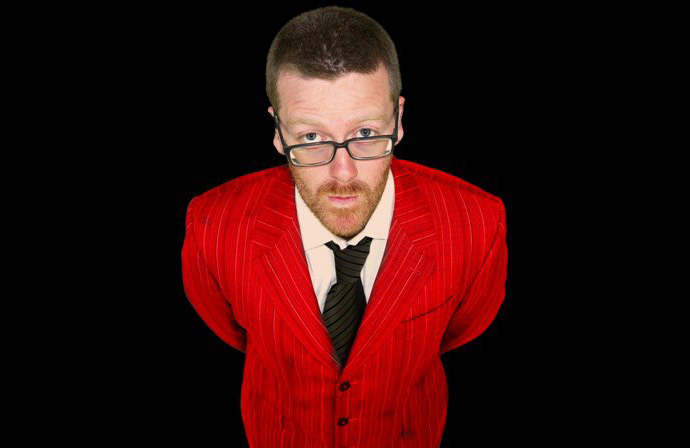 July 18

20:32 GMT: The latest update from the Guantanamo prison reveals 75 detainees are designated as hunger strikers. Forty six of those are being force-fed. Three inmates that are on hunger strike are being monitored in the hospital, one of which is approved for enteral feeds. None of the hospitalized prisoners have a life threatening condition.
July 17
20:56 GMT: Groin searches at the Guantanamo Bay prison camp have been allowed to continue on a temporary basis, a federal appeals court ruled on Wednesday.

The court allowed an emergency motion for a temporary delay in enforcing last week's ruling by Judge Royce Lamberth's forbidding the act, calling the searches "religiously and culturally abhorrent." Lamberth said that searches were carried out to deter detainees' access to lawyers and not to enhance security at the facility.

The US government argued that Lamberth's ruling will reduce security at Guantanamo by making it easier to smuggle contraband into the facility.
19:19 GMT: Two more detainees have agreed to accept food, bringing the number of hunger strikers to seventy eight, said Lt. Col. Samuel E. House, deputy director of public affairs at Guantanamo Bay.There are 166 detainees at Guantanamo Bay, while 46 of the hunger strikers are still subjected to force feeding. Three hunger striking prisoners are being observed in the detainee hospital, but do not have any life threatening conditions. Three hunger striking prisoners are being observed in the detainee hospital, but do not have any life threatening conditions, House stated.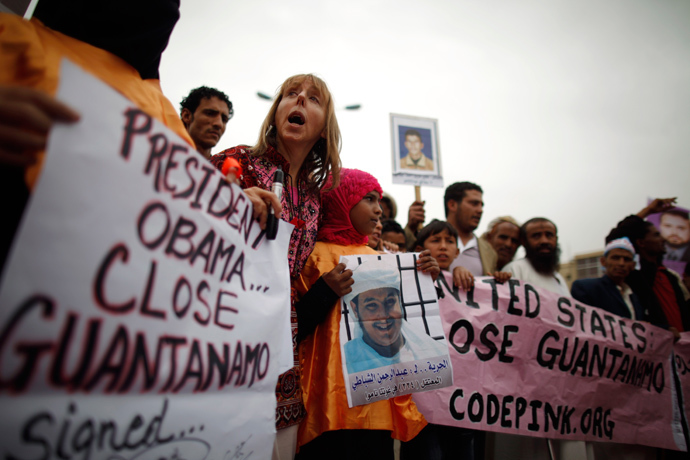 July 14
18:23 GMT: Another 15 Guantanamo detainees have accepted food, giving up their ongoing hunger strike. As of Sunday, 81 of Guantanamo's 166 detainees were being tracked as hunger strikers, with 45 of those on the enteral feed list. Three hunger striking detainees are being observed in the detainee hospital, one of which is receiving enteral feed, Lt. Col. Samuel E. House, deputy director of public affairs at Guantanamo Bay, told RT.

July 13
17:17 GMT: As of Saturday, there are 166 detainees at Guantanamo Bay. Ninety-six detainees are participating in the hunger strike, 45 of whom are on the enteral feed list. Three hunger striking prisoners are being observed in the detainee hospital, but do not have any life threatening conditions, Lt. Col. Samuel E. House, deputy director of public affairs at Guantanamo Bay, told RT.

04:02 GMT: Nearly all of the Guantanamo Bay inmates participating in a hunger strike have continued eating, US military officials said Friday, in a possible indication that their protest has improved the immediate conditions of their indefinite imprisonment.
The military said that 99 of the 102 hunger strikers have consumed a meal within the past 24 hours, bringing a possible end to the nearly six-month-long demonstration meant to focus international attention on the inmates' detentions.
July 12
13:07 GMT: According to Guantanamo Bay officials, two of the detainees ended their hunger strike bringing the number of strikers to 102 out of 166 detainees in the facility.

Forty-five are subjected to force feeding, while three hunger strikers are monitored in the prison's hospital, one which is 'approved for enteral feeds.' The prison officials state that none of the detainees in hospital care have any life threatening conditions.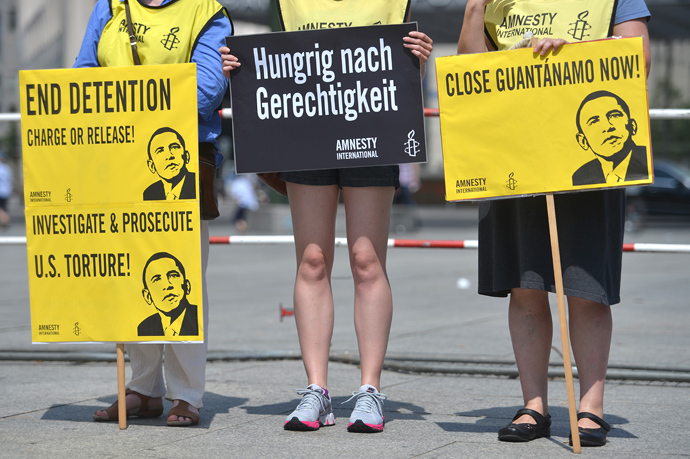 July 11
08:20 GMT: Human rights lawyer and long-time anti-Guantanamo campaigner Clive Stafford Smith has embarked on his own hunger strike in solidarity with the prisoners. He pledges to do it for 7-10 days and is hoping that other prominent people will take up the baton.

"It's very important for us to understand a little bit of the suffering those people are going through," Smith said, adding he was especially grateful to rapper Mos Def, who had courage to be filmed having a tube stuck up his nose.

"What I'm doing is minimal compared to what those prisoners are going through there. I've been on a hunger strike for 24 hours and they've been doing it for five months. Of course, it's not the same, but I do think there are some famous people who are going to join me in doing this and I think hopefully that's going to get attention on the prisoners' plight there," Smith told RT.
July 10
00:10 GMT: Two influential US senators have written to President Obama, asking that he direct the Pentagon to halt the force-feeding of Guantanamo detainees in all cases, unless medically necessary to save a detainee's life.

The joint letter by Senate Majority Whip Dick Durbin and Intelligence Committee Chairwoman Dianne Feinstein, two of the biggest proponents of shutting down the prison camp and both Democrats, also quoted Monday's federal ruling which determined that only the president has the necessary authority to halt the force-feedings.

"US military personnel serving at Guantanamo are doing an excellent job under difficult circumstances, but they are being asked to carry out an unsustainable policy of indefinite detention because Congress and the Executive Branch have failed to resolve this problem," the senators wrote.

"The growing problem of hunger strikes is due to the fact that many detainees have remained in legal limbo for more than a decade and have given up hope," they add.

According to Wednesday's letter, Senator Feinstein also wrote to Defense Secretary Chuck Hagel last month asking the Pentagon to reevaluate its policy. Feinstein says she has yet to receive a response from Hagel.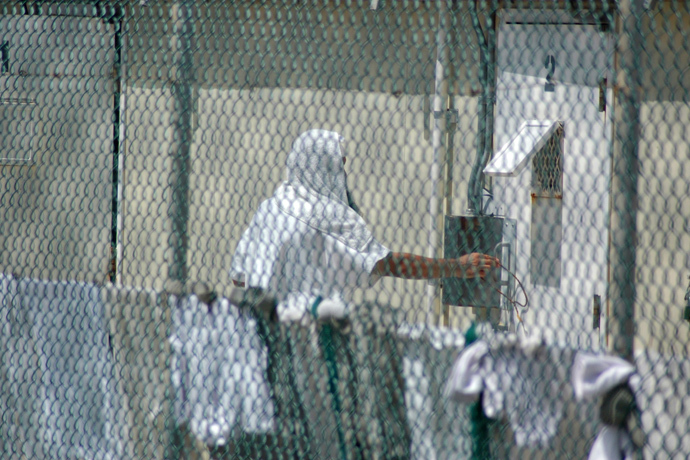 July 9

9:36 GMT: Only President Barack Obama has the authority to halt the practice of force feeding prisoners at Guantanamo Bay, a US judge has stated. Judge Gladys Kessler ruled she would be overreaching her authority by issuing an injunction against the practice.
July 8
13:19 GMT: Islamic leaders have called on US President Barack Obama to end force-feeding of the Guantánamo prisoners during the Ramadan fast, which is scheduled to start on July, 8, and end on August, 7. As Ramadan starts, the issue of force-feeding "is becoming increasingly embarrassing for the US government; it's about time President Obama took a brave decision to end this in a way that would be appreciated around the Islamic world," an Islamic community leader in Britain, Dr Azzam Tamimi, told The Guardian. According to the Guantánamo spokesperson, the fast of Ramadan will be observed by synchronizing the force-feeding of Muslim inmates to the Ramadan fast schedule.
July 6
13:10 GMT: "The detainees are looking for real concrete signs their needs are being met and not ignored. An easy way to do that is to begin to send the cleared Yemenis back home to Yemen where their government wants them,"Morris Davis, the former Chief prosecutor for terrorism trials at Guantanamo, told RT.
13:00 GMT:"Gitmo is a lawless place, it was designed that way by Dick Cheney," Carlos Warner, an attorney for 11 hunger strike participants on the island, told RT.
04:00 GMT: As the hunger strike in Guantanamo enters the 150 day, military attorney, Lt. Col. Barry Wingard tells RT that his client's health is quickly deteriorating. "He feels very much pain" Wingard says as the guards "started to force-feed liquid through his skull into his stomach."

To play down the force-feeding methods, Washington has hired a group of public relations professionals that tell lies. "They get new media people every Monday. They stay there from Monday – Friday. They never talk to a prisoner and they report an incomplete story that the military wants them to report," the lawyer says.

"Guantanamo Bay is not about justice. It's never been about justice and the fact that they've done 7 proceedings in eleven and a half years. It will never be about justice. We are a million miles behind hypocrisy in Guantanamo Bay."

Wingard argues that two things at this point can help the situation in Guantanamo, the first one being public pressure and "habeas petitions being refilled once American forces withdraw from Afghanistan in 2014."

The attorney concludes that since 98 percent of Gitmo inmates have no charges against them, to "say we can't release them because they might do something in the future is completely ridiculous."
July 5
Despite public outcry and annual spending of around $150 million, Obama is in no hurry to keep his promise of shutting down Guantanamo Bay. RT's Irina Galushko has looked into the possible reasons which cause the US president to keep the notorious detention facility operational.

Jon Eisenberg, lawyer of one of the force-fed Guantanamo detainees, said that the protesters don't want to die by their actions, but rather they want to be heard by President Obama.

"They want to be heard. They want to speak out against the force feeding. They want to be either tried or released. President Obama himself as the commander-in-chief of the US, he has the power to stop it. We're hoping that he does," Eisenberg told RT.

Doctor Frank Arnold of the Medact organization believes that GITMO medics are being negligent and abusive towards the detainees only because they're following orders from the military.

"The regime, which the joint task force for Guantanamo has written for the treatment of these people requires truly abusive care and also involves the use of medicines, which are dangerous," he stressed. "They aren't allowed to behave like doctors and are compelled by the military hierarchy to behave like jailors."

RT looks into how the controversial force-feeding procedure is being carried out at Guantanamo Bay. The US government says the procedure exists in order to prevent the deaths of prisoners, and that it is done in the most humane way possible. However, inmates describe force-feeding as "cruel punishment" which causes pain they have "never experienced" before.

Former Guantanamo prison guard Terry Holdbrooks told RT that a claim from one of the inmates that he and other prisoners are being sexually assaulted is highly feasible, because it's a way for some the staff to retaliate against Muslims for the 9/11 attacks.

"Korans would be either thrown in a toilet or thrown on the ground or mistreated in some other form. That happened often, and aggressive searches of detainee persons happened as well," he said.

"There are soldiers in the Army, in the Navy, Air Force, Marines, etc., who think that if they kill an Arab, mistreat a Muslim, or abuse a detainee that it's going to somehow balance the score for 9/11," the former guard explained.
Those in Guantanamo are the bravest people I know of, 150 days without food #GITMO150

— Bentley Greenwood (@_OnlinePirate) July 5, 2013
The hunger strike at Guantanamo Bay has entered its 150th day. 166 detainees are still being held at the prison, 106 of whom are on hunger strike. 45 prisoners are on enteral feeds, according to prison authorities.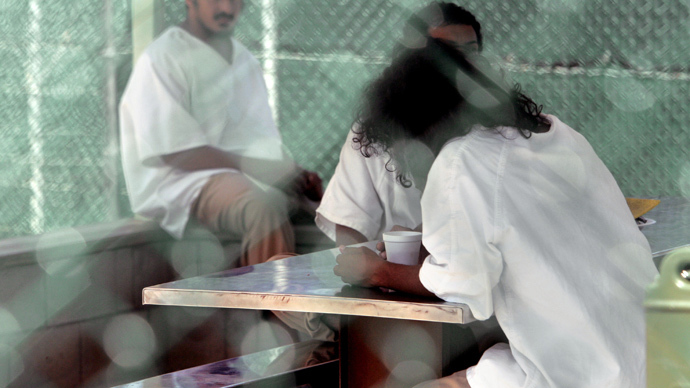 July 4
Younous Chekkouri who spent 11 years in Guantanamo accused the US military of sexually assaulting inmates under the guise of maintaining security.
"The searches, as they like to call them, are spreading fear and shame. Eight guards with the watch commander surround me in one room, while two of them put their hands all over me. The sexual assault hasn't just happened to me. Why are they doing this? That's what I'd like to know," he said in a letter to his lawyer obtained by media.
July 3
While a mass hunger strike continues at Guantanamo, Navy Capt. Robert Durand confirmed that the prison camp is sufficiently equipped to synchronize the force-feeding of inmates to the Ramadan fast schedule. Capt. Durand's comments were reported by the Miami Herald, while also noting that this will be the twelfth Ramadan in American captivity for most Guantánamo detainees. The fast is set to begin at sunset on Monday.

"We understand that observing the daytime fast and taking nothing by mouth or vein is an essential component of Muslim observance of Ramadan," Durand said.

"And for those detainees on hunger strike we will ensure that our preservation of life through enteral feeding does not violate the tenets of their faith."

July 2
Officials say that 106 detainees are still being tracked as hunger strikers, with 45 of those on the enteral feed list. Three of the detainees are being observed in the detainee hospital, one of which is on the enteral feed list. The detainees in the hospital do not currently have any life threatening conditions, according to Lt. Col. Samuel E. House.
July 1
Lawyers of four Guantanamo detainees filed a motion with the US district court in Washington to stop the force-feeding practice. The defense team claims that this practice is unethical and prevents their client from practicing their religion, guaranteed under the Geneva conventions. The prisoners have also attached affidavits stating that they understand the danger of hunger striking and do so voluntarily.
June 30
Guantanamo officials are still reporting that 106 of the 166 Guantanamo detainees are hunger striking. Two have now been hospitalized as a result of the strike. Officials report that neither of the two admitted on Saturday are in a life-threatening condition. 44 are still being force fed.
June 29
Guantanamo prison guards and medical staff are facing accusations that they deviated from procedure when treating detainees, contributing to an inmate's suicide in at least one case.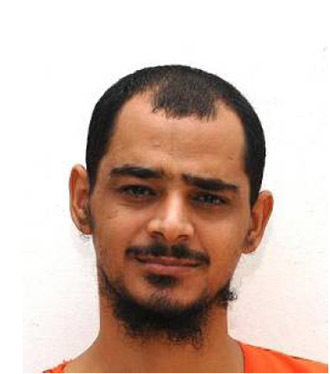 Al Jazeera has obtained a copy of a US military report investigating the September 2012 suicide of Adnan Latif, a 31-year-old detainee who was incorrectly treated for a severe psychological disorder. The report's authors claim guards and medical staff at the prison camp chose not to follow the rules on handling difficult inmates.

Latif, a Yemeni national, was able to stockpile prescription medications in his cell as a result, the report says, which would have been impossible had prison staff stuck to protocol.

Before his detention Latif was seeking medical help for a head injury that had supposedly caused brain damage. He is also reported to have had "outstanding mental health issues," according to Al Jazeera.

Mark Mason, an anthropologist at the University of California, questions the fact that the President has enough power to launch drone strikes, but not enough to close Guantanamo.
June 28
As of Friday there are 106 out of 166 detainees on hunger strike, with 44 being forced-fed. There are currently no detainees being observed on the hospital, deputy director of Guantanamo public affairs Lieutenant Colonel, Samuel E. House told RT.
June 26
An activist who has been protesting the continuous operation of the Guantanamo Bay military detention facility was arrested Wednesday after climbing over the fence on the north lawn of the White House.
Diane Wilson, a member of the activism group Code Pink, was arrested Wednesday afternoon in Washington, according to the organization's official Twitter account.
Cop reaches for camera as @medeabenjamin is shoved to ground violently #CloseGitmopic.twitter.com/PJI6eVGNDO

— CODEPINK (@codepink) June 26, 2013
June 25
105 detainees are now on hunger strike at Guantanamo Bay, the highest number the military has acknowledged since the protest began in February. Of those, 44 are being force-fed via a tube which has been pushed through the nasal cavity and down the esophagus to the stomach.
June 22
A 'stepping up' of attempts to quash the hunger strike has been exposed by a British inmate at the camp. He reported the introduction of metal-tipped tubes for force-feeding.
June 21
The hunger strike at Guantanamo will last until those inmates cleared for release leave, a lawyer working on several Guantanamo cases has told RT. All of Cori Crider's clients object to being force-fed, she says.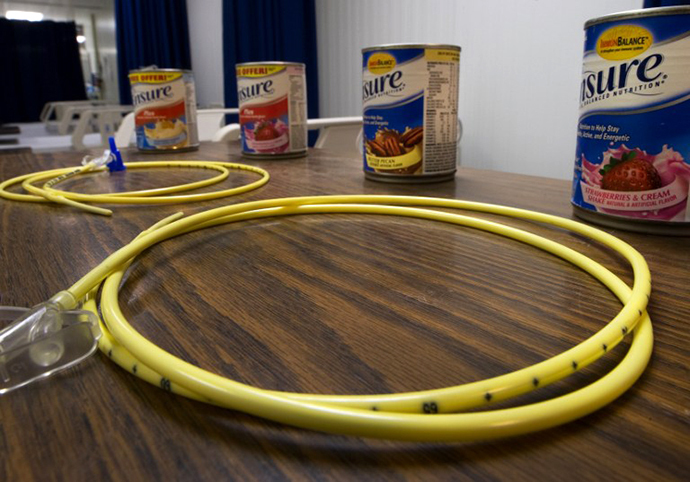 The lawyer argues that an independent team of doctors should be allowed access to the detention facility to assess the prisoners' mental health.
"None of our hunger striking clients trust the doctors. They tried again and again to raise these issues with the medical staff. They say, 'I reject this feeding, I reject being medicated. Why are you involving yourself with this practice?' And the military doctors just shrug and say 'I just have to follow orders', so yes I hope that the military and certainly the commander in chief will take the request seriously," Crider said.
June 20
If the detainee hunger strike continues in Guantanamo, participants will most likely face irreversible organ damage and eventually death, Terry Kupers, a psychiatrist and consultant for Human Rights Watch told RT.
Force-feeding prisoners during a voluntary hunger strike is considered an abuse of the Hippocratic Oath, and also contradicts medical ethics. This aggravated assault will result in "permanent psychological damage," Kupers warned.
June 19
Over 150 doctors and medical professionals have signed an open letter to US President Barack Obama calling for the hunger-striking prisoners to receive independent medical care.
The letter, published in the Lancet medical journal, states that the detainees have "very good reason" not to trust the facility's medical staff, who are required to follow the orders of their military commanders.
"Without trust, safe and acceptable medical care of mentally competent patients is impossible," the letter said. "Since the detainees do not trust their military doctors, they are unlikely to comply with current medical advice. That makes it imperative for them to have access to independent medical examination and advice, as they ask, and as required by the UN and World Medical Association."
June 19
US President Barack Obama has said that he still wants to close the Guantanamo Bay prison facility, but has been faced with resistance from Congress that has stifled his efforts.
"We cannot have a permanent outpost in which they are being held even as we are ending a war in Afghanistan that triggered the capture of some of these detainees in the first place," Obama told a news conference in Berlin, held jointly with German Chancellor Angela Merkel.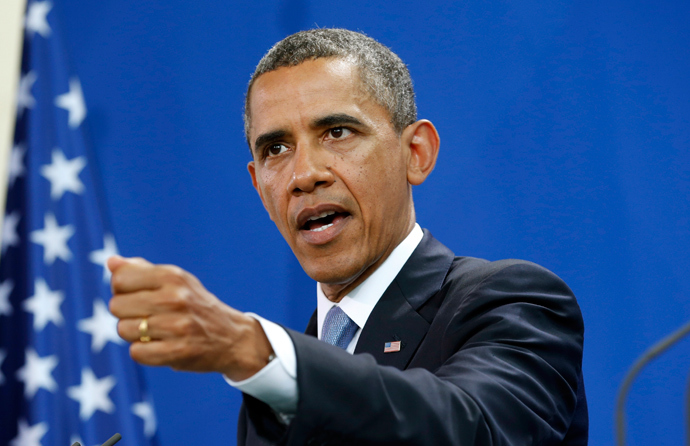 "We must not be so driven by fear that we change the fabric of society in ways we don't intend and we do not want for the future. I think closing Guantanamo is an example of us getting out of that perpetual war mentality," Obama said.
June 17
For the first time since President Obama took office Washington has publicly disclosed the names of inmates at the Guantanamo Bay prison camp classified as "indefinite detainees" - those who pose too great a threat to release but cannot be tried in court.
Meanwhile, the US State Department is set to announce a new lawyer to oversee the closure of the infamous Guantanamo Bay prison facility. Cliff Sloan, a Washington lawyer, will take on the post, according to sources familiar with the decision. Sloan has previously served with all three branches of the government and worked on cases in both state and federal courts.
June 13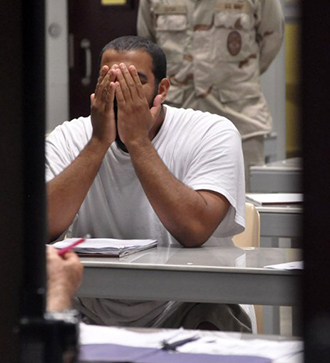 Doctors at the Guantanamo Bay detention camp should refuse to participate in the force-feeding of hunger strikers since such an activity is a political statement, not a medical condition argued Drs. George Annas, Sondra Crosby and Leonard Glantz in the prestigious New England Journal of Medicine.
"Hunger striking is a peaceful political activity to protest terms of detention or prison conditions; it is not a medical condition, and the fact that hunger strikers have medical problems that need attention and can worsen does not make hunger striking itself a medical problem," the senior professors from Boston University wrote.

Physicians stationed at Guantanamo Bay, the authors write, are sacrificing their ethical obligations by permitting the military to "use them and their medical skills for political purposes."
June 9
Republican Senator and former prisoner of war John McCain said there is increasing domestic support to shut down the military detention facility at Guantanamo Bay and relocate the detainees to a facility within the continental United States.
"There's renewed impetus. And I think that most Americans are more ready," McCain, who visited Guantanamo last week alongside White House chief of staff Denis McDonough and California Democratic Senator Dianne Feinstein, told CNN's "State of the Union" program.
McCain, a ranking member of the Senate Armed Services Committee, said he and Republican Senator Lindsey Graham were working with the White House on plans which could see detainees transferred to a maximum-security prison in Illinois.
"We're going to have to look at the whole issue, including giving them more periodic review of their cases," McCain continued.
June 7
President Obama's chief of staff, Denis McDonough, along with Senators Feinstein and McCain traveled to Guantanamo Bay, Cuba on Friday to review the current situation and discuss steps towards closing the detention facility. Shortly after their tour concluded, the three released a statement, though it made no mention of the ongoing hunger strike now involving 104 of the 166 detainees, 41 of which are now being force-fed. "We intend to work, with a plan by Congress and the Administration together, to take the steps necessary to make that [closing] happen," said the trio via statement.
June 6
Guards at Guantanamo Bay's Camp 6 dispose of food refused by inmates on March 20. Every prisoner but one rejected the meal.
The guard force announces it will be receiving reinforcements from Puerto Rico.
A spokesman for the US Army Reserve says 125 soldiers from a military police company based in Puerto Rico, which is designated as an unincorporated US territory, will soon be working inside the detention center. Army Maj. Carlos Cuebas says many members of the unit have law enforcement experience, including work as police or prison guards.
Cuebas said Wednesday that the soldiers have already departed from Puerto Rico for 30 days of training in Texas before heading to Guantanamo.

103 of the detainees are still classed as hunger strikers, with the number receiving enteral feeds rising to 41 from Wedesday's 39. Four are now being observed in the detainee hospital - a rise of one from Wednesday.

The hospitalized detainees are not currently in a life-threatening condition, according to the latest report from Guantanamo Bay officials
June 5
According to an official report from Guantanamo Bay, 103 of the 166 detainees are "tracked as hunger strikers," 38 of whom are receiving enteral feeds. Two detainees receiving enteral feeds are being observed in the facility's detainee hospital. "The detainees in the hospital do not currently have any life-threatening conditions," prison officials claimed.
On June 2 and 3, a reported 37 detainees were being forced to receive enteral feeds.
June 4
Despite President Barack Obama's latest plea to close the facility, the House has voted in favor of keeping open the notorious US detention center at Guantanamo Bay, Cuba, blocking the use of taxpayer money to house detainees transferred out of the prison.
The latest vote upheld a law blocking the use of taxpayer funds to build or renovate facilities in the US to house suspected terrorists and other prisoners from Guantanamo Bay.
Obama's recent promise to lift restrictions on Yemeni Gitmo detainees was met with sneers in their native country:
"America's support for human rights is merely a show! It only cares about its own people, while it destroys the rights of all others. We've been suffering for 13 years now," the mother of Abdurrakhman ash-Shbaty, a Yemeni terror suspect kept at Guantanamo since 2002, told Abdelaziz Al Khayajim from RT's sister channel Russia Al Youm.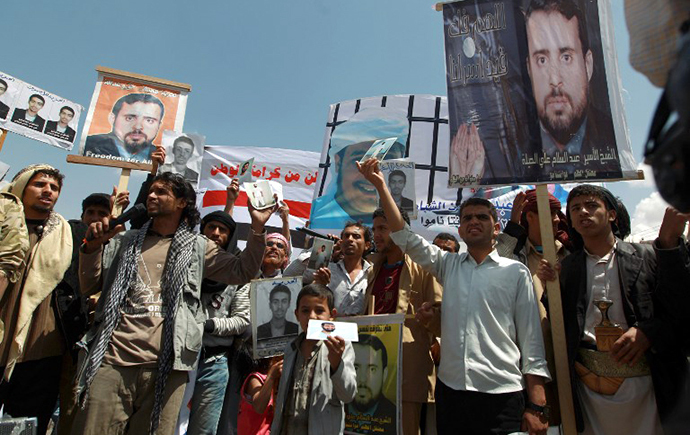 June 2
Yemen's Foreign Minister Abubakar Qirbi welcomed President Obama's May promise to repatriate Guantanamo's Yemeni population, saying this "brings hope to families of the detainees in Guantanamo and to the detainees themselves, who for 12 years have been in prison and have lost hope of getting out of Guantanamo." But he added that "Obama now really has to put his words into actions."

Of the 86 prisoners currently cleared for transfer, 56 are Yemeni, and like the others, captured over a decade ago. Their initial transfer out of Guantanamo was halted in 2010 because a Yemeni-trained extremist tried to blow up a plane headed for the US back in 2009 with a bomb concealed in his underwear.

Qirbi added that Yemen was ready to take the detainees for rehabilitation and processing.

On the issue of Yemeni drone strikes – unpopular because of civilian casualties – Obama said they will now be sanctioned by the Department of Defense, not the CIA, and only in circumstances when a terrorist threat is imminent.

Abubakar Qirbi was notably pleased by this, saying "I think the conditions he has set will make sure these drone attacks are used in a proper manner."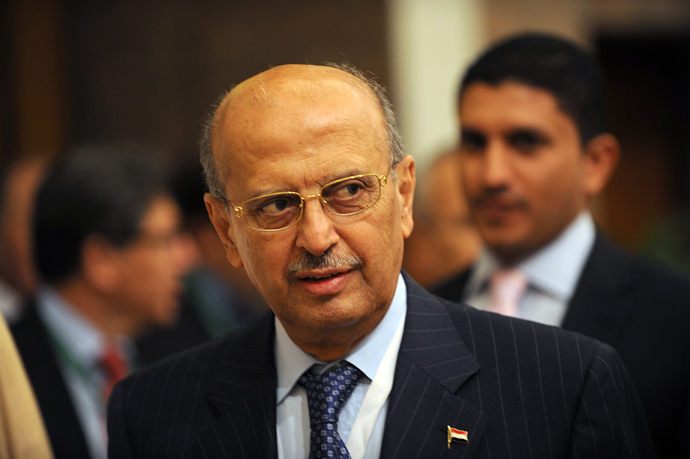 The Pentagon has denied reports that two Guantanamo prisoners were cleared of suspected terror-related activities and released on Friday, saying "there was no release" and that the number of detainees in Guantanamo remained unchanged.
"It was a Mauritanian prisoner who had been held at the Bagram base in Afghanistan who was returned to Nouakchott by the Americans, and not prisoners from Guantanamo," a Mauritanian security source told AFP on condition of anonymity.
The detainee was allegedly Al Qaeda-linked, suspected to be "very close to Bin Laden," and involved in an attack on a Mauritanian army barracks. He was sought by authorities in Mauritania after fleeing in 2008, and is now being interrogated at an unknown location, the source said.
Meanwhile there remain 166 people detained in Guantanamo, with 103 of them on hunger strike, deputy director of Guantanamo public affairs Lieutenant Colonel, Samuel E. House told RT.
37 detainees are currently receiving enteral feeds, and two of them are "being observed in hospital" with no life-threatening conditions, he added.
June 1
'They treat animals better than they treat detainees'. These are the words of one of the first prisoners to go on hunger strike according to his lawyer, Anne Richardson. Inmates now have to endure a host of humiliating routines, Richardson explained to RT.
As well as being in solitary confinement, he is not allowed any personal items in his cell, including such basics as a toothbrush and soap.
Every time he wants to meet with Richardson or talk to her on the phone, he has to undergo a humiliating search of his genitals.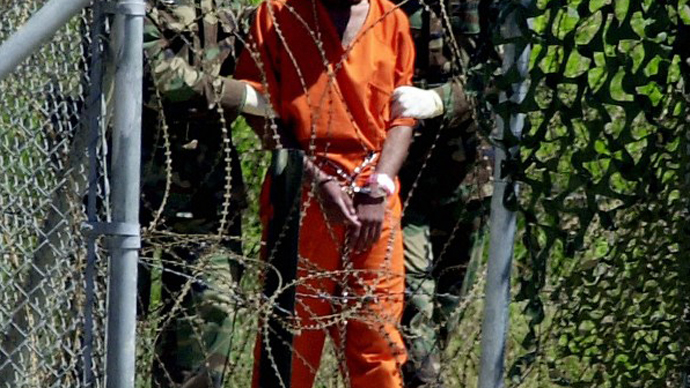 Prison guards have now started to take him to a shower in the middle of the night so he has to decide between getting some sleep and getting a little bit of cleanliness.
"The detainees are really attempting to have treatment be restored to them as human beings rather than being punished and treated like animals," Richardson said.
May 27
UN human rights chief Navi Pillay has scolded the US for failing to close Guantanamo prison, warning it "has become an ideal recruitment tool for terrorists." Speaking at the opening of the spring session of the UN's Human Rights Council, Pillay accused the Obama administration of human rights violations, pointing to the infamous Guantanamo Bay detention center in Cuba as an "example of the struggle against terrorism failing to uphold human rights, among them the right to a fair trial," Reuters reported.
May 23
President Barack Obama has delivered a speech announcing drastic changes to the United States' counterterrorism operations and indicating his willingness to resume prisoner transfers from Guantanamo Bay. The speech however offered little insight on what changes can be expected and how soon.
Obama was interrupted no fewer than four times during his address by a female protester who demanded the immediate closure of the detention facility.
"I'm willing to cut the young lady who interrupted me some slack because it's worth being passionate about," the president responded.
In the years since Obama campaigned on closing Gitmo, he has repeatedly called on Congress to help make his promise a reality. On Thursday, he once again urged lawmakers in Washington to act on his request.
"I have tried to close GTMO. I transferred 67 detainees to other countries before Congress imposed restrictions to effectively prevent us from either transferring detainees to other countries, or imprisoning them in the United States. These restrictions make no sense," he said.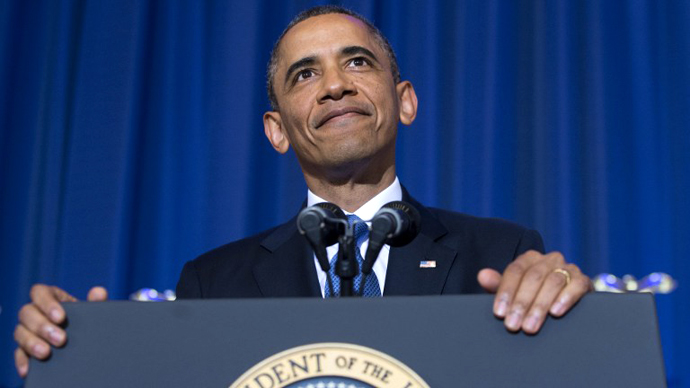 Attorney David Remes who represents 17 Gitmo detainees argues that Obama offered the "same empty promises" everyone heard before.
"He continues to defend indefinite detention, he is going to appoint an envoy who has no power to do anything beyond what Obama allows him to do, and he keeps blaming Congress for the problem when he has the authority to transfer men," Remes told RT. "My fear is that people will conclude, from listening to this speech, that there is forward motion, that the problem is solved, Guantanamo is closed, and everybody can go on to other things."
Meanwhile, Moazzam Begg, a former Gitmo detainee from Britain says that hunger strike in the camp is unlikely to stop any time soon.
"Until they actually get to see the plane that is going to be taking them home, and even then they'll be skeptical," Begg told RT. "Of course they're primarily striking for their freedom, for being held for so long without charge or trial - but they're also striking for being given these invasive cavity searches every time their lawyer visits, and every time he leaves, for the desecration of the Koran, for the strip searches, for the food and all of these things that they've had to bear over the past eleven years."
May 21
A lawyer for inmate Moath al Alawi revealed his client was shot by US Army guards five times without warning or reason, and was then denied proper medical treatment. Alawi, who has been imprisoned in Guantanamo Bay for 11 years without being charged, is currently on hunger strike along with 102 other inmates, and is being force-fed. For more details, read RT's full interview with Ramzi Kassem, who is fighting for his client's freedom.
The US military has restricted access to wireless internet at the Guantanamo Bay detention camp due to hacking threats issued by the Anonymous group as a part of their on-line protest over conditions at the facility where detainees have been engaged in a hunger strike for over 100 days.
May 20
Over the last three days Anonymous 'Operation Guantanamo' hashtags #OpGITMO and #GTMO have skyrocketed in popularity on Twitter, drawing attention to the 100th day of the inmates' hunger strike, as their protest becomes a question of life and death.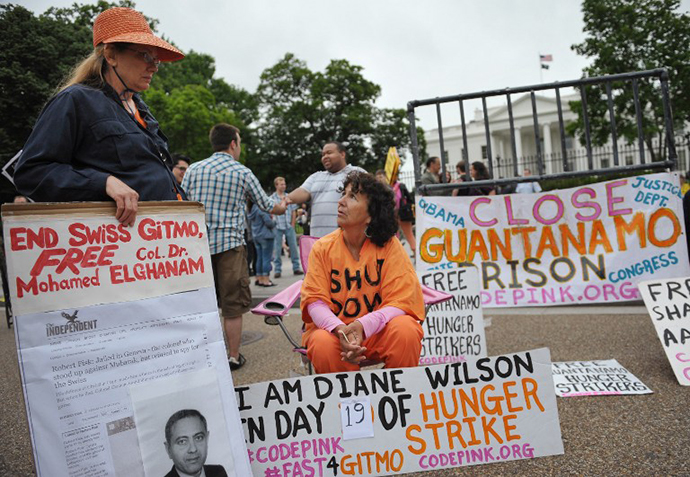 Kicking off Friday, a series of "twitterstorms, email bombs and fax bombs" were aimed at "raising awareness in social media" of the situation at Guantanamo, violations of human rights of "prisoners, many of whom have been cleared for release years ago."
May 19
The number of force-fed Guantanamo detainees participating in the hunger strike remains at 30 people, deputy director of Guantanamo public affairs Lieutenant Colonel, Samuel E. House, said in a press release. One prisoner receiving enteral feeds is being observed in the detention center's hospital, but he "does not currently have any life-threatening conditions." According to official data, 103 prisoners out of 166 at the facility are currently taking part in the hunger strike.
May 18
The number of detainees on hunger strike has increased since Friday, reaching 103 detainees, Lieutenant Colonel Samuel E. House, Deputy Director of Public Affairs at Guantanamo, told RT in a statement. Thirty of them are receiving enteral feeds, one detainee is being monitored in the on site hospital, but is said to have no life-threatening conditions. On May 17 there were 102 hungers strikers of the 166 detainees at Guantanamo.
May 17
Moazzam Begg, who is a former detainee at Guantanamo, and now Director of Cageprisoners and author of the book 'Enemy Combatant', says that the prisoners' need for some semblance of media attention far surpasses any of the other cruel and unjust factors making their lives a living hell – like force-feeding, sexual abuse, stepped-up cavity searches and intimidation.
But as former prisoner, the most important thing he had to say was that the idea that releasing prisoners will cause them to re-offend is utterly unfounded:
"Congress keeps saying that these people will be recidivists; they're going to go back and start fighting against the United States – which is pure nonsense, because 613 plus have been released and an overwhelming majority of us that have been released are living out our lives as normal."
Lieutenant Colonel Barry Wingard, who was initially part of the Guantanamo apparatus, has since turned attorney to the detainees at the camp. He described the harrowing ordeal his client has had to undergo. RT has managed to reach him by phone directly at Guantanamo.
"He reports that his sinuses are infected, that he feels week, that the formula they're putting in his body makes him gain weight, but it's a weakening kind of weight, and that he feels sedated. He's convinced in his mind that they're adding more to his liquid and he's asked that they mix it in front of him – which they've refused."
To the big question of whether Obama can act without Congress in closing Guantanamo, Wingard says yes. "Under the National Defense Authorization Act, the President has the ability through the Secretary of Defense to sign a waiver to get some of these men out of here."
Wingard also says that the 86 prisoners who have been cleared for release are an interesting number because far more than that have not been charged, and keeping them at Guantanamo is just as barbaric – therefore, many more need to be released.
Pardiss Kebriaei, attorney at the Center for Constitutional Rights and a lawyer for eight detainees at Guantanamo, has been questioning the legal basis for the running of the prison since the beginning in 2002.
"There is not only a question of indefinite, illegal detention without charge at Guantanamo right now, but serious questions about the compliance of the United States with the Geneva Convention in terms of the human treatment of these men. They are in 22 to 24 hour solitary confinement right now."
Colonel Morris Davis, who is also former Chief Prosecutor for the terrorism trials at Guantanamo Bay, is now a staunch advocate of closing the prison down.
"It's been an embarrassment to the country, it's drained our credibility, it's wasted our money and it's time for it to close."
The Colonel references a recent study on recidivism published only about a week ago, that puts reoffending at only 8,5 per cent. Given this, he says there it is "fundamentally un-American to keep 166 people at Guantanamo without charge."
May 16
The number of detainees on hunger strike has risen to 102, Lieutenant Colonel Samuel E. House, Deputy Director of Public Affairs at Guantanamo, told RT in a statement.
"As of Thursday, May 16, 2013, we have a detainee population of 166, and we currently have 102 detainees tracked as hunger strikers, with 30 receiving enteral feeds. Three detainees receiving enteral feeds are being observed in the detainee hospital. The detainees in the hospital do not currently have any life-threatening conditions," he said.
As Guantanamo marks 100 days since the start of its hunger strike, RT has taken the opportunity to hear three different sides to the story and interviewed the prison's spokesman, a lawyer for the detainees and a UN torture watchdog official.
Guantanamo spokesman Robert Durand denied the allegations leveled at the prison's authorities by lawyers and human rights advocates.
"They've been leveling these allegations for 11 years. We get visited by the ICRC [the International Committee of the Red Cross]. None of these allegations have ever been substantiated… It's just not true," Durand told RT.
However, he admitted that the prisoners succeeded in achieving media and public attention by their collective strike action. "To an extent they've achieved that mission: the president is talking about it, the Congress is talking about it, diplomats are talking about it," Durand said.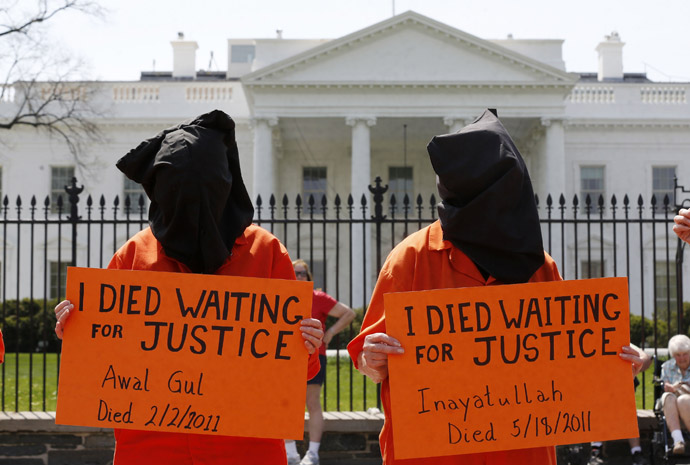 US Federal Public Defender Carlos Warner, who has 10 of his 11 Guantanamo clients on hunger strike, said the prison inmates who haven't been charged or were cleared of charges should be immediately released.
"First of all, all of them are innocent. Certainly there isn't evidence that could put all of them on trial, but we know that 86 of 166 our government has admitted are innocent and should be immediately released and are not a danger and they have places to go. So it remains on the President's shoulders to do what's right here and release these men," Warner told RT.
"We could end this strike in a week," the lawyer added, saying that Obama has the power to release the detainees, and urging the military to negotiate with the prisoners' attorneys instead of making the situation "escalate over and over."
UN Special Rapporteur on Torture Juan Mendez told RT he had been pressing the US government to let him in for inspections, and got the Department of Defense invitation – but was refused permission to talk to any prisoner without supervision.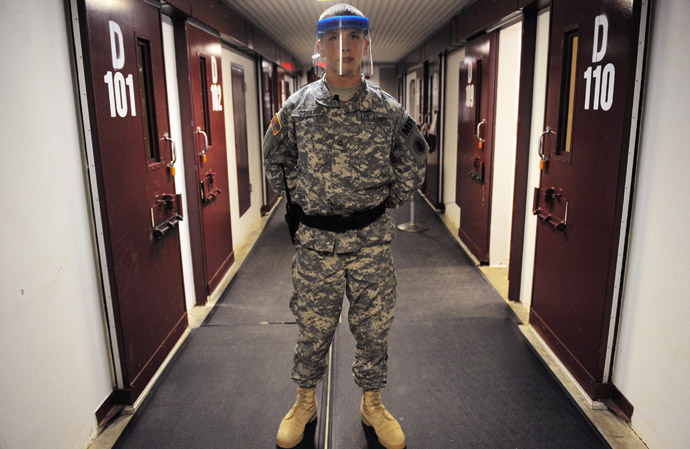 "I was invited after insisting, but under my mandate I couldn't accept. Everywhere I go, in every country, I have to be able to visit every part of the facility and have private conversations with inmates of my choosing without there being any repercussions. The DOD did invite me to come…but they told me I could not visit and have private conversations with inmates," Mendez told RT.
Mendez reminded that the UN keeps pressing the US to allow unfettered visits to the detention facility, to solve the problem of those inmates already cleared for release, to try the other under due process and fair trial, and to close Guantanamo.
The Guantanamo detention center "does not comply with the respective obligations and commitments which the United States has before the international community in the field of human rights," the Russian Foreign Ministry's Commissioner for Human Rights Konstantin Dolgov told RT. Dolgov urged the US government to shut down the facility and said Moscow is still concerned with the fate of the last Russian citizen kept in Guantanamo.
May 15
In a letter sent to British foreign secretary William Hague, a prominent human rights lawyer is alleging that Guantanamo Bay's hunger striking detainees are being threatened with humiliating body searches before they are allowed by guards to contact legal counsel. Another lawyer representing several other detainees at the facility corroborated that same claim to the AFP.
May 14
The authorities of Guantanamo Bay prison have turned to force-feeding to deal with 100+ detainees on hunger strike.
Force-feeding techniques vary from the use of restraint chair needed to feed prisoners with the help of nasal tubes to a 'dry cell' with no running water, where detainees remain under constant supervision to make sure they don't induce vomiting to rid themselves of the nutrition already delivered to their stomachs.
May 13
The number of force-fed Guantanamo prisoners participating in the hunger strike has increased to 29 people, with five of them being observed in the prison hospital, but don't currently have "life-threatening conditions," deputy director of Guantanamo public affairs Lieutenant Colonel, Samuel E. House, said in a press release. According to official data, 100 prisoners at the facility are currently taking part in the fast.
A consortium of 20 human rights organizations, pressure groups and law bodies including Human Rights Watch and the American Civil Liberties Union, issued a plea Monday to the US defense secretary Chuck Hagel to end the practice of force-feeding in Guantanamo.
The letter noted that the practice of force-feeding at Guantanamo amounts to cruel, inhuman and degrading treatment and is in violation of the Geneva conventions to which the US is a signatory.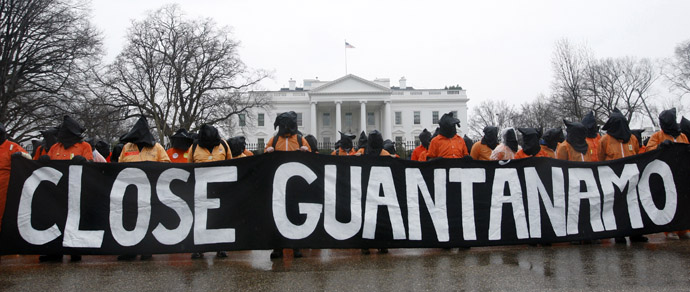 May 11
The author of the book "Drone Warfare," Medea Benjamin, believes Obama never kept his promise to shut down the notorious detention facility because he "doesn't want to be seen as soft" and "prefers to keep the status quo."
"He doesn't think the American people care enough about this issue," Benjamin said. "The status quo means that desperate men are dying and are being tortured by being force-fed. That is not a status quo that we, the American people, should allow, if we want to continue to call ourselves a democracy."
May 10
An online petition filed by former Chief Prosecutor for the Terrorism Trials at Guantanamo Bay, Colonel Morris D. Davis, had registered over 192,000 signatures by Friday evening. The petition was originally filed earlier this month.

Hosted by the Change.org website, the petition seems well on its way to reaching the 200,000 signature goal, and includes a letter addressed to President Obama with some specific requests to bring about the closure of the prison:

"Direct Secretary of Defense Charles Hagel to use his authority to issue the certifications or national security waivers required by the National Defense Authorization Act (NDAA 2013) to effect transfers from Guantánamo."
High-profile signatories to the petition include New York Times columnist Nicholas Kristof and bestselling author Naomi Wolf.
May 8
The deteriorating situation in Guantanamo detention facility and the lack of access to an inmate with Russian citizenship Ravil Mingazov is raising questions from the Russian Foreign Ministry, said Commissioner for Human Rights Konstantin Dolgov.
He expressed hope that US will help organize a visit of a Russian delegation to Mingazov according to the agreement reached at the end of last year.
In April, the US State Department officials said that Mingazov refused to meet with "any Russian delegation", specifying that an invitation to a Russian delegation for a "study" visit to Guantanamo remains open only without meeting the Russian inmate, who has been there in legal limbo for more than ten years, Dolgov noted.
"This option, of course, cannot satisfy the Russian Foreign Ministry, as we have already informed Washington."
May 6
The number of hunger strikers receiving enteral feeding is now 24, with three "being observed in the detainee hospital," Guantanamo Bay Public Affairs Director Lieutenant Colonel Samuel E. House said. His report puts the officially acknowledged number of hunger strikers at 100, unchanged from April 27.
Former Guantanamo chief prosecutor Colonel Morris Davis told RT that there is absolutely no good reason to keep the prison camp open, and that "legally it has produced nothing but a bad law."

"The Supreme Court here in the US, every decision they've come out with involving Guantanamo has been adverse to the government," Davis said. "President Putin has criticized the US for Guantanamo, the Chinese government criticized the US for Guantanamo, our allies have criticized us. So there is no good reason to keep it open other than political talking points for the far right."

Colonel Davis added another consideration: the facility is "extraordinary expensive" to operate.

"It takes 1,600 military troops to operate a detention facility for 166 men. It is over $100 million a year just to operate the facility, not counting the $200 million that General Kelly said he needs to rehabilitate these worn-out facilities."
May 5
British Foreign Secretary William Hague has made it clear that he would like to see British resident and Gitmo detainee Shaker Aamer returned to the UK to face justice there.
Jane Ellison, MP for Mr. Aamer's constituency of Battersea, London, said that she met with Hague last week and discussed a public plea.
"I think William has, very sincerely, been working hard on this, but obviously as Foreign Secretary you can't take a blunderbuss to one of our closest allies," she told The Telegraph.
"If Britain, a trusted ally, is offering to help by moving one man out of there, giving President Obama one less problem to solve, then surely the Americans should seize that offer?" she said.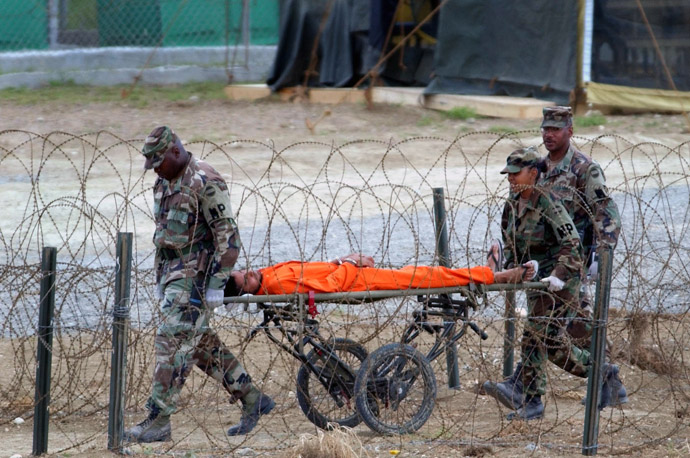 May 4
It is revealed that keeping Guantanamo Bay running is costing the US some $150 million a year.
May 3
More than 125,000 people have signed a petition to close Guantanamo Bay, sponsored by Col. Morris Davis, the former military prosecutor and a 25-year veteran of the Air Force.
May 2
The number of Guantanamo hunger strikers who are receiving enteral feeds has risen by two people and now stands at 23. Four of the prisoners are in hospital, but currently do not have any "life-threatening conditions," according to Lieutenant Colonel Samuel E. House, public affairs director at Guantanamo Bay. The general number of hunger strikers remains at 100 detainees, unchanged from April 27, he reported.
May 1
President Barack Obama announced that he is considering hiring a new State Department official to oversee options for a future transfer of the prison's detainees once it closes. This is part of an earlier 2008 presidential campaign promise to close the prison down by 2009.
The news comes after the president once again promised on Tuesday to continue urging Congress to shut the facility.
Meanwhile, the United Nation's human rights office called force-feeding hunger strikers 'torture' and a breach of international law.
"If it's perceived as torture or inhuman treatment -- and it's the case, it's painful -- then it is prohibited by international law," said Rupert Coville, spokesman for the UN high commissioner for human rights, AFP reported.
According to the World Medical Association's 1975 declaration, artificial feeding methods should never be used without a prisoner's permission, Coville explains. Being a watchdog for ethics in healthcare, WMA consists of 102 nations, including the United States.
April 30
In his first public response to the ongoing hunger strike at the Cuban-based US detention camp, President Barack Obama reaffirmed his commitment to closing the facility, saying "it is not a surprise" there are "problems in Guantanamo."
"It is critical for us to understand that Guantanamo is not necessary to keep America safe. It is expensive. It is inefficient. It hurts us in terms of our international standing. It lessens cooperation with our allies on counterterrorism efforts. It is a recruitment tool for extremists. It needs to be closed," the US President said in his Tuesday speech.
Some 40 members of the US Navy medical forces have arrived at Guantanamo to help the prison's administrators deal with the ongoing hunger strike. According to the Miami Herald, the reinforcements arrived in conjunction with an inspection by Red Cross delegates evaluating detainee conditions there.
A lawyer representing Fayiz al-Kandari, 35, claims that his client has been tube-fed against his will for a week. The public defender accused US military personnel of using an "unnecessarily large feeding tube" on the Kuwaiti detainee.
On Thursday, the American Medical Association sent a letter to US Defense Secretary Chuck Hagel to reiterate the organization's policy that force-feeding mentally competent adults who refuse food is a violation of medical ethics. The letter, sent directly by AMA president Dr. Jeremy Lazarus, also urged Hagel "to address any situation in which a physician may be asked to violate the ethical standards of his or her profession," as quoted by Reuters.
April 29
There are now 21 hunger strikers receiving enteral feeds, one up from the previous count on Saturday. Five of those continue to be observed in the detainee hospital, and none have any life-threatening conditions. Of the detainee population of 166, the number of those participating in the hunger strike continues to stand at 100.
April 28
Omar Khadr, who spent 10 years in Guantanamo, before being transferred to a maximum security prison in Ontario, Canada is to appeal his US terrorism convictions.
Khadr, the son of an alleged al-Qaida financier, pleaded guilty in 2010 to several charges including the killing of a US soldier in Afghanistan when he was 15.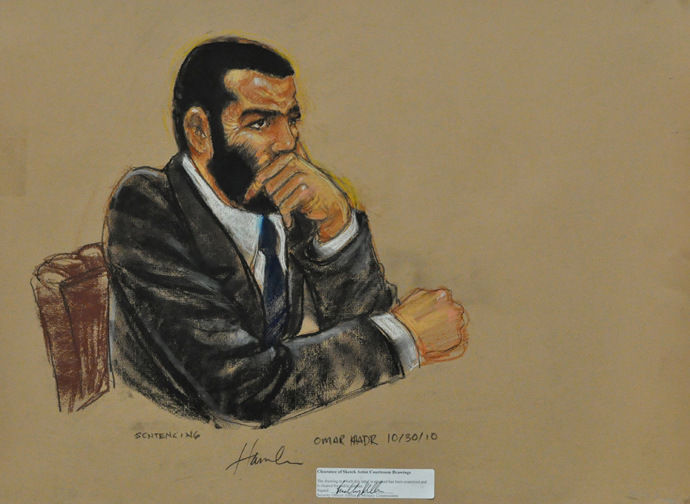 April 27
The number of Guantanamo hunger strikers has jumped to 100. Twenty of the detainees are receiving enteral feeds. Five of those are being observed in the detainee hospital. The detainees in the hospital "do not currently have any life-threatening conditions," according to Lieutenant Colonel Samuel E. House, Public Affairs Director at Guantanamo Bay.
April 26
The number of Guantanamo prisoners participating in the hunger strike has increased to 97 in the past 24 hours, deputy director of Guantanamo public affairs Lieutenant Colonel Samuel E. House said in a press release. The previous figure reported on April 25 was 94 participants. Nineteen hunger strikers are now being force-fed, and five are under observation in the prison's detainee hospital. Officials have claimed there is no threat to their lives.
Senator Dianne Feinstein (D-CA), chairwoman of the Senate Intelligence Committee, has sent a letter to the Obama administration requesting it reexamine the release of low-level Guantanamo detainees to Yemen. The April 25 letter addressed to National Security Director Tom Donilon urges a renewal of "efforts to transfer 86 detainees cleared for transfer over three years ago."
In her letter, Feinstein quotes the International Committee of the Red Cross who recently told her staff that the level of desperation among the detainees is "unprecedented." The Senator references a 2009 request made in part by her following the attempted bombing of a Detroit-bound jetliner by a Yemeni branch of Al-Qaeda, which successfully halted the transfers of 56 Yemeni detainees pending stabilization in that country.
Feinstein writes that, in light of Yemeni president Abdu Rabbu Mansour Hadi's "strong" resistance to Al-Qaeda, transfers to that country should resume.
The White House has not yet responded to the letter.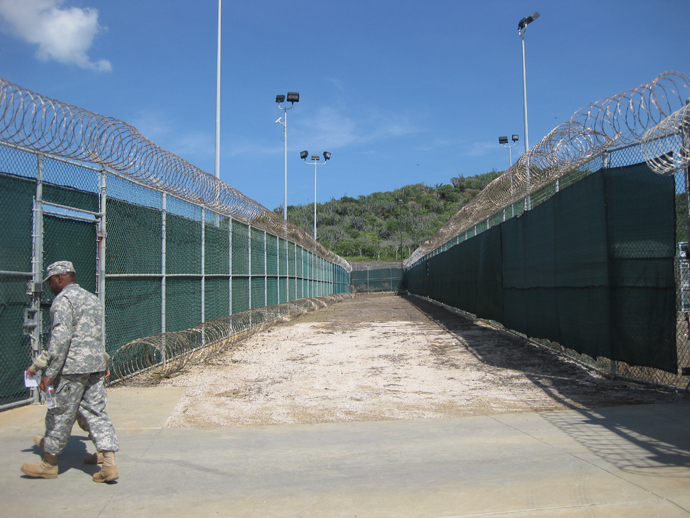 April 25
There are currently 94 detainees on hunger strike, 17 of whom are receiving enteral feeds. Three of those receiving enteral feeds are being observed in the detainee hospital, officials said.
Meanwhile, human rights lawyer Clive Stafford told RT that Guantanamo authorities know very little of what is really happening inside the facility. He expressed concerns of "systematic torture" and a high risk of inmate death.
"Guantanamo is worse than any death row," argues Stafford. "When a prisoner doesn't do exactly what they're told, six guys dressed up as if they are in Darth Vader outfits come in and basically beat him up… If [Aamer] wants a bottle of water, they send them, if he wants his medicines, they send them. Now he just doesn't ask for his medication because he doesn't want them to beat him."
April 24
The number of Guantanamo prisoners participating in the hunger strike has increased to 92, with 17 of them being force-fed, officials said. Two of the hunger-striking 'detainee population' are being observed in the prison hospital but do not currently have any 'life-threatening conditions', deputy director of Guantanamo public affairs Lieutenant Colonel Samuel E. House said in a press release.
April 23
The US military is sending additional medical personal to Guantanamo. 40 more medics will arrive by the end of April to supplement the 100 already on duty at the prison camp.
"Acknowledging the scope of the hunger strike is acknowledging the broader problems of Guantanamo," Jonathan Kafitz, law professor at Seton Hall University told RT.

"This is a situation the US does not want to recognize for the causes behind it," professor argued adding "The hunger strikes, which military officials have acknowledged are triggered by this system of indefinite detention and the prolonged incarceration without trial."

"The fact that doctors are continually going in, is a recognition of how pervasive it is and how serious it is," Kafitz said.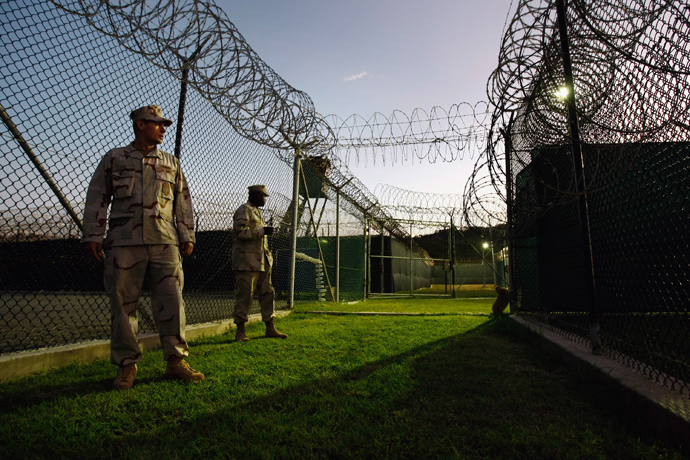 April 22
At least two Guantanamo Bay detainees have attempted suicide since the confrontation between guards and prisoners in February that brought about the ongoing hunger strike, AP reports.
A team of journalists, including from AP, have been allowed into the facilities. They testify the atmosphere has grown tense and heavy in the prison where 166 men are indefinitely held with little to no hope of release. Still they were not allowed to gather more information on the two suicide attempts.
At least seven people have managed to kill themselves since Guantanamo was first set up in 2002. A prison spokesman has acknowledged that of the 84 inmates currently on hunger strike, 16 are being force fed through tubes.
April 21
The number of inmates involved in the Guantanamo prison hunger strike has soared to 84, with 32 people joining in the past few days, prison officials have said.
While lawyers for Guantanamo inmates say the protest is far more widespread and has many as 166 prisoners may be trying to starve themselves.
It is feared the last remaining British inmate in Guantanamo may never be allowed to return to his family after allegations of a "secret deal" between US authorities, Saudi Arabia - his country of birth - and the British security services.
His legal team allege that if he were to return to London he would be a key witness in Scotland Yard's investigations of UK complicity in torture during the post 9/11 era, something that the British government and security services are keen to avoid.
April 20
RT correspondent Gayane Chichakyan asked a US Department of State spokesman if the treatment of Gitmo inmates is nationality-based when she attended the Washington news conference where the 2012 Human Rights Report was presented.
"86 Guantanamo prisoners have been cleared to leave the prison, 56 of them Yemeni nationals. Would you agree that the US is engaged in collective punishment based on nationality?" she inquired.
However, the State Department failed to present a clear answer to that question.
"We hold ourselves to the same standards by which we assess others. On the issue of Guantanamo, the president has made clear his commitment to closing Guantanamo, but this has to be done in accordance with US law and the consultation with the Congress," Uzra Zeya, said, forwarding our correspondent's inquiry to White House representatives.
April 17
Meanwhile, Yemeni inmate Musa'ab Omar al-Madhwani was denied a request for emergency relief by US District Judge Thomas Hogan, who responded that he has no jurisdiction over the conditions at the prison. Judge Hogan added that al-Madhwani, as a participant in the hunger strike, had "self-manufactured" his health condition.
Dr. Stephen N. Xenakis, a physician who interviewed al-Madhwani by phone, concluded that his "life may be in imminent danger." Xenakis wrote that after being treated with intravenous fluids following a collapse last week, al-Madhwani was placed in solitary confinement and has not received daily medical monitoring.
Moazzam Begg, a former detainee at Guantanamo Bay, told RT that while the findings from a recent independent task force report may seem encouraging, he doubts the prison base will close by the time US troops pull out of Afghanistan in 2014.
"I spoke to people from the task force last year and, although they certainly mean well, I don't know whether that's going to take place because there has to be a will and I don't think the will exists," he said. "If you've still got people in Guantanamo eleven years after the invasion of Afghanistan then there's no practical will to send these people back to where they'll live a normal life. I don't know where that will is going to come from."
Begg is a British Pakistani citizen who spent three years behind bars at the US prison compound after being arrested in 2002 and accused of working as a recruiter for Al-Qaeda. He was released at the behest of Amnesty International but said he would "absolutely" join the current hunger strike if still incarcerated.
"There's no doubt in my mind," Begg added. "The hunger strike is an action of desperation. They know very well in Guantanamo that the only way you can get your rights is by taking extreme measures."
April 16
A defense attorney for inmates at Guantanamo Bay told reporters Tuesday that he was denied in trying to make an emergency phone call to one of his clients, Fayiz Muhammad Ahmed al Kandari. Carlos Warner, who represents 11 detainees, told Rolling Stone that al-Kandari is participating in the hunger strike and that the last time the two met the prisoner was "skin and bones."
Warner added that another lawyer recently spoke with al-Kandari, who was "very weak and despondent" and "too weak to attend meetings two days."
The Pentagon's refusal comes only days after US troops wounded five inmates during a raid in the communal unit of the prison camp.
"The military is closing ranks and restricting access to clients," Warner said. "They don't want the public to know what happened during its raid."
He also said that the US government's silence on the issue even after 86 of the 166 remaining detainees have been cleared to leave the prison has led many of the men to give up hope.
"They have no credibility left," Warner said in an email. "It cannot hide what is obvious. The military is at war with the men of Guantanamo."
April 14
The current conditions at Guantanamo would have precluded prisoners from getting their hands on any type of makeshift weapons prior to Saturday's alleged efforts to resist transfer to single cells, Cindy Panuco, a lawyer for the Afghan detainee Obaidullah, told RT. Panuco says the detainees only had access to the small ballpoint inserts of a pen, which are essentially "like straws with ink at the end of them."
"That's pretty much all they're allowed, so I don't see, especially given the evasive searches that were conducted in February, what kind of makeshift weapons the government is referring to. That's still to be determined, especially since there's no way they could have any sort of weapons."
Panuco argues the transfer of the prisoners from communal living to individual cells is an attempt to break their resolve in continuing on with the hunger strike.
April 13
Four US officials "involved in legalizing torture and indefinite detention of prisoners" have been included in a list of Americans banned from entering Russia. The 'Guantanamo List' published by Russia's Foreign Ministry includes:
1. David Spears Addington, Chief of Staff to Vice President Dick Cheney (2005-2009)
2. John Choon Yoo, Assistant US Attorney General in the Office of Legal Counsel, Department of Justice (2001-2003)
3. Geoffrey D. Miller, retired US Army Major General, commandant of Joint Task Force Guantanamo (JTF-GTMO), the organization that runs the Guantanamo Bay detention camps (2002-2003)
4. Jeffrey Harbeson, US Navy officer, commandant of Joint Task Force Guantanamo (JTF-GTMO), the organization that runs the Guantanamo Bay detention camps (2010-2012)
On Saturday, Moscow released a list of 18 blacklisted Americans allegedly involved in human rights violations in the US and abroad, and in illegal actions against Russian citizens in America. The move came in response to the 'Magnitsky List' the US published on Friday.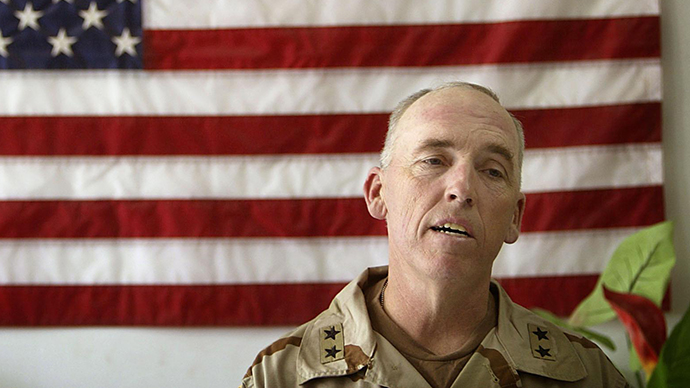 Guards clash with prisoners at Guantanamo as officers move detainees from communal to single cells in attempt to end the hunger strike. The detainees used self-made weapons to resist the transfer, thus forcing guards to fire, the US military said in a statement. Officials say no guards or detainees have been seriously injured. The reason for the move was explained because the detainees covered surveillance cameras, windows and partitions, preventing guards from observing them during a hunger strike that has been continuing for more than two months. "Round-the-clock monitoring is necessary to ensure security, order, and safety as detainees continued a prolonged hunger strike by refusing regular camp-provided meals," Navy Captain Robert Durand said.
April 12
Amid the ongoing hunger strike, Guantanamo detention camp is set to get a new boss, the Pentagon has announced.

Rear Admiral Richard W. Butler, previously serving at the Air Warfare Division in Washington has been named the next commander of Joint Task Force Guantanamo replacing Rear Admiral John W. Smith, who will serve at the National Defense University in Norfolk, Virginia.

Rotating the prison commander, who serves for about a year, is part of a normal routine, the Pentagon claimed.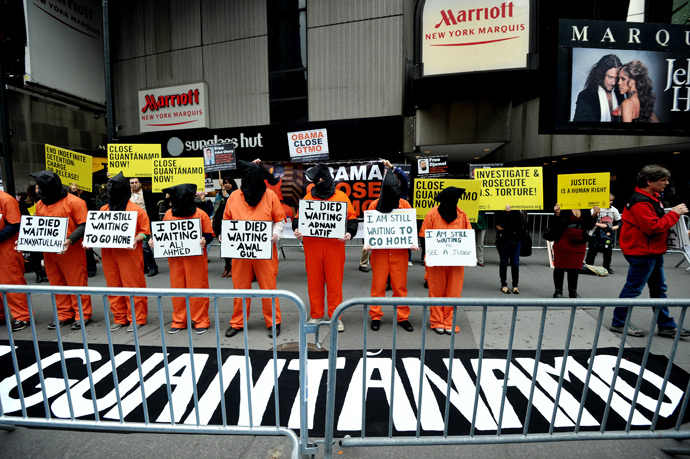 Human rights activists across the United States organized rallies as part of "Day of Action to Close Guantanamo & End Indefinite Detention" as the hunger strike in the offshore US prison began its third month. Activists in 19 states and over 26 cities, including New York, Washington DC, Los Angeles, and San Francisco dressed in the orange jumpsuits worn by detainees and donned the infamous black hoods, holding placards and banners demanding Gitmo abolition.
The American Civil Liberties Union joined Amnesty International, Human Rights Watch and 22 other rights organizations that signed an open letter calling on Obama to close the prison. "The situation is the predictable result of continuing to hold prisoners indefinitely without charge for more than 11 years," the letter read. "We urge you to begin working to transfer the remaining detained men to their home countries or other countries for resettlement, or to charge them in a court that comports with fair trial standards."
The head of the International Committee of the Red Cross, Peter Mauer, implored the White House to resolve the "untenable" legal situation being faced by Guantanamo detainees.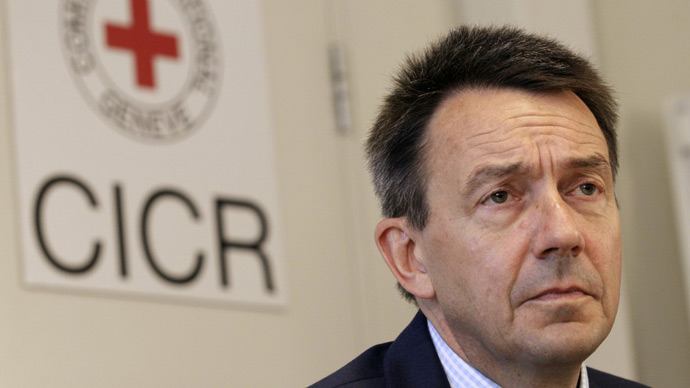 "The issue of Guantanamo is politically blocked in this country," Maurer told a Washington news conference following a meeting with President Barack Obama the previous day.
"If we see a hunger strike today, we interpret this as a symptom, as an indicator about the lack of perspective that those detainees have, the impression of an American government which does not follow up on promises, promises that have been made on transfers," Maurer said.
He further urged the White House to do everything to find "a new compromise to move the issue forward."
Meanwhile, Red Cross spokesman Simon Schorno told RT that the US Congress is the main obstacle to closing Guantanamo Bay prison, adding that his organization's priority wasn't shutting the facility down, but providing clarity for the inmates about their inmates.
"For us, the issue is not that of closure of Guantanamo," Schorno said. "What's at stake is the legality of the detention and the ability to provide clarity for the detainees, so that they know about their fate."
"It's not because we don't voice our concerns publicly that we aren't trying to tackle the problem from the humanitarian stand point," Schorno added.
April 11
Feroz Abbasi spent several years in extrajudicial detention at Guantanamo – two of them in solitary confinement – before being released without charges. He shared the details of his experience at the notorious facility with RT.
"In Guantanamo, because I can speak English, I was treated better than the other detainees," he said. "So, those Arabs, who didn't speak English, who came from a different culture, were treated harshly, very harshly. But my treatment wasn't so much physical, we did get beatings, when we were transferred from camp to camp, it was psychological. So, for some reason on the same night when Iraq was bombed in March 2003, I was moved into isolation, solitary confinement, and I was there for two years. Six months of which were without sunlight."
RT also spoke with Clive Stafford Smith, attorney for Gitmo detainee Younus Chekkouri, about what his client has been enduring since the strike began.
"The water was severely restricted and his block only got it back because one of the prisoners' lawyers made a fuss about it in the media," Smith said. "Younus understands that other blocks are treated differently, and some still have very little access to water. Younus said that he now wakes up in the middle of the night, starving, and he remembers his dreams, where he has imagined that he is faced with large piles of wonderful food. It is torture."
April 10
Russia's foreign minister, Sergey Lavrov, has announced the ministry's plans to visit Guantanamo Bay detention camp in order to examine the condition of the prison's only Russian detainee, Ravil Mingazov.
"We're preparing such visitation. I hope it'll take place in the near future and we'll able to see how our citizen Mingazov is doing," Lavrov told a media-conference following talks with US Secretary of State, John Kerry.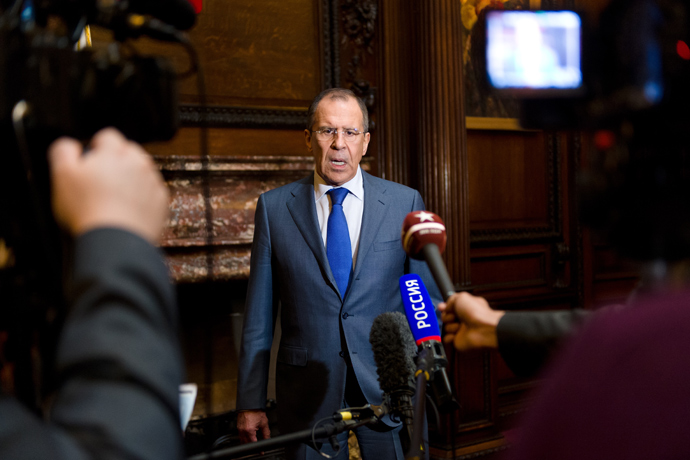 Adel Bin Ahmed Bin Ibrahim Hkiml, a 48-year-old Tunisian detainee who had been on a hunger strike for 43 days, tried to kill himself, according to his lawyer. Cori Crider spoke with the Huffington Post regarding Hkiml's suicide attempt after being informed via a recently-cleared letter dated March 19 from another detainee, whose own lawyer then informed Crider.
Hkiml has been held at Guantanamo for more than eleven years, and had been in solitary confinement since March. The inmate who wrote the letter informing Hkiml's lawyer of his suicide attempt stated that he was unaware of his current location once he had been taken away by ambulance, or whether he had survived.
Meanwhile, another detainee informed his lawyer that a fellow prisoner, Samir Naji al Hasan Moqbel, had suffered a minor heart attack while being forcefed on March 19.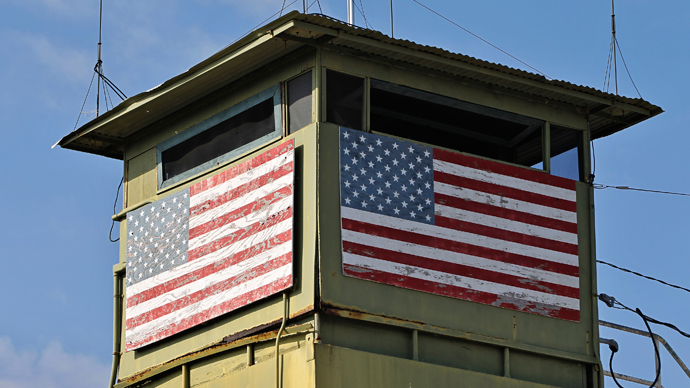 Authorities are paying little mind to the hunger strike at Guantanamo prison because the International Committee of the Red Cross is biased towards one side – and it's not that of the starving inmates, military attorney for Gitmo inmates Barry Wingard told RT:
"I can tell you that the situation here is extremely bad and it is brutality," he said. "I'm a military officer. I've been an attorney for 15 years. I've been in the military for 29 years, I've been a prosecutor in Baghdad and a war crimes investigator in Bosnia. And I've got to tell you, I've never seen anything like it."
April 9
RT has been placed in a queue for a media visit to the prison.
"Currently, we are not scheduling media visits because we have military commissions from April 15-26. Your request has been noted and you are in the queue for a media visit as first available. Your organization is ninth on the list of requests," Media Relations Officer Malisa Hamper wrote in a letter to RT.
Meanwhile, a military attorney for Gitmo inmates told RT that he is being refused a visit to his clients without any explanation or apology.
"I've met with my clients more than 175 times," Barry Wingard said. "In the 175 times, I've been refused a total of four times. And each of the four times, it was accompanied with an apology for why they could not do it. This time was without explanation."
"I can tell you that the situation here is extremely bad, and it is brutality," he said, adding that he had never seen anything like the scene at Guantanamo in his 15-year career as a military attorney.
April 8
US government officials have begun contacting attorneys of Guantanamo Bay inmates who are being force-fed as the hunger strike on the prison base drags past the two-month mark. Several lawyers have come forward to report that they were contacted by the Department of Justice and told their clients are being fed via topical anesthetic or by a rubber tube through their nostril.
The US military generally avoids discussing specific prisoners because of guidelines set forth in the Geneva Convention, but has not discussed any individual cases with the media. Why prison officials and the Department of Justice waited to notify lawyers of force feedings was an object of speculation. Washington has denied the feeding process is painful, while an attorney said her client "never felt anything like it in his life."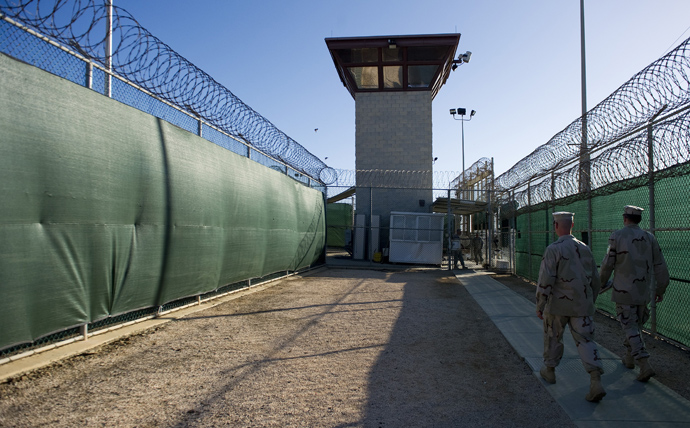 April 6
Forty one prisoners have now been classified as hunger strikers at Guantanamo Bay, Gitmo spokesman Navy Capt. Robert Durand has said. The official count has increased by one since Thursday. The spokesman added that two prisoners who had been hospitalized for dehydration have now been released. Eleven more are still being force-fed to keep their weight loss from becoming life threatening, though the controversial practice has been compared to torture by the UN.
April 5
Washington's failure to close Guantanamo and release indefinitely held detainees is a "clear breach of international law," UN human rights chief Navi Pillay said in a statement on Friday. She also called the ongoing hunger strike a "desperate," but "scarcely surprising" act.
April 4
The US is 'working hard to meet international humanitarian law standards at Guantanamo' detention facility, claimed the State Department spokesperson Victoria Nuland at a daily press briefing.
Nuland reported that Russian citizen Ravil Mingazov, incarcerated in Guantanamo for over a decade without trial, has refused to meet a Russian delegation because he has that right. She added that US is going to observe that right for him in the future.
"So we're not able to facilitate the interview that they requested because we have a long-lasting policy of not forcing such interviews if they are not voluntary," Nuland said adding that an invitation to a Russian delegation visit to get a 'broader understanding' of the facility's operations still 'remains open'.
Russia has been trying to gain access to Mingazov for 10 years and wants to check his well-being, Russia's Foreign minister Sergey Lavrov noted.
April 2
Automatic budget cuts that are a part of the US sequestration have axed funds used by government appointed lawyers to visit their clients at the Guantanamo Bay prison. As Carlos Warner, a federal public defender in the Northern District of Ohio, told The Huffington Post:
"The sequester has completely eviscerated my ability to represent these individuals. Our budget for representing Guantanamo has been basically shifted over to paying salaries. For me, as a federal defender who works for the government, that's an issue."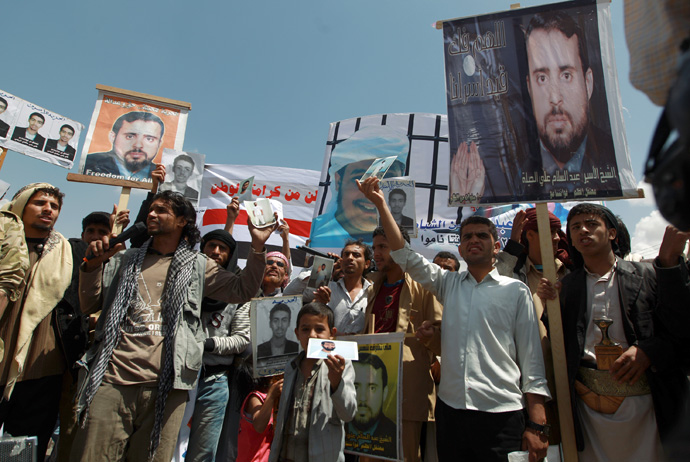 The Pentagon currently runs weekly flights to Guantanamo, or pays for lawyers to visit clients at Guantanamo to travel via the few available commercial flights. According to Warner, that option is now gone, and it comes at a time when the continuing hunger strike by detainees necessitates bi-weekly visits.
The number of the participants of the hunger strike has risen to 39, with 11 being force-fed, according to a prison spokesman Robert Durand. Last Friday the number of strikers was reported to be 37. The demonstrators which held a rally on April 1 outside the US embassy in Yemen capital, Sanaa, claim the authorities are downplaying the numbers of the inmates on the hunger strike.
April 1
One of the most well-known prisoners at Guantanamo Shaker Aamer has confirmed earlier reports that the number of prisoners on hunger strike was 130. He told his lawyer on Friday that he has lost 32 pounds during the strike that began Feb. 6. He added that prison officials have been trying to break the strike without success.
In Yemen, around 250 protesters surrounded the US embassy to demand the return of Yemeni detainees from Guantanamo. More than half of all prisoners inside the center are Yemeni, but their extradition has been delayed by years of fruitless negotiations between the US and changing governments in the country.
A lawyer representing a Guantanamo inmate who was one of the initial hunger strikers told RT, "I was shocked to see that he had lost about 40 pounds from the last time I saw him, and he was in a terribly weak state. He was bending over from stomach pains and said that he had not eaten since February 6."
"They're now also protesting the worsening conditions as these prison officials are essentially retaliating against them and trying to end the strike by making conditions harsher,"Cindy Panuco indicated.
March 31
Anti-Guantanamo activists in Kuwait are holding a rally on Sunday to support two Kuwaiti nationals who have been kept at the notorious US prison for over a decade.
The rally, dubbed "Rescue Fayiz Al Kandari & Fawzi Al Odah," is scheduled for 07:00pm Kuwait time (1600 GMT). According to a local lawyer representing Al Kandari, the organizers expect at least 500 people to attend.
Fayiz Al Kandari was captured in Afghanistan as he was traveling to Pakistan shortly after the US invaded the country following the September 11, 2001, terror attacks. The Guantanamo military commission charged him with war crimes, believing him to be a trained jihadist recruiter. His lawyers said most of the evidence against Al Kandari was based on hearsay. He has been in US custody for almost 11 years.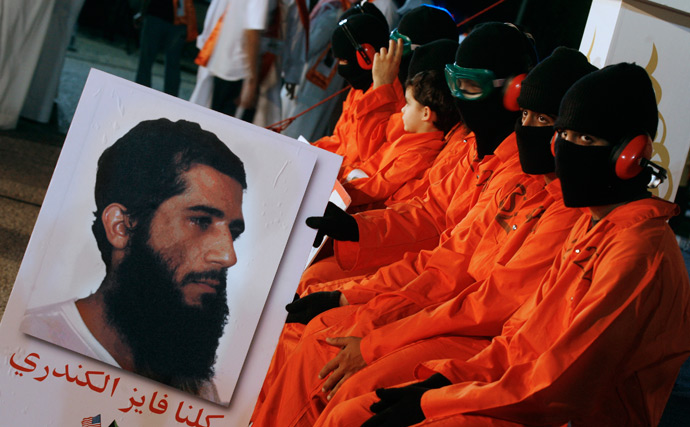 Fawzi Al Odah was also captured while traveling to Pakistan through Afghanistan by what his family called bounty hunters seeking American reward money for Arabs. The US believes him to be a Taliban foot soldier with links to Al Qaeda. He has spent more than 11 years in Guantanamo prison.
Both men were involved in previous hunger strikes in the prison, and were subjected to force-feeding; Al Kandari was reportedly one of the detainees who has lost much weight during the ongoing protest.
March 30
In response to the motion for "emergency humanitarian relief" (.pdf) filed by the attorneys of Yemeni prisoner Musa'ab Omar al Madhwani, Colonel John V. Bogdan, Commander of the Joint Task Force-Guantanamo, has filed his own declaration (.pdf). Col. Bogdan states that all detainees at Guantanamo have "unlimited access to potable water from taps in sinks in their cells and on detention blocks," and that it is "the same water that I drink on a daily basis." The statement directly counters claims made by al Madhwani that only facility staff had ready access to potable water.
Col. Bogdan's statement also addresses another claim made on behalf of al Madhwani via his attorney, which is that temperatures within the confinement were unusually cold, and that the cotton clothing provided to detainees was inappropriate, making it difficult to stay warm.
Thomas Wilner, an attorney representing Gitmo inmates, told RT that Obama is behind the decision to release Guantanamo prisoners, but does not consider it a top priority. The White House is interested in closing the prison, but is not directly involved in solving the issue and "delegate" to other people, Wilner told RT, calling for pressure on the administration "to step in and solve this."
According to the attorney, conditions in the facility will likely be improved in the near future so that "innocent men won't die to protest."
March 29
The Pentagon's daily briefing does not address the 7-week-long, biggest-in-years Guantanamo hunger strike. RT's Gayane Chichakyan, who was present at the news conference, says Defense Secretary Chuck Hagel did not say a word about the Guantanamo protest.
"As you know half of the men at Guantanamo have been cleared for release, yet they are still there, locked up, stuck in this limbo, desperate. And I was going to ask, when they will let these men go and whether this would make any difference if somebody died in this ongoing hunger strike… I never got the chance to ask that question," the RT correspondent said.
The Pentagon previously requested almost $200 million to renovate the Guantanamo prison, which means the US is unlikely to close the facility in the near future.
Rather than improving, conditions at the infamous detention center are actually getting worse, says Cindy Panuco, a lawyer for one of the prisoners.
"It appears that the guards are trying to end the hunger strike by making conditions more difficult for the prisoners here, including making the camp very cold," she told RT.
Russia hopes for access to citizen held at Gitmo
A statement posted at the Russian Foreign Ministry's website by top human rights official Konsantin Dolgov said that Russian diplomats are concerned by the news of the Guantanamo hunger strike, and are particularly worried over the fate of a Russian citizen at the detention facility.
"We hope that the US will provide consular access to a Russian citizen, Ravil Mingazov, who has been held at the Guantanamo prison for quite a long time without trial. We consider that violation of his legal rights and interests is inadmissible," Dolgov wrote.
Mingazov was arrested in Pakistan in 2002; no official charges have been brought against him.
The Russian Foreign Ministry's statement also called on the US government to "hear the recommendations of the international human rights community and finally take effective measures to close the Guantanamo prison as soon as possible."
March 28
A group of human rights lawyers has filed an emergency motion with a federal court in Washington, saying Gitmo inmates were denied drinking water and forced to cope with extremely low temperatures.
The motion is based on information a detainee provided in a phone conversation with his attorney. The allegations of mistreatment were denied by the prison's spokesperson, Navy Capt. Robert Durand.
The White House has broken its silence over the seven-week-long hunger strike at Gitmo: "I can tell you that the White House and the president's team is closely monitoring the hunger strikers at Guantanamo Bay," President Obama's spokesperson Joshua Earnest said, according to AFP. "I can tell you that the administration remains committed to closing the detention facility at Guantanamo Bay."
Speaking to RT, the former US Assistant Secretary of State for Public Affairs under Barack Obama, P.J. Crowley, explained that Obama's hands have been tied by lawmakers, who put a ban on transferring detainees to the mainland US. "It clearly is the United States Congress that's basically frozen the situation in place," Crowley said.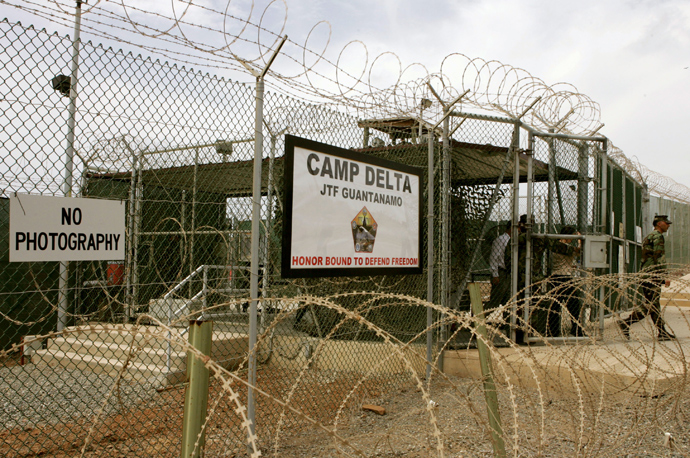 March 27
The US Military admits that the number of Guantanamo inmates on hunger strike has risen to 31.
The deteriorating situation at the detention center prompts the International Committee of the Red Cross (ICRC) to send a doctor and another delegate to Guantanamo a week earlier than planned.
Guantanamo inmates are experiencing an "increasing level of desperation," Simon Schorno from the International Committee of the Red Cross told RT, blaming Guantanamo's poor legal regulations for the plight of its inmates.
"From our observations those tensions and this anguish that the detainees are experiencing are clearly related to the lack of a clear legal framework in Guantanamo," Schorno said. "This has now been having a real impact for detainees for some time – on their mental health, on their emotional health."
Two delegates from the Red Cross arrived on Monday in order to "get a better sense of the current tensions and the hunger-strike, to speak with the detainees directly and also with the authorities to get their perspective of what is going on," Schorno added.
March 26
Federal public defender Carlos Warner has obtained a note from his client Faiz al-Kandari, who was indefinitely detained in Guantanamo and is not on the list of 86 innocent men who are cleared for release. Warner told RT what Kandari has to say:
"I scare myself when I look in the mirror. Let them kill us as we have nothing to lose. We died when Obama indefinitely detained us. Respect us or kill us. It is your choice. The US must take off its mask and kill us."
March 25
Three detainees have been hospitalized for dehydration, while ten other participants of the hunger strike are being force-fed liquid nutrients, according to the prison's officials. The inmate is reportedly shackled to a chair while a feeding tube is inserted into his nose.
March 24
In a gesture of solidarity with Guantanamo Bay prisoners, activists across the world have launched a week-long fast. The action, organized by the Guantanamo prisoners support group Witness Against Torture (WAT), is to last through March 30. Some activists plan to continue fasting every Friday until the prison is closed, the group says.
The fast will be accompanied by public gatherings to protest against the existence of Guantanamo prison and the condition of people held there.
"We will gather for action in New York City, Chicago, Los Angeles, and other cities domestically and internationally next week to denounce the barbaric practice of torture and indefinite detention and to demand justice for the men at Guantanamo," WAT says.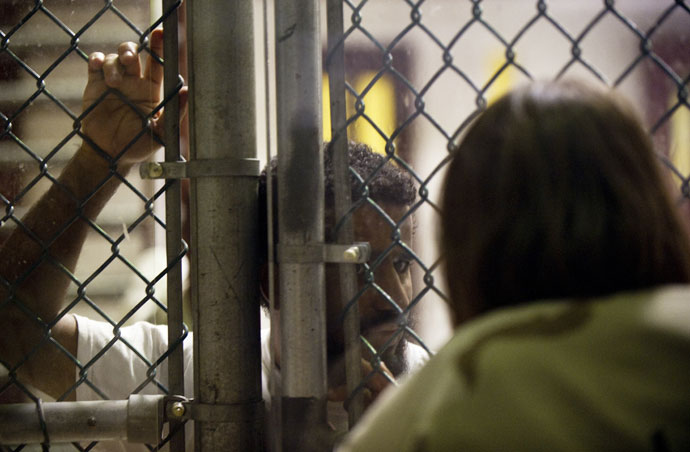 March 23
Lt. Col Barry Wingard, an attorney who advocates for Guantanamo detainees, told RT that his client has lost almost 40 pounds – 1/3 of his body weight.
As the hunger strike enters its 46th day, Wingard doesn't believe it will prompt the US government to deliver justice to the detainees.
"I'm here to tell you that after 11 ½ years, these men that live in animal cages in America's offshore prison in Guantanamo Bay, they ask for justice. They've been there 11 ½ years. Ninety per cent of them have no charges,"he told RT.
Wingard added that the men will never get trials, based upon the evidence that is against them.
March 22
The number of Guantanamo Bay detainees on hunger strike has increased to 26, up one from the previous day, Guantanamo Bay spokesman Capt. Robert Durand told RT via email on Friday following a written request.

"As of Friday, 22 March 2013, we have 26 hunger strikers, with 8 receiving enteral feeds. This an increase from Thursday, which was 25/8. Tuesday and Wednesday, it was the 24/8, Monday, 21/8, and Friday, 14/8.

We have two detainees in the detainee hospital for rehydration and observation, on enteral feed. We have two other detainee in the detainee hospital for non-hunger strike, non-life threatening treatment," Durand said.
The Pentagon has been accused of underestimating the number of inmates on hunger strike. The New-York based Center for Constitutional Rights slammed the US government for "not admitting scale and scope" of the strike, saying they had received reports that 130 inmates were involved in the protest.
It's going to take the American people to demand Guantanamo Bay prison facilities be closed, former Gitmo prison official Ret. Col. Morris Davis told RT. Until the issue catches the public's attention, there is little hope for improvement, he says.
"A majority of the men at Guantanamo -- 86 of the 106 who have been cleared for transfer -- have been in confinement now for more than a decade in some cases," Davis said. "So to them... the only way to potentially call attention to it is to do something drastic like a hunger strike."
Meanwhile, US military officials are requesting funding for construction of a new building in Guantanamo Bay, as well as for maintenance on the existing facility. The new project could cost American taxpayers a sum approaching $49 million.
March 21
During a conversation with RT Dr. Terry Kupers, a California psychologist and author of Prison Madness: The Mental Health Crisis Behind Bars and What We Must Do About It, tried to answer some of the same questions that have boggled Guantanamo Bay critics since the prison opened in early 2002. While a hunger strike may initially seem illogical, Kupers praised the inmates for exerting one of the few actions within their capabilities in trying to attract international attention. He also pointed to another less-discussed result of long period of time behind bars: prisoners read up on their rights, learning the legal ramifications of their dire situation.

Among the many prisoners of Camp Delta's detention facility at Guantanamo Bay one British citizen remains, despite being cleared for release over five years ago. A national of a key US ally, RT recently sought an explanation from the UK government.
Shaker Aamer, the 44-year-old British resident, has been incarcerated at Guantanamo for 11 years without any charges ever brought against him.
A father of four, Saudi national Aamer is the last British citizen remaining in Guantanamo Bay prison, despite being cleared for release as early as 2007.
In his letters, prisoner Shaker Aamer appeals in desperation to his captors and the outside world:
"Please … torture me in the old way. Here they destroy people mentally and physically without leaving marks."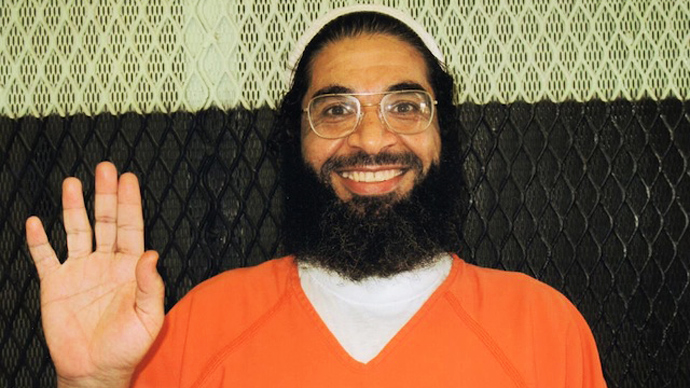 Following the developments of the hunger strike at Guantanamo detainment facility, RT sent a formal enquiry to the British Foreign Office. In our letter we asked the Foreign Office to comment on the hunger strike at Guantanamo Bay detention camp, where a British resident is being kept among detainees, and whether the British government plans to take any measures to resolve the situation.
In a statement answering RT's inquiry, a spokesperson of Foreign and Commonwealth Office stated the following.
"The UK has long held that indefinite detention without review or fair trial is unacceptable and we welcome President Obama's continuing commitment to closing the detention facility at Guantanamo Bay, and to maintain a lawful, sustainable and principled regime for the handling of detainees there."
The answer contains no exact information neither on the British citizen being held captive in a US prison, nor on the hunger strike of several Guantanamo prisoners that continues for six weeks already.
As for the US President's 'continuing commitment', it was Barack Obama who promised to close down Guantanamo Bay prison during his presidential campaign in 2008 and who has already returned to the White House for his second presidential term, without any change on the horizon. As such blame for alleged mistreatment at Guantanamo appears less easily labeled a President Bush era problem.
In December 2012 the lawyers of Shaker Aamer filed legal papers with both the UK's home and foreign secretaries claiming that British secret services made "knowingly false statements" to the US authorities concerning their client. According to the filed documents, UK's MI5 and MI6 claimed Shaker Aamer was recruiting people to fight for Al-Qaeda in Afghanistan after the 9/11 and that he was paid directly by Bin Laden – without producing any reliable evidence.
March 20
Marine Corps General John Kelly, who spoke at the House Armed Services Committee in Washington on Wednesday, gave the reasons behind the prisoners' hunger strike in Guantanamo Bay. He explained that the prisoners
"had great optimism that Guantanamo would be closed. They were devastated apparently ... when the president backed off, at least (that's) their perception, of closing the facility." He also re-iterated the prison administration's earlier statement about the desecration of the Koran – a topic of contention and one of the main contributing factors to the ongoing hunger strike – saying that any claims of desecration are "nonsense" . He went on to say that in "no way has the Koran in any way, shape or form been abused or mistreated" and that he had been presented with copies of the "Sacred Koran" by senior Muslim clerics while he was on duty in Iraq. Finally, he added that while it is known that non-believers are allowed to touch the book, the only personnel who had been doing so at Guantanamo were Muslim translators.
Kelly heads the US military's Southern Command for the Latin America region in Miami. The body also oversees the Guantanamo Bay US Naval Base in Cuba.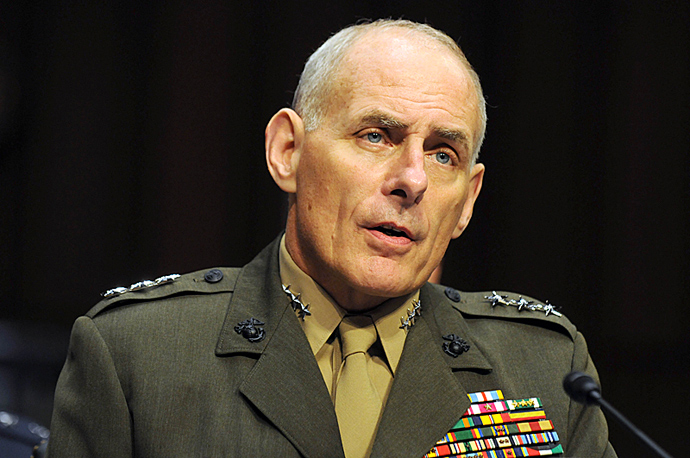 Former Congressman Dennis Kucinich tells RT the situation in Guantanamo represents the US as a country "abandoning its constitutional principles, because when prisoners are under US control and discretion they should have the same rights that any other prisoner would have. They should have the right to be told the charges against them, the right to a speedy trial, [the] right to habeas corpus, which would enable them to be released if charges against them can't be levied."
Stephen Soldz, clinical psychologist, who was a consultant when previous hunger strikes happened at Guantanamo prison, explains in an interview to RT, that Guantanamo inmates are frustrated to the point they are reluctant to communicate with the only people who are allowed to visit them – their lawyers.
"Those men would tell their attorneys, 'I don't want to talk with you. What's the point of talking with you? I only want to know the date I'm going out of here.' But there is no date. People can't accept being completely powerless and hopeless," Soldz says.
RT received a letter from the US Department of Justice saying it was not authorized to comment upon the Guantanamo hunger strike and suggesting RT to address the Defense Department for any interview regarding the status of detainees at Guantanamo Bay.
"The Defense Department oversees the detention facility at Guantanamo Bay and is responsible for its operations – not the Justice Department," said the letter written by Dean Boyd, Spokesman for the US Department of Justice.
However earlier, on March 4, prison spokesman, Navy Capt. Robert Durand, pointed at the Department of Justice as the body to respond to attorneys' letters.
The Russian Foreign Ministry's Commissioner for Human Rights, Konstantin Dolgov, spoke of the need to close Guantanamo in an interview to RT .
"I don't think there's lack of reaction from the international community. What's obviously lacking is political will on behalf of the US government to bring the solution of the problem to its logical end. And the only logical end can be liquidation of this, let's put it straight, shameful facility," he said.
The Russian Foreign Ministry is concerned with the destiny of a Russian citizen among the Guantanamo detainees.
Famous American human rights activist, Angela Davis calls for closure of Guantanamo in a French daily L'Humanité, AFP reports.
"This tenth anniversary of the start of the Iraq War makes us, finally, question the further existence of Guantanamo. On this sad date we must come up with a stronger and more resolute call for closure of the Guantanamo prison," Davis wrote.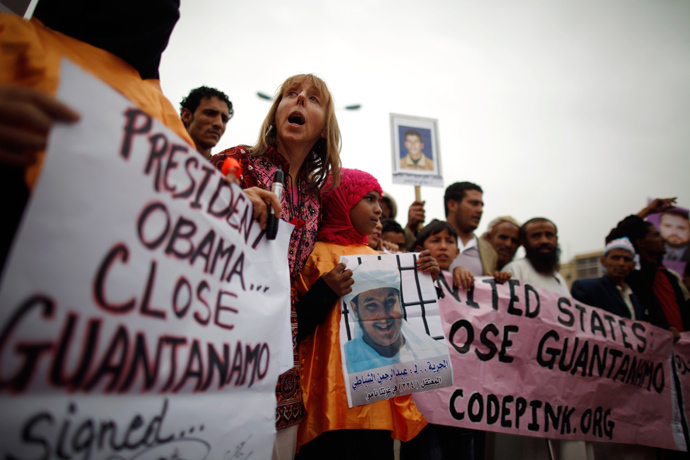 March 19
The UN Human Rights body responds to mounting media coverage of the Guantanamo crisis. In a letter answering RT's inquiry, spokesman for the High Commissioner says the office is looking into the details of the mass hunger strike.
"While aware of some of the allegations of mistreatment of inmates said to have provoked the hunger strike - which include undue interference with the inmates' personal effects - we are still trying to confirm the details," the letter says.
The statement from the office of the High Commissioner goes on to say UN Human Rights chief Navi Pillay has "repeatedly regretted that the US Government has not closed Guantanamo Bay."
She is concerned with fact that the National Defense Authorization Act has created obstacles for the closure of Guantanamo and also trial of detainees in civilian courts, as well as failure to release those cleared of allegations.
Guantanamo Communications director Captain Robert Durand says the number of detainees on hunger strike reached 24. Still, he rejects claims by the detainees' attorneys that the majority of inmates are involved in the protest.
March 18
Navy Capt. Robert Durand says 21 Guantanamo Bay prisoners are now on a hunger strike. Eight men are being fed with a liquid nutrient mix to prevent dangerous weight loss from occurring, while two others are at the prison hospital being treated with dehydration.
In a letter to RT, Durand said "the reports of hunger-strike related deteriorating health and detainees losing massive amounts of weight are simply untrue."
However, lawyers for Guantanamo inmates maintain the strike is more widespread than the military acknowledges - and a former Gitmo prisoner agrees.
Omar Deghayes was held at Guantanamo Bay for five years before being released without charge. While participating in hunger strikes at the prison, Deghayes recalls hearing the same "rhetoric" from the US military.
"The rhetoric that [Durand] is describing is something that we went through many times when we were inside Guantanamo on hunger strikes. They used to say the same false things that I'm hearing now. They'd say 'the number is small' or 'there is no hunger strike,' or 'we treat people with dignity,'"he told RT.
March 17
The London Guantanamo Campaign holds a demonstration outside the US embassy in London to "raise awareness about the hunger strike, which has more or less – at least in Britain – been ignored by the mainstream media," the campaign's coordinator, Aisha Maniar, tells RT.
"We've been in contact with some of the lawyers who have been [to Guantanamo] over the last week and they've been reporting that when they have met their clients, that their health has been pretty poor," Maniar says.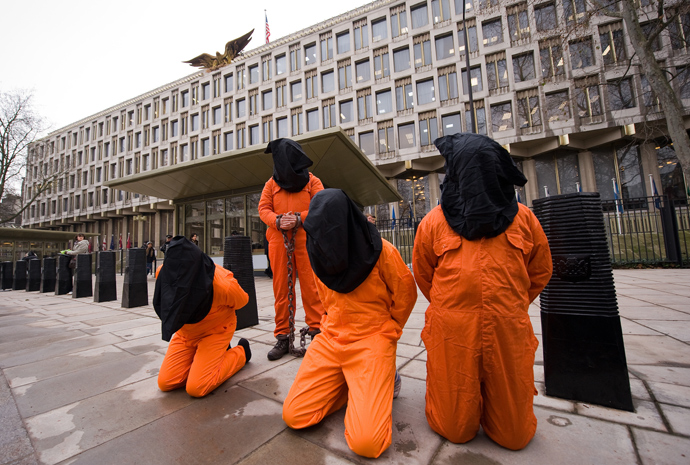 March 16
Attorneys for at Guantanamo Bay, Cuba, say that a general hunger strike involving many of the 166 detainees who remain incarcerated there has entered its second month.
However, the US military strongly denies that claim, calling it "a fabrication," and instead says only 14 detainees are actively engaged in hunger strikes detrimental to their health.
"Our understanding is that based on previous standards, the determination of who is a hunger striker is a discretionary determination that Guantanamo makes. What those standards are, what the criteria are, are questions that they need to be asked. How are they defining hunger striker and when are they determining that someone needs to be tube fed? And if the definition of hunger striker is entirely in their control and it is a matter of their discretion, then I think that explains how they are able to say that there are no more than a handful of men on hunger strike," Pardiss Kebriaei, attorney for the Center for Constitutional Rights, which represents a Yemeni detained at Guantanamo, tells RT.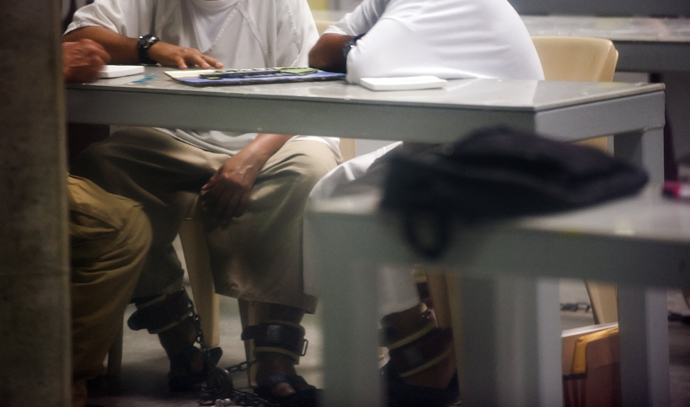 March 15
Guantanamo detention center spokesperson, Navy Capt. Robert Durand said in a letter to RT that the number of protesting inmates reached 14 people, five more than they had previously reported. He however stressed "the reports of hunger-strike related deteriorating health and detainees losing massive amounts of weight are simply untrue."


Durand also stated one of the strikers was taken to the prison hospital, five others were being fed through tubes put through their noses into their stomachs, while eight others are not yet sufficiently malnourished to merit such treatment.
Durand denied that the hunger strike is "a widespread phenomenon, as alleged," by the captives' lawyers, and accused them of spreading "outright falsehoods and gross exaggerations." He downplayed the reports of a mass hunger strike at Gitmo, saying that most of the alleged strikers are skipping regular meals, but substituting them with snacks.
"Refusing prepared meals and choosing to subsist for a time on snack foods does not constitute a hunger strike," Durand said.
Durand confirmed the reports that some of the detainees had their Korans taken from them, but called it an attempt at manipulation: "If we accept their Koran, it would be portrayed as either an admission that it required protection and safekeeping, or as a confiscation by the guard force, depriving them of the religious articles needed to practice their faith."
He also insisted that all searches are conducted in a regular way, and that no mistreatment of Muslim holy books has taking place at Gitmo.
The International Committee of the Red Cross (ICRC), which visited the island prison from February 18 to 23, gave an interview to RT, saying that the "ICRC believes past and current tensions at Guantanamo to be the direct result of the uncertainty faced by detainees."
The secrecy maintained by the prison and the communication barriers in place have been an obstacle for human rights organizations for years, Rob Freer of Amnesty International told in an interview to RT.
"We have to wait until a detainee is released, before we can speak to them. This leads to underreporting on individual detainee cases and at least to a time lag. The lawyers themselves are not there the whole time and it requires declassification of certain information when they do get to," he said.
March 14

The health of prisoners held in Kafkaesque limbo at the Guantanamo Bay detention camp has deteriorated alarmingly after over 100 inmates went on a protest hunger strike five weeks ago.
The detainees have claimed that most of them are involved in the do-or-die hunger strike, and their attorneys have become concerned about the prisoners' worsening health.
"By Day 45 we understand from medical experts there are serious health repercussions that start happening. Loss of hearing, potential blindness," Pardiss Kebriaei, attorney for the Center for Constitutional Rights, which represents a Yemeni detained at Guantanamo, tells RT. "The potential there is for death as well if the hunger strike continues for weeks."
Her client has allegedly lost 20lbs (9kg) since the beginning of the strike. The collective protest was reportedly triggered by the prison staff's seizure of the inmates' personal belongings. The hunger strike began on February 6, with the prisoners protesting against the confiscation of their personal letters, photographs and legal mail, as well as the allegedly sacrilegious handling of their Korans during searches of their cells.
The real challenge for the detainees is to make themselves heard by means of the hunger strike. Their lawyers have sent a letter to the US Defense Secretary Chuck Hagel urging him to take action to end the protest.
"It's really an abominable humanitarian situation where you're depriving these people of life and liberty and for no really valid basis," detainee lawyer Eric Montalvo told RT.
Prison officials have acknowledged that the hunger strike is taking place. However, they deny that it is a large-scale event: Nine detainees are refusing food, five of whom are being fed through tubes inserted into their stomachs, according to Robert Durand, director of public affairs for the Joint Task Force Guantanamo.
Durand also said that the claims of desecration of the Koran were unfounded.
"To be clear: there have been no incidents of desecration of the Koran by guards or translators, and nothing unusual happened during a routine search for contraband," he told AFP.
Reuters started reporting on the Gitmo hunger strike.
March 13
The detainee hunger strike at Guantanamo Bay's maximum-security prison is a last-resort cry for help from those who have spent years in custody without being charged, and who have no hope of release, anti-war activist Sara Flounders tells RT.
March 12
"What we did last week was send a letter on behalf of the attorneys who have received direct information, asking questions and reporting what we have heard from our clients to the authorities at Guantanamo, and copying the Department of Justice. Asking for their side of the story and to respond, seeking a quick resolution to what's going on. We've received no response from that letter so far. At this point, the strike is more than 30 days old and by Day 45, we understand from medical experts there are serious health repercussions that start happening," Pardiss Kebriaei, attorney for the Center for Constitutional Rights, which represents a Yemeni detained at Guantanamo, tells RT.
Meanwhile, geopolitical analyst Ryan Dawson tells RT that the prisoners were left with little recourse other than a hunger strike. The prisoners had a previous hunger strike in 2005, which led to the hospitalization of 18 people.
"What I find disgusting in this one is the US is denying the strike is as large as it is and downplaying it, saying its only a few inmates but they've had to admit that at least five are being force-fed through tubes in their stomachs, so this is obviously real…Its hard to get lower than Guantanamo Bay. A lot of these men are detained without trial, some without even charges. That doesn't mean they're innocent, but it doesn't mean they're guilty either. And the problem is secrecy. When you have this level of secrecy, you're just creating an environment for abuse because they are basically human beings with no rights," Dawson said.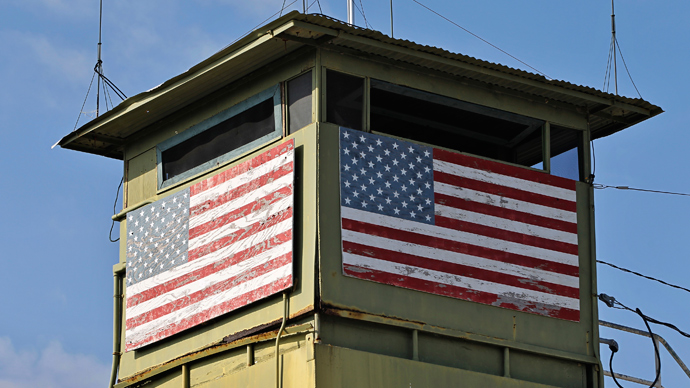 March 11
"My client and other men have reported that most of the detainees in Camp 6 are on strike, except for a small few who are elderly or sick," Pardiss Kebriaei, attorney for the Center for Constitutional Rights, which represents a Yemeni detained at Guantanamo, Pardiss Kebriaei tells RT. Men have reported coughed up blood, lost consciousness and were forced to move to other wings of the facility for observation.
March 10
"We have to understand that all the inmates at Guantanamo bay are devout Muslims so desecrating a Koran for them is the last blow to their dignity. It is of extreme importance to them and according to them they are imprisoned because they are Muslim and that's kind of proving their point. Unfortunately that's something that was quite common under [President George W.] Bush. We thought [President] Obama would be more thoughtful to Muslim beliefs but we are seeing that's not the case…for people who have been incarcerated for 11 years, been away from their families for 11 years, have not been charged for for 11 years, its understandable that taking what is a small item to us is nothing, but to them it is basically their life… the main question is not why they are being treated like that in prison, but why are they in prison, because they have been cleared for release," Arnaud Mafille, an activist with Cageprisoners Human Rights group, tells RT.
March 09
"The current tensions in Guantanamo, as far as we can see and as far as we understand, are really the result of the uncertainty faced by the detainees in Guantanamo – the uncertainty linked to their fate, what is going to happen to them. There is a lack of clear, legal framework for their dentition. Most of them don't know what is going to happen to them. So it has always been our position that there needs to be a clear, legal framework and a transparent process in terms of procedural safeguards for the detainees. It needs to be transparent and fair to alleviate the emotional and mental strain that the uncertainty triggers for the detainees," Simon Schorno, spokesperson for the International Red Cross in North America, tells RT.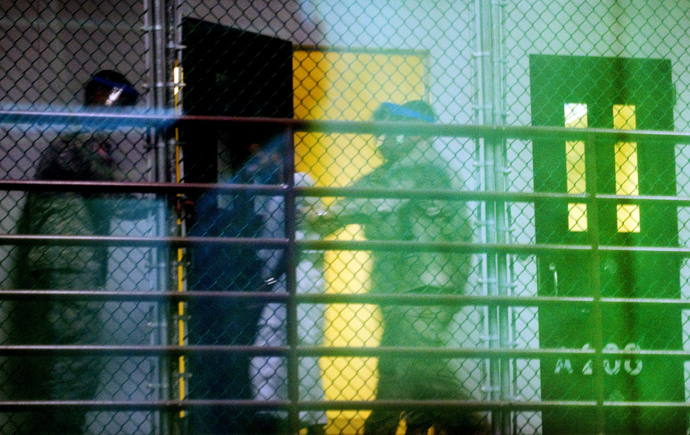 March 08
Washington-based attorney David Remes tells CBS News that as of March 8, six detainees he represents had refused food for 36 days, skipping 102 meals, and each man said he had lost at least 30lbs (13.6kg).
"It was quite noticeable," Remes says. "The men I saw were weak, tired, chilled, and had lost a substantial amount of weight."
One of those detainees, Yasin Qassem Muhammad Ismail, from Yemen, who followed up with a phone call to Remes on Wednesday, told the attorney that he now weighed 109lbs (49kg), down from 150lbs (68kg).
March 05
After meeting their client, Fayiz al-Kandari's team of military lawyers report that al-Kandari said that the hunger strike "certainly hurts physically," but he felt "very sorry for his parents whose psychological pain is 10 times greater than his physical discomfort."
Attorney for the Center for Constitutional Rights, which represents a Yemeni detained at Guantanamo, says attorney reports of the hunger strike are consistent.
"What we understand for our clients – and this is coming from every attorney that has either been down to Guantanamo since February or has communicated with their client in some form through letters or phone calls – is that there has been a hunger strike going on at among almost all of the men in Camp 6 at Guantanamo, which is the largest facility at Guantanamo. They have been refusing all food, only drinking water, tea, and coffee, since early February," Pardiss Kebriaei tells RT.
March 04

America's infamous Guantanamo Bay prison in Cuba has reportedly become the scene of a widespread hunger strike – now in its third week – yet on Monday a prison spokesman denied that any such activity was taking place.
The lawyers for the prisoners said in a letter to the prison commander, that "all but a few men" are on hunger strike and that their condition "appears to be rapidly deteriorating and reaching a potentially critical level."
The protest can best be summed up with a statement that the Center for Constitutional Rights (CCR) sent to military officials. They wrote that "since approximately February 6, 2013, camp authorities have been confiscating detainees' personal items, including blankets, sheets, towels, mats, razors, toothbrushes, books, family photos, religious CDs, and letters, including legal mail; and restricting their exercise, seemingly without provocation or cause." Moreover, "Arabic interpreters employed by the prison have been searching the men's Korans in ways that constitute desecration according to their religious beliefs, and that guards have been disrespectful during prayer times."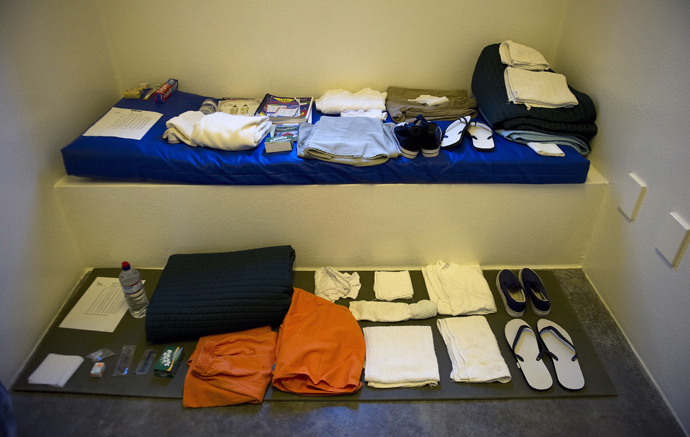 A prison spokesman said that the Department of Justice will address the lawyers' letter of complaint, he also claimed that there had only been six people on strike for a year now. Other detainees simply didn't skip enough meals to be considered on strike at all, according to military rules. The spokesman, Navy Capt. Robert Durand, said that "some detainees have attempted to coordinate a hunger strike and have refused meal deliveries. Most detainees are not participating." He tried to describe the reasons the inmates had for going on strike as blown out of proportion, claiming that they "have chosen one routine search in early February as the rallying point for their grievances."
March 2
Colonel Barry Waingard, who was assigned by the Pentagon to defend the Kuwaiti detainee at Guantanamo prison Fayez Al-Kandari, reveals that the Kuwaiti detainees Fayez Al-Kandari and Fawzi Al-Awda went on a hunger strike with other prisoners and lost nearly 10kg each, Al-Watan Arabic daily reported.

Waingard said in a statement that the detainees went on a hunger strike because they are being ill-treated inside the prison, indicating at the same time that the detainees have now realized death is the only way out of the prison.
February 28
The lawyers confirm that Fayiz al-Kandari's weight loss over the previous three-and-a-half weeks had reached 26lbs (12kg).
February 27
The team of lawyers reports, "Today, we had a communication with the Kuwait legal team concerning Fayiz and Fawzi's physical condition in GTMO. It is difficult meeting with a man who has not eaten in almost three weeks, but we are scheduled for an all-day session tomorrow which we are sure Fayiz will not be able to complete due his failing physical condition. Additionally, we learned that our other client Abdul Ghani, [an Afghan] who has been cleared for release since 2010, is also on a hunger strike. Eleven years without an opportunity to defend themselves."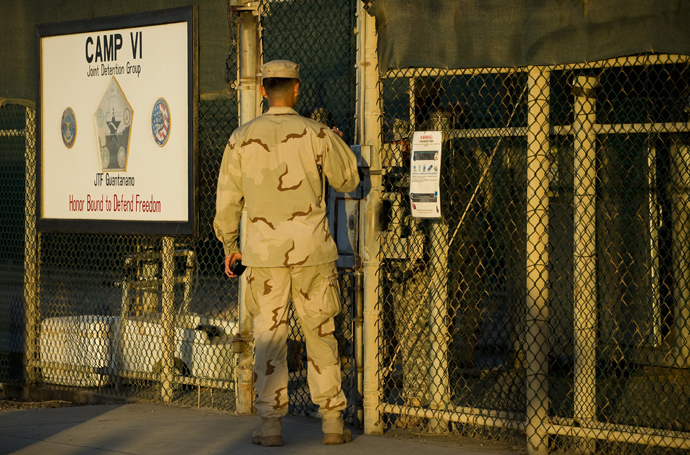 February 26
Fayiz al-Kandari's team of military lawyers announces, "Fayiz has lost more than 20lbs (9kg) and lacks the ability to concentrate for more than a few minutes at a time due to a camp-wide hunger strike. Apparently there is a dispute over searches and the confiscations. We believe there is a desperation setting amongst the prisoners whereby GTMO is forgotten and its condemned men will never get an opportunity to prove their innocence or be free."
February 25
Fayiz al-Kandari's team of military lawyers arrives at the prison.
February 23
Reports first begin to emerge about a hunger strike at Guantanamo Bay.
The following message appeared on the "Free Fayiz and Fawzi" page on Facebook, run by lawyers for Fayiz al-Kandari and Fawzi al-Odah, the last two Kuwaitis in the prison: "Information is beginning to come out about a hunger strike, the size of which has not been seen since 2008. Preliminary word is that it's due to unprecedented searches and a new guard force."
February 6
The Guantanamo Bay hunger strike reportedly began on or around this date.
You can share this story on social media: