Official count in Guantanamo hunger strike rises to 41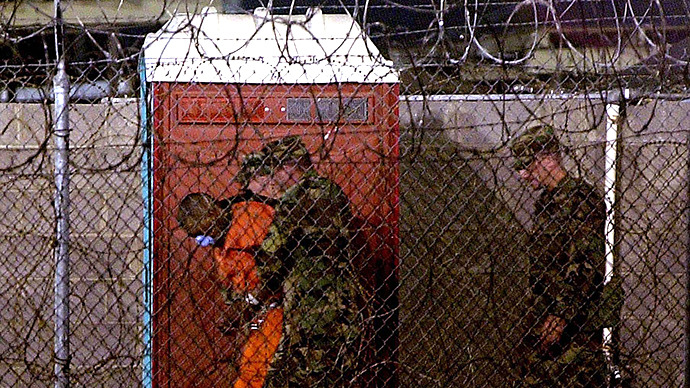 Forty-one prisoners have now been classified as hunger strikers at Guantanamo Bay, though none of them are in hospital, the prison's spokesman said. Inmates maintain that the actual number is over three times higher.
Follow RT's day-by-day timeline on Gitmo hunger strike

Navy Capt. Robert Durand said that the slight increase, up one from Thursday, takes into account all prisoners who have missed at least nine consecutive meals.

He added that two prisoners who had been hospitalized for dehydration have now been released, and eleven more are being force-fed to keep them from losing enough weight to endanger their lives.

The US military has continued to engage in the controversial process of forced feeding – an act the UN has compared to torture- despite opposition from the International Committee of the Red Cross (ICRC) monitoring the prisoners' condition.

Despite the officially recognized figure, prisoners and their attorneys have long maintained that 130 out of the camps 166 detainees have already joined the hunger strike.

The hunger strike, which reportedly began around February 6, "was precipitated by widespread searches of detainees' Qur'ans – perceived as religious desecration – as well as searches and confiscation of other personal items, including family letters and photographs, and legal mail, seemingly without provocation or cause," Fifty-one attorneys wrote to defense secretary Chuck Hagel on March 14.

US authorities have summarily denied the prisoners' claims.

On Friday, the United Nations High Commissioner for Human Rights Navi Pillay called on Washington to close Guantanamo Bay in an uncharacteristically strong statement from the UN.

Pillay, who characterized the prison hunger strike as a "desperate" but "scarcely surprising" act, expressed her "deep disappointment" that the US government had not followed through on its four-year-old pledge to shut down Guantanamo Bay.

"We must be clear about this, the United States is in clear breach not just of its own commitments but also of international laws and standards that it is obliged to uphold," Pillay said in a statement.

She further condemned "the continuing indefinite incarceration of many of the detainees," saying it "amounts to arbitrary detention," a violation of international law.

Of the 166 detainees, who hail from 23 different countries, only nine have been formally charged or convicted of a criminal offense.

You can share this story on social media: