Gitmo hunger strike spreads amid protests at US embassies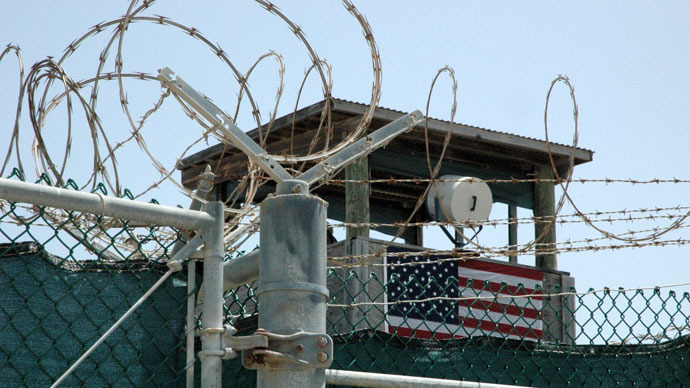 On Day 56 of the Gitmo hunger strike, officials report the number of strikers has risen to 39, with 11 being force-fed. However, detainees say the number stands at some 130. Demonstrators in Yemen say US authorities are downplaying real numbers.
A prison spokesperson alleges that the number of self-starving strikers now stands at 39, rising from the previously stated numbers of 28 a week ago and 37 on Friday. However, one of the most widely-know prisoners, Shaker Aamer, has said through his lawyer that that the protest now encompasses some 130 men.

Saudi-born Aamer says he has lost 32lbs (14.5kg) since it began on February 6. He was confined in Guantanamo in 2002, and has since been the subject of an Amnesty International campaign requesting an end to his indefinite detention.

Lawyers say prisoners' lives are at risk. Three were hospitalized last Tuesday as a result of the strike.

Representatives of the International Committee of the Red Cross arrived on March 26 to investigate activities at the camp.

Of the 166 currently imprisoned in Guantanamo, only six are facing trial.

Carlos Warner, a defense lawyer for a Kuwaiti detainee called the hunger strike the biggest in the history of Guantanamo.

"The entire camp is striking as of today," he told TruthOut on Monday.

Hundreds of protesters flocked to the streets of both Kuwait and Yemen over the weekend, with Yemeni demonstrators taking their banners to the US embassy.

The Yemeni government has requested that the US government send its nationals imprisoned in the US to Sana'a for possible rehabilitation – a practice employed with repatriated Saudis. However, the request has not yet received a response from Washington.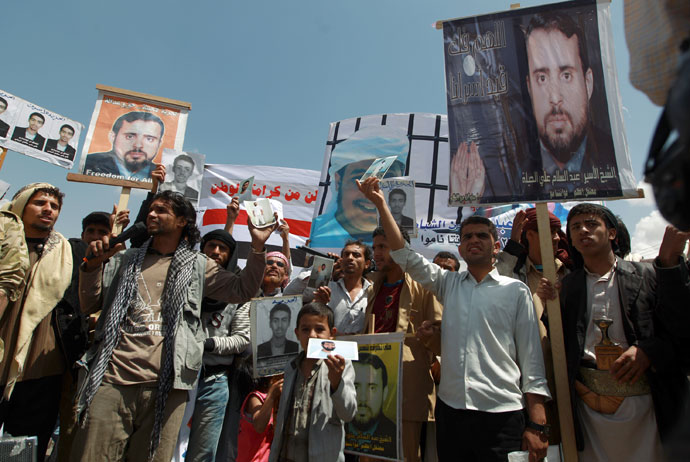 Some 90 protesters in the Yemeni capital were relatives of Guantanamo inmates.

Some banners mentioned prisoners by name, most notably Kuwait's Fouzi Khalid Abdullah al Awda, who has also been detained without charge since February 2002. Most have been imprisoned for more than a decade.
There are two Kuwaiti prisoners in Guantanamo, and both have been subject to force-feeding – a practice which is tantamount to torture, according to a UN Human Rights Commission report in 2006.
Lawyers have reported that their dire situation matches that of the other striking detainees, and are prepared to die in the process of securing assurance that their requests will be met.
However, spokespeople continue to maintain a veneer of nonchalance. Earlier this month, Captain Robert Durand, a Guantanamo spokesperson, downplayed the plight of the prisoners to RT, saying that prisoners were housed in a "safe and humane environment." Warner says that the severity of the strike is still being downplayed.
"The military is doing what it has always done at Guantanamo," he said.
You can share this story on social media: