Gitmo protester arrested after scaling White House fence (PHOTOS, VIDEO)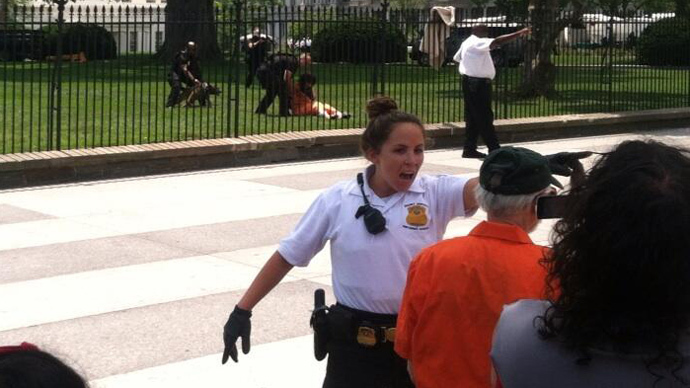 An activist who has been protesting the continuous operation of the Guantanamo Bay military detention facility was arrested Wednesday after climbing over the fence on the north lawn of the White House.
Diane Wilson, a member of the activism group Code Pink, was arrested Wednesday afternoon in Washington, according to the organization's official Twitter account.
Wilson, a Texas shrimp boat captain in her sixties, has been regularly demonstrating outside of the White House in an effort to raise awareness of the 166 Gitmo detainees who remain held at the detention facility in Cuba more than four years after President Barack Obama promised to close the prison. Eighty-six of those inmates have been cleared for release, and more than 100 have been participating in a hunger strike that started this past February.
As an act of solidarity with the detainees who have engaged in a month-long hunger strike, Wilson has been fasting for 57 days.

Wilson and other members of Code Pink began demonstrating outside the White House just after 12 noon on Wednesday. Word of her arrest circulated quickly over the internet around one hour later.
Jodi Evans, a fellow co-founder of the group, tweeted that Wilson was arrested shortly after climbing over the White House fence in order to demand the detainees' release. Photos have since spread of Wilson standing on the lawn of the property. Other images show Evans laying on the grass as armed police and guard dogs race to the scene. 
Diane Wilson on #Obama side of #WhiteHouse fence before attack dog @CODEPINK#CloseGITMOpic.twitter.com/ZIGnpvdFtz

— Jodie Evans (@MsJodieEvans) June 26, 2013
Diane Wilson on 57th day of Hunger Strike jumps over @WhiteHouse fence for #GITMO prisoners to be released pic.twitter.com/HDf5k1DSeB

— Jodie Evans (@MsJodieEvans) June 26, 2013
Code Pink tweeted that co-founder Medea Benjamin was also apprehended by police after reportedly assisting Wilson. Benjamin made headlines on her own account earlier this year after she interrupted the president during a speech about the detention center.

Cop reaches for camera as @medeabenjamin is shoved to ground violently #CloseGitmopic.twitter.com/PJI6eVGNDO

— CODEPINK (@codepink) June 26, 2013
"Eighty-six were cleared already. Release them today!" Benjamin yelled during last month's presidential address in Washington.
"I'm willing to cut the young lady who interrupted me some slack because it's worth being passionate about," the President responded. "Is this who we are? Is that something our fathers foresaw? Is that the America we want to leave our children?"
Wilson has previously been arrested for chaining herself to the White House fence, and was sentenced to three months in jail in 2006 after interrupting a speech by then-Vice President Dick Cheney.
You can share this story on social media: