We could end this strike in a week – Gitmo attorney
As Guantanamo marks 100 days since the start of its hunger strike, RT has taken the opportunity to hear three different sides to the story – among them the prison's spokesman, a lawyer for the detainees and a UN torture watchdog official.
It remains unclear when any concrete steps would be taken to address the prisoners' grievances, when over half of them have already been declared innocent.  The situation continues to be dire with regard to the prisoners' health, and yet there is still no clarity on just how severe things really are. On top of that, allegations of inhumane and cruel treatment continue.
Follow RT's day-by-day timeline of the Gitmo hunger strike.

There are also disagreements within the White House, with President Barack Obama having long expressed his desire to shut the prison down (since his presidential victory back in 2008), but alleging that the US Congress is standing in his way. Similarly, former Secretary of State Hillary Clinton was found to have sent a January memo to the White House asking for the start of the transfer of the 86 prisoners that have been cleared for release,  but her request was shot down, according to sources speaking to Newsweek.
Nonetheless, some semblance of progress on the issue is being made, as US attorney general Eric Holder gave an indication on Capitol Hill on Wednesday that the Obama administration may indeed be readying a transfer of Guantanamo's Yemeni population, which is a large portion of the 86 prisoners who have been found innocent on lack of evidence. Those prisoner transfers remain one of the biggest reasons for the continuing hunger strike.
And yet, there are wildly differing versions as to what actually goes on inside the prison.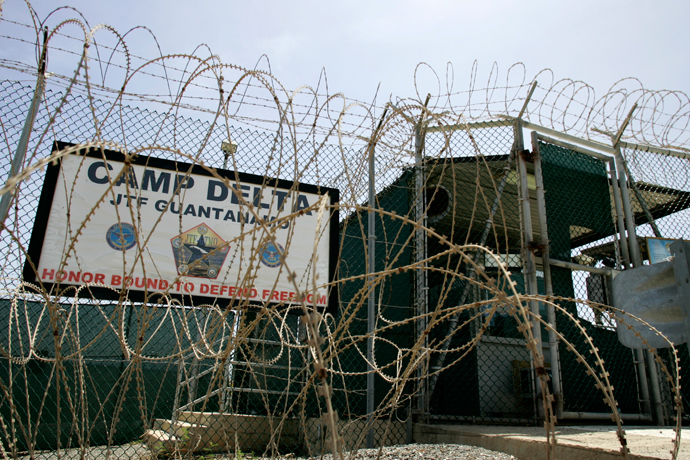 RT interviewed Guantanamo's spokesman Robert Durand, who denied any and all allegations leveled at the prison's authorities by the many lawyers and human rights advocates over the 11 years of its operation.
"They've been leveling these allegations for 11 years. We get visited by the ICRC [the International Committee of the Red Cross]. None of these allegations have ever been substantiated. We welcome the oversight of our commander, of the ICRC. We couldn't operate this place as we do for 11 years with the kind of incredible allegations that they keep replaying over and over. It's just not true."
He also described a dilemma the prison has been facing with choosing to view the strike as a group or an individual action, alluding to religious and peer pressure as the main components. Therefore, according to Durand it would be difficult to avoid the duty of sustaining someone's life under the circumstances.
"There is tremendous peer pressure, tremendous religious and military pressure that you will hunger strike to the death and the matter of autonomy, unlike someone who was by themselves and wanted to commit suicide  or hunger strike on their own for a means of protest, we don't know that they're making that decision on their own, so our policy is to preserve life."
Durand went on to recount the much debated procedures of force-feeding and cavity searches, which he claimed were not as severe and thorough as has been described by opponents of the prison. His bottom line on the issue was that the policy of the United States is to sustain life by lawful means, at all costs. 
The official maintained that the strike is an entirely drummed-up event and that the real reasons the prisoners have acted are nothing to do with inhuman conditions, but a pursuit of media attention in light of the government's and media silence on the issue.
"I believe they acted together, chose an event to say 'this is what we'll create outrage over'. They started in mid-February saying they were 100 hunger strikers, when there were only six. The number's built up over time and they're 100 today, so they've accomplished their media goal. But they haven't asked us to correct any conditions in the camp. Al they want is media attention, to restart the process of transferring out. And to an extent they've achieved that mission: the president is talking about it; the Congress is talking about it; diplomats are talking about it."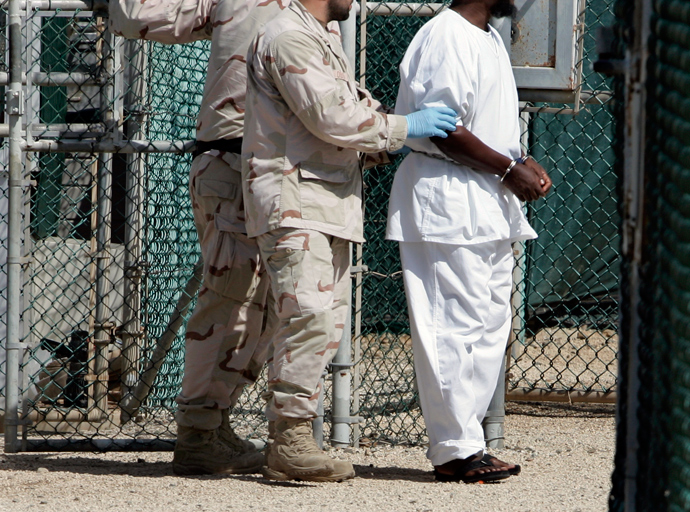 It remains to be seen if the prisoners will be successful on any of their pleas. And of course, the question of prison conditions hangs in the air, as no one has yet been able to completely ascertain whose version of the story is true and which one is exaggerated.

'All of them are without charge. All of them are innocent.'
Carlos Warner, who is a US Federal Public Defender, has a total of 11 clients at Guantanamo, 10 of them currently on hunger strike. He outlined their reasons for striking as follows:
"It was sparked by the military and it was sparked by a change of command, and the military continues to do all the wrong things. But the reason is the hopelessness and the fact that President Obama still has not made any moves to close Guantanamo."
Perhaps the most pertinent point Warner makes in the case against Guantanamo are that a vast majority of its prisoners remain in a state of suspension, without charge, and that to this day there is no evidence to implicate them in anything.
"All of them are without charge. First of all, all of them are innocent. Certainly there isn't evidence that could put all of them on trial, but we know that 86 of 166 our government has admitted are innocent and should be immediately released and are not a danger and they have places to go. So it remains on the President's shoulders to do what's right here and release these men."
Warner points to the strained relationship that exists within the government as well, alluding to the recent news of former Secretary of State Hillary Clinton's memo that pleads with the government to get the transfers of innocent prisoners underway. But the request was shot down.
RT asked Warner if there was any truth to the claims of Guantanamo spokesman Robert Durand about comfortable prison conditions and the "non-invasive" methods they have of getting the prisoners to comply with certain procedures. Warner denied all this, asking us to remember past statements and actions of the prison's administration.
"Remember this is the same military that denied a strike was going on for a long time. It's the same military that yesterday said if you're extracted from your cell, a tube shoved down your nose, that's not force-feeding. So you have innocent men in solitary confinement and the military has begun new procedures, like searching the men's genital areas before they come to talk to lawyers. They've never done this before. They've employed this tactic to try to keep the men away from the lawyers."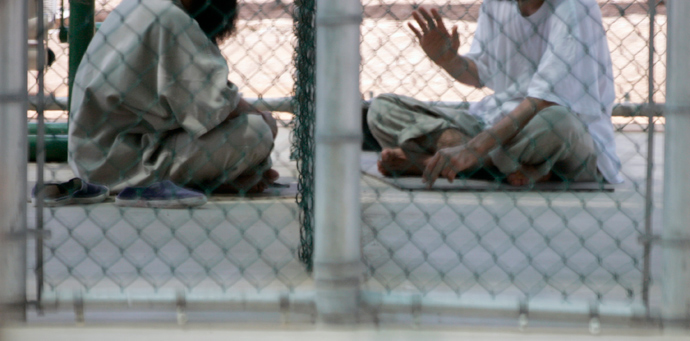 The big question is always whether the military has any real choice in the matter. After all, they have sworn to preserve life at any cost, according to Robert Durand of the prison administration. Warner makes a case for the detainees' actions by asserting that it is firstly a peaceful strike, and explaining that the men imprisoned in Guantanamo simply believe they have no other choice than to either die quietly or not, and they have chosen the latter.
Warner, Obama's supporter, continued by remembering the president's words: "'We have two bad choices – either they die or we force-feed them.' Well, I believe there's a third choice", Warner says. "Releasing the innocent men – which Obama has the power to do. That would end the strike. The military has another choice too. They can negotiate with the men and with people like me. If they did that, we could end this strike in a week…but instead of de-escalating, they escalate over and over. It makes you wonder if the military wants this to continue!"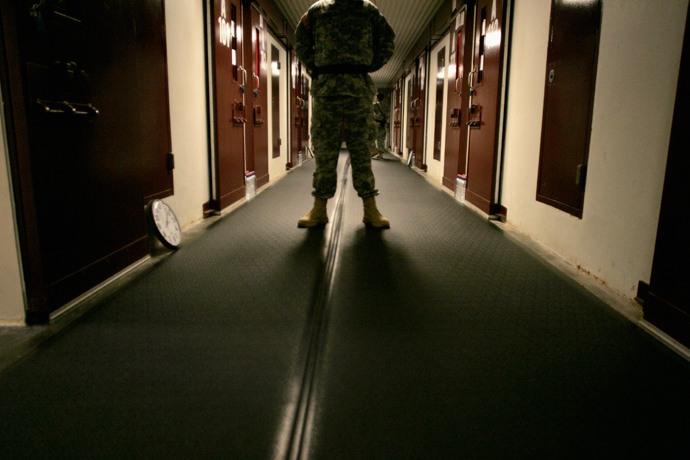 And finally, Warner directs attention to the fact that it was the military themselves who had said that the strike was "not a sustainable situation", which puts in question just how long the Guantanamo ordeal is to last. The prisoners simply cannot survive on the tube-feeding formula. Furthermore, the question of Congress is seen as a non-issue: President Obama does have the power to start prisoner transfers, according to Warner. It is unclear why he hasn't done so until now.
"He likes to blame Congress, because it satisfies people on the left. The bottom line is - he has the authority…and he stated that Guantanamo is not in the interests of national security… it's not a matter of Congress, but of whether he has the political courage to release them."
'They did invite me, but I couldn't talk to the inmates'
Juan Mendez, UN Special Rapporteur on Torture, told RT that he had been pressing the US government to let him in for inspections. But in the end he simply couldn't accept the Department of Defense's invitation, because it was too limited and would prevent him from carrying out his duties to the full – one of them being allowed the unrestricted ability to talk to any prisoner without supervision.
"I was invited after insisting, but under my mandate I couldn't accept. Everywhere I go, in every country, I have to be able to visit every part of the facility and have private conversations with inmates of my choosing without there being any repercussions. The DOD did invite me to come…but they told me I could not visit and have private conversations with inmates."
Mendez has not backed down and is continuing to insist on a visit to the facility in a way that would satisfy the UN's concerns for international standards.
"For us the most important thing is: 1) to allow unfettered visits to Guantanamo – which they [the US government] are not doing; 2) to solve the problem of those inmates that have been cleared for release and release them; 3) to try those who have to be tried under due process and fair trial guarantees, and finally – close Guantanamo. That's basically the agenda of our engagement with the United States government on that."
Although Mendez did stress the UN "never said that force-feeding was torture", he concludes that it amounted to cruel, inhuman and degrading treatment, which is also an offense, and something that requires prompt action on the part of the United States.
You can share this story on social media: