Аs Guantanamo hunger strike worsens, Navy brings in dozens of medical reinforcements
With the hunger strike by detainees at Guantanamo Bay entering its twelfth week, some 40 additional US Navy medical forces arrived over the weekend as the facility struggles to cope with force-feedings and ailing prisoners.
According to a Guantanamo spokesman, Lieutenant Colonel Samuel House, the team of dozens arrived at the prison facility over the weekend, and include nurses and medical specialists.
As of Saturday, the official count on inmates involved in the hunger strike is at 100 out of the total 166 population. Of that number, 21 are being force fed through nasal tubes and five are hospitalized, though military officials will not acknowledge whether any are in life-threatening condition.
Lawyers for several of the detainees believe that the number of hunger strikers at Guantanamo is actually 130, higher than official estimates. Regardless, official numbers on Monday indicate that an additional inmate had been placed on a feeding tube since Saturday.
According to the Miami Herald, the US Navy medical reinforcements arrived in conjunction with an inspection by Red Cross delegates evaluating detainee conditions there.
A lawyer representing Fayiz al-Kandari, 35, claims that his client has been tube-fed against his will for a week. The public defender accused US military personnel of using an "unnecessarily large feeding tube" on the Kuwaiti detainee.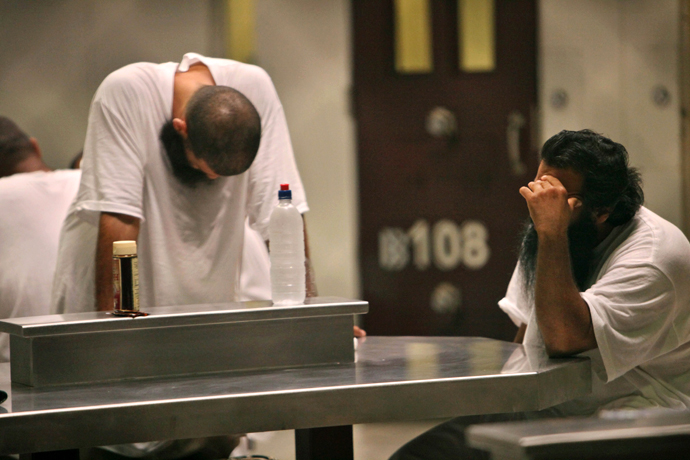 In response, House stated that there is no 'standard' size of tube used in nasogastric feeding at Guantánamo."Each detainee is treated based on the recommendation of the doctor," according to the lieutenant colonel.
Five Red Cross delegates arrived at the prison on Friday for the organization's 93rd visit since the prison camps opened in 2002. In a letter sent last week by Senator Dianne Feinstein (D-CA) to National Security Director Tom Donilon the Senator quoted the International Committee of the Red Cross, who recently informed her staff that the level of desperation among the detainees is "unprecedented."
Feinstein, chairwoman of the Senate Intelligence Committee, also referenced a 2009 request made in part by her following the attempted bombing of a Detroit-bound jetliner by a Yemeni branch of Al-Qaeda, which successfully halted the transfers of 56 Yemeni detainees pending stabilization in that country.
In light of Yemeni president Abdu Rabbu Mansour Hadi's "strong" resistance to Al-Qaeda, Feinstein writes that transfers to that country should resume.
Dr. Terry Kupers, a psychiatrist and author, told RT that the US would be better advised to keep the detainees alive by improving the conditions they're protesting, not by force-feeding, which he deemed unethical.
"When one or two people go on a hunger strike it's an extreme act, they're taking a risk of their life for a message they want to deliver," he said.
"When a hundred people go on a hunger strike, you've got a major problem with the harsh conditions and the answer is to settle with the prisoners to improve. Instead, the military is playing an extremely dangerous game and letting them starve to death. Why not just address their demands?" added Kupers.
On Thursday, the American Medical Association sent a letter to US Defense Secretary Chuck Hagel, reiterating that organization's policy that force-feeding mentally competent adults who refuse food is a violation of medical ethics.

That letter, sent directly by AMA president Dr. Jeremy Lazarus, urged Hagel "to address any situation in which a physician may be asked to violate the ethical standards of his or her profession," as quoted by Reuters.
Meanwhile, according to the AFP the former chief prosecutor at Guantanamo Bay, Air Force colonel Morris Davis, warned that "unless President Obama acts soon, I believe it is likely one or more of the detainees will die."
You can share this story on social media: