Gitmo press agent denies abuses amid ongoing hunger strike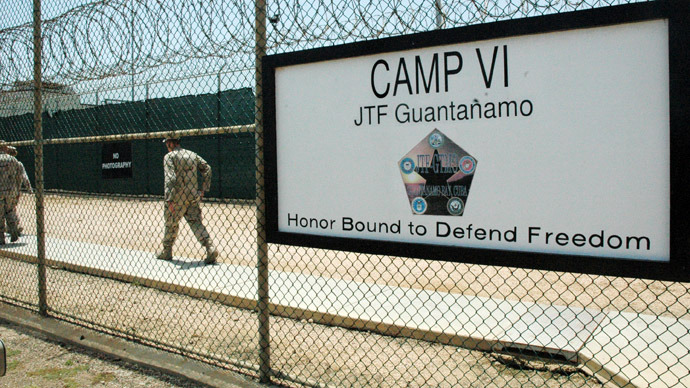 Despite a long history of reported human rights abuses at Guantanamo prison, which both the UN and US President Barack Obama denounced as torture, the prison's Director of Public Affairs Captain Robert Durand has denied any wrongdoing.
"We will continue to carry out our mission to provide a safe and humane environment,"  he said.

Earlier this month, Joint Task Force Guantanamo (JTF-GTMO) denied the existence of an ongoing hunger strike at the facility.  Durand called detainee allegations of mistreatment, "outright falsehoods and gross exaggerations," implying that the protest was insignificant compared to one that took place in 2006. He also claimed that detainees had fabricated incidents of misconduct.

"If the definition of a hunger striker is entirely in their control and is a matter of their discretion, then I think that explains how they are able to say that there are no more than a handful of men on hunger strike," Pardiss Kebriaei of the Center for Constitutional Rights (CCR) told RT.  

"While JTF-GTMO continues to deny the existence of a mass hunger strike at Guantánamo, attorneys report that the prisoners' health is declining rapidly as the hunger strike enters its second month," CCR said in a statement on Thursday.

Gitmo prisoners have reportedly been on a hunger strike over alleged mistreatment at the hands of prison guards. Some 130 people housed in Camp 6 of Guantanamo Bay are believed to be participating, and a reported two-dozen men have lost consciousness due to their low blood glucose levels from the hunger strike.

The prisoners are protesting against the sacrilegious disrespect displayed towards their religion by the confiscation of Korans, according to detainees and their lawyers. Although Durand has categorically denied "any claims of abuse, desecration or mishandling," it is unclear how he defined those terms.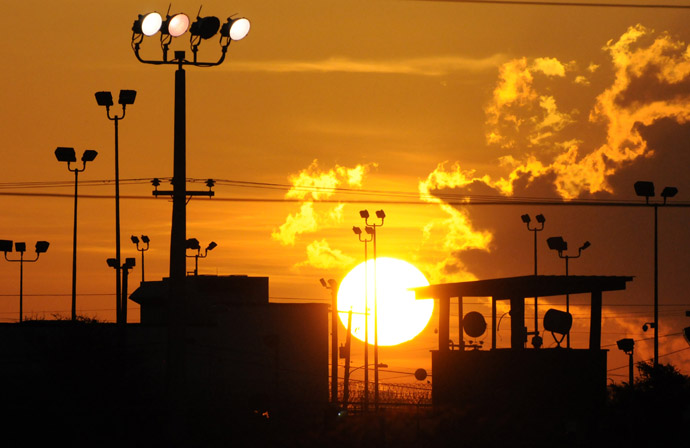 Mishandling does not necessarily mean covering the book's pages in graffiti, burning it or otherwise mutilating it, but rather through a simple act such as touching it without being physically or spiritually clean. Many Muslim scholars assert that non-believers handling the text can also constitute an act of desecration.
"There have been no incidents of mishandling the Quran by guards or translators… JTF-GTMO guards are to avoid touching any detainee's Quran at any time."  However, he did not confirm or deny whether detainees religious' texts were touched by the translators, who have been accused of mishandling them.
Approximately five men have been subjected to force-feeding – a procedure that can be considered a form of 'cruel or unusual punishment,' contrary to the Eighth Amendment of the US Constitution and tantamount to torture, according to a UN Human Rights Commission report in 2006. The same report demanded the immediate closure of the offshore prison, and to cease all such "practices amounting to torture." Force-feeding involves restraining a detainee by strapping them into a chair, inserting a tube down their throat and into the stomach, often through the nose; Durand confirmed that the five undergoing force-feeding have been subjected to the nostril-tube method.
Durand maintains that the "mission of Joint Task Force Guantanamo is the safe, legal, humane and transparent care and custody of detainees," adding that JTF-GTMO "takes its duty to treat detainees very humanely and very seriously." Amnesty International has said that practices at the camp constitute "gross human rights abuses," and illegal detention.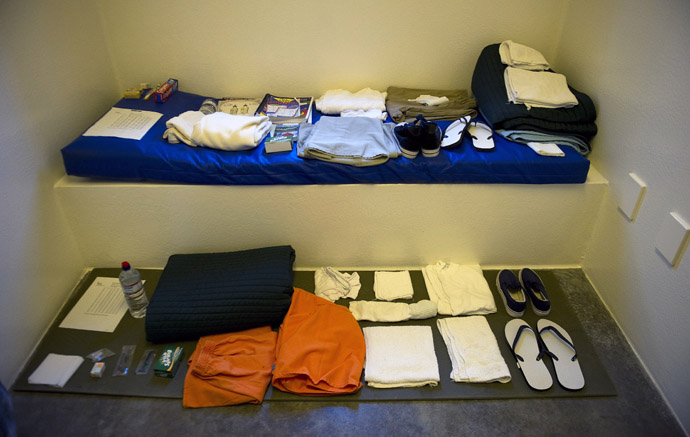 A promise made, a promise broken

In January 2009, shortly after President Obama was inaugurated, he ordered the facility to be closed within a year, and banned certain interrogation methods after the US government admitted to torturing some of the detainees.  

However, in May of that year, the US Senate refused to allow the prison to be closed until the president provided more detail as to what would be done with the prisoners.

In mid-October 2009, Congress voted to allow some Guantanamo detainees to be moved to the United States for prosecution. But at the end of 2010, Congress approved a defense spending bill that forbade Guantanamo detainees from being tried in the US. And in January 2011, President Obama signed a Defense Authorization Bill that ruled out shutting down Guantanamo, and prevented the transfer of prisoners from the camp.

In March 2011, Obama signed an executive order resuming military trials for Guantanamo detainees – a move seen by many as a complete reversal of his previous policy. And in December 2011, the president refused to veto the national defense bill, paving the way for prisoners to be held indefinitely and without charge, and extending the ban on moving them from the prison.

Finally, in July of last year, the Pentagon announced its plans to lay a $40-million fiber-optic cable from Guantanamo Bay to the US mainland, signaling their apparent intent to keep the facility open for the foreseeable future.

In 2004, the US drafted a document attempting to justify the continued imprisonment of the Guantanamo detainees, saying that since the US was engaged in a "real" war against Al-Qaeda, the "law of war therefore applies and allows us to hold enemy combatants without trial or charges until the end of the conflict."

The UN issued a statement this week that the US is violating international human rights law by holding detainees indefinitely without charges.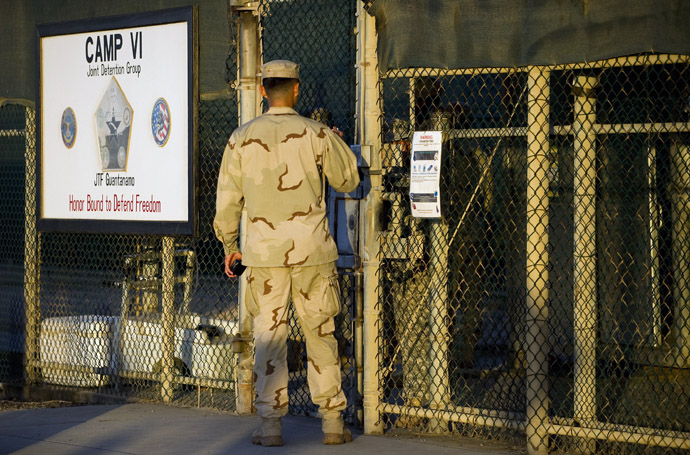 RT's letter from Durand


Classification: UNCLASSIFIED
Caveats: FOUO

Veronica,

Sorry for the delay in response. The statement below is attributable to me, Captain Robert Durand, Director of Public Affairs, Joint Task Force Guantanamo.

The mission of Joint Task Force Guantanamo is the safe, legal, humane and transparent care and custody of detainees. We carry out this mission daily, and we take any allegation of misconduct very seriously.

The recent allegations by detainees that conditions at GTMO have deteriorated are patently false.  The JTF takes its duty to treat detainees humanely very seriously and seeks to ensure we conduct ourselves in accordance with the highest standards, and we remain under continual scrutiny, oversight, and inspection.  

Recent detainee allegations about incidents in the camps include outright falsehoods and gross exaggerations.  The claims of a mass hunger strike and an incident in which the Quran was mishandled are simply untrue.  First, we take extraordinary care to respect the Quran and categorically deny any claims of abuse, desecration or mishandling.  The number of detainees refusing all food has increased from six when the first allegation was made to 14 today; this is in comparison to 2006 when we had as many as more than 100 hunger strikers.  It certainly is not a widespread phenomenon as alleged.  Detainees have colluded among themselves to fabricate incidents and claim misconduct where there has been none.  Detainees have acted out individually, recently splashing guards with various bodily fluids and excrement, but there have not been any large-scale incidents.  These are coordinated acts specifically designed to attract media attention.

The medical staff continuously monitors and provides outstanding medical care to detainees in our custody.  The health and well-being of detainees is their primary mission and they take this duty as seriously as they would a duty to treat our own service members or any patient in their care.  The reports of hunger-strike related deteriorating health and detainees losing massive amounts of weight are simply untrue.

Regardless of these most recent allegations, we will continue to carry out our mission to provide a safe and humane environment for the detainees, and ensure the safety of our guard force.

Specifically, regarding the Quran, I can tell you that there have been no incidents of mishandling the Quran by guards or translators.

Per SOP (standard operating procedures), JTF-Guantanamo guards are to avoid touching any detainee's Quran at any time. The Quran is treated with the utmost respect..

Each detainee has available a personal Quran.  Detainees are also provided religious articles, such as prayer mats and beads that are used during the practice of their faith. Prayer times are posted in the camp, and silence is maintained by the guards and staff during prayer times. Understanding the detainees' religious practices and cultural norms is an essential part of training for all who work with detainees.


Regarding searches, there has been no change to our cell or block search SOPs.  We routinely conduct searches for contraband that could be used to harm guards, medical personnel, translators, instructors, attorneys or detainees. Contraband items found can include improvised weapons, communication devices, unauthorized food and medicine, and other items which detainees could utilize to harm themselves or others.

Our search procedures reflect our mission to treat detainees humanely. We respect both their religious and cultural norms with regard to the Quran, personal privacy and physical contact.

Detainees who follow camp rules have access to satellite television, personal DVD players, video games and more than 25,000 books, CDs, movies and TV shows. They also have many comfort items, including materials for crafts and extra food that detainees can store for snacks or treats in between meals.. Allowing these items provides incentives for the detainees to comply with well-established camp rules, but also provides them the opportunity to create and hide contraband.

Detainees who violate camp rules may have privileges suspended as a consequence. This may include moving from a communal block to a single cell, and loss of comfort items. Detainees know the rules, understand the consequences, and can regain their privileges by complying with camp rules.  Detainees in single cell confinement have basic issue items for clothing, hygiene and religious observances.

Detainees are never held in solitary confinement.  At no time is a detainee deprived of the basic elements of humane treatment: food, water, religious articles, hygiene items, medical treatment, or physical recreation opportunities.



You can share this story on social media: