Terror, anti-austerity, #Piggate & Trump: RT UK's hottest news stories of 2015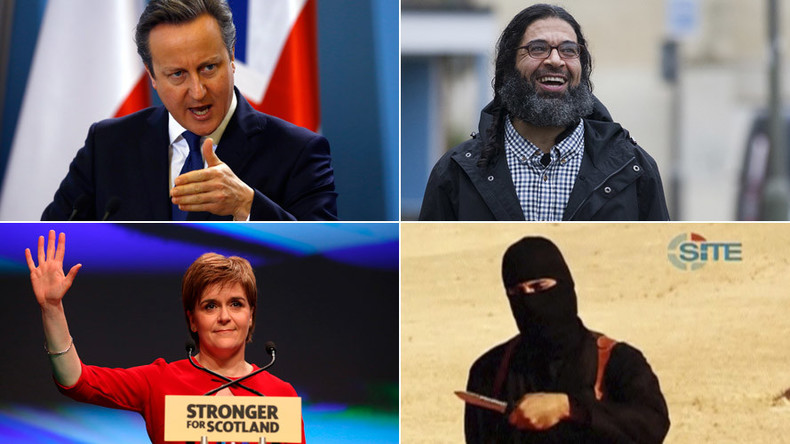 Political scandal, a general election and a resurgence of the war on terror – 2015 was a rollercoaster year. RT looks back at the biggest stories of the last 12 months, and how we covered them.
GCHQ breached human rights law
In February, the Investigatory Powers Tribunal (IPT) ruled that British spy agency GCHQ's mass surveillance practices and data gathering were in breach of human rights laws.
Following revelations by NSA whistleblower Edward Snowden in 2012, which suggested civil rights groups had been spied on, campaigners forced an investigation. The IPT ruled GCHQ's practices were illegal.
In response to the findings, Legal Resources Centre national director Janet Love said: "The [LRC] is deeply concerned to learn that communications of our organization have been subject to unlawful interception by GCHQ. As a public interest law firm, our communications are self-evidently confidential, and we consider this to be a serious breach of the rights of our organization and the individuals concerned."
'Jihadi John' unmasked
Islamic State (IS, formerly ISIS/ISIL) executioner Jihadi John was identified by the Washington Post as British citizen Mohammed Emwazi in February. Emwazi was reported to have grown up in west London and attended university in the city.
Advocacy group CAGE claimed the 27-year-old had been radicalized after the British state tried to recruit him as a spy. Emwazi was killed in a US drone strike in November, prompting questions over the legality of such extrajudicial killings of British citizens.
Katie Hopkins on the refugee crisis
Columnist and professional loudmouth Katie Hopkins was referred to the International Criminal Court (ICC) after writing a piece for The Sun in which she called the boatloads of migrants crossing the Mediterranean "cockroaches."
The game show contestant-turned-commentator penned the article as tens of hundreds of refugees drowned attempting the crossing.
"Make no mistake, these migrants are like cockroaches. They might look a bit 'Bob Geldof's Ethiopia circa 1984,' but they are built to survive a nuclear bomb. They are survivors," she said.
Her words were likened to Nazi propaganda, leading to her condemnation as a racist perpetrator of hate-speech. Later in the year, however, she received an unlikely backer in the form of US presidential hopeful Donald Trump.
Cameron's Tories win majority
Prime Minister David Cameron led the Conservative Party to an unexpected majority in May's general election – with the support of just 24 percent of the electorate.
Contrary to poll forecasts, which foresaw a hung parliament, the Tories won a majority of seats in the House of Commons – 330 out of 650 – while their former coalition partners, the Liberal Democrats, were slaughtered, falling from 62 seats in 2010 to just eight in 2015.
In the wake of defeat, then-Labour Party leader Ed Miliband resigned, paving the way for a fractious leadership contest that would propel left-winger Jeremy Corbyn to the top job.
The Scottish National Party (SNP), however, made significant gains at the expense of its Labour and Lib Dem rivals, winning 56 out of 59 seats in Scotland. The party was able to capitalize on its raised profile in the 2014 Scottish independence referendum, its anti-austerity and anti-nuclear stance.
Anti-austerity tops the agenda
In June, some 250,000 protestors poured onto the streets of London, condemning the Conservative government's austerity policies and their assault on human rights, the economy and the environment.
Branded a "defining moment" by Green Party leader Natalie Bennett, the mass demonstration was attended by students, economists, trade unionists, environmentalists and social justice activists. Pensioners, minorities, the LGBT community, disability rights activists, children and MPs also formed contingents on the march.
7/7 attacks 10 years on
July saw Britain reflect on the horrors of the 7/7 bombings. A total of 57 people were killed when four suicide bombers attacked the London transport network.
To commemorate the occasion, RT produced a series of special reports and interviews, which you can read here, here and here.
Tunisia shootings
Thirty British tourists were killed in a terror attack on the tourist resort of Port El Kantaoui near the city of Sousse, Tunisia. Gunman Seifeddine Rezgui, disguised as a tourist, carried an assault rifle to a beach concealed in a parasol. Thirty-nine people were killed in the massacre, which was the worst terrorist act Tunisia has witnessed in years. Islamic State claimed responsibility for the attack.
Jeremy Corbyn elected Labour Party leader
In September, Labour Party members and supporters elected their new leader Jeremy Corbyn. Previously a rebellious, relatively obscure backbencher, Corbyn won a landslide victory on first preference votes, having almost failed to make it on the nomination paper.
His mandate for an anti-war, anti-austerity party proved popular with fresh young supporters motivated by his campaign. Despite a massive boost in membership, many, more right-wing, MPs in the Parliamentary Labour Party continue to believe the socialist leader is unelectable.
#Piggate
By far the most outlandish story of the year! An unofficial biography of the prime minister revealed unfounded allegations that David Cameron "put a private part of his anatomy" into the mouth of a dead pig as part of an initiation ceremony at a private club at Oxford University.
True or not, Cameron was ridiculed by the public, press and MPs alike. Pranksters even sent a piglet to Downing Street as a gift for the PM.
Shaker Aamer freed from Guantanamo
In October, the last British prisoner held at the notorious Guantanamo Bay prison was released and brought back to the UK. Shaker Aamer was kept in the prison for 13 years without trial.
Read RT's interview with the co-director of the 'We Stand with Shaker' campaign here.
Airstrikes on Syria
In early December, MPs voted overwhelmingly in favor of extending airstrikes against IS from Iraq into Syria. The vote took place after an emotional 10-hour debate, with pro-bombing MPs eventually securing a 174-vote majority.
Anti-war protesters filled the square outside the houses of parliament.
While a majority of Labour members and supporters, shadow Cabinet members and MPs were against bombing Syria, 66 Labour MPs rebelled against Corbyn to vote in favor of airstrikes.
The RAF campaign began almost immediately, and within days there were reports of IS oilfields being targeted by British bombs.
'Ban Trump!'
The British public sent a stark message to US presidential candidate Donald Trump in December.
After the tycoon suggested all Muslims should be banned from entering the US, an online petition saying Trump should be barred entry to the UK gained more than 550,000 signatures.
If Trump is voted US president, 2017 could be a tricky year for America's special relationship with the UK.