​'It can and will happen here': Counter-terror officers draw somber conclusions from 7/7 (VIDEO)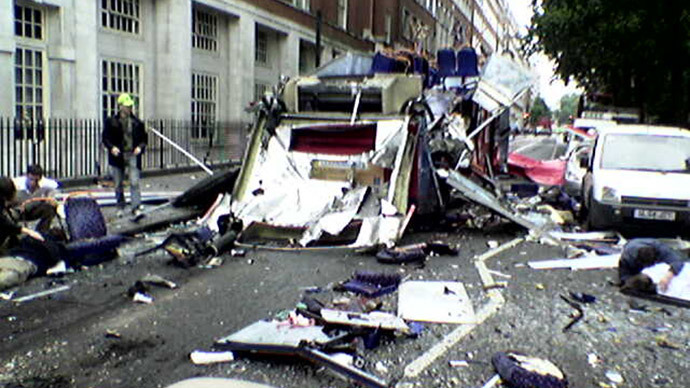 A decade on from 7/7, when Islamist suicide bombers killed 52 people on London's transport network, RT spoke exclusively to veteran intelligence agents and police officers about the attack and the era of counter-terror it shaped.
David Vidicette first heard of the July 7 attacks on television in his virtually empty office at a Scotland Yard satellite station on Clapham Road. Innocuous reports suggested a power surge had taken place on the London Underground.
At the time David knew no better – though he thought it odd, having never heard of a power surge on the Tube before.
He continued to work at his desk until a short time later it was reported there had, in fact, been multiple surges. By around 11am, the surges had been confirmed as bomb blasts.
Shortly before 9am, three suicide bombers had detonated explosives on the Underground in quick succession.
These were followed, an hour later, by another explosion in Tavistock Square, which tore through an iconic red London bus.
Though Videcette did not know it at this stage, 52 civilians and 4 bombers had died, and more than 700 had been injured.
For the average citizen, the scale and horror of 7/7 was disorienting. Vidicette, a Metropolitan Police anti-terrorism officer, found himself thrust into the center of the most savage terror attack in modern British history.
The attacks came at the worst moment for Vidicette's colleagues, when most of the anti-terror team's officers, vehicles and resources were away at the G8 summit in Scotland, leaving a skeleton crew of sorely under-equipped staff in the capital.
The things he saw that day, and the subsequent investigation, would shape his life for the next five years and beyond, as he explained in an exclusive interview with RT.
First response
Despite a scarcity of resources, and the explosive emergence that day of a new kind of terrorism, the first responders pulled together well, Videcette said.
READ MORE: 'Shot 9 times in the head': Killing of innocent Brazilian by UK police reaches Strasbourg
In his view, the issue was not so much the efficiency of the response but rather the timing of the attacks.
His first move was a practical one. With most of the counter-terror team's vehicles in use at the Gleneagles summit, Videcette crossed the road from his office to the forecourt of a car rental firm and hired a fleet of vehicles to get his personnel mobile.
Infrastructure, too, presented new, untested obstacles.
"In terms of our biggest problems – one of these was the mobile phone network," Videcette said. "The number of calls meant it became totally overloaded and this caused massive difficulties for all concerned; something that just hadn't been foreseen before the bombings."
Aftermath
Scenes of carnage at Tavistock Square, where a bomb blast tore through a double-decker bus killing 13, provided Videcette with some of his most troubling and lasting memories of the day.
After assisting in the search for evidence, which involved lines of officers meticulously combing the circumference of the blast area, picking up every tiny fragment of debris, he headed back to Scotland Yard.
"Traffic was at a standstill. There were hundreds of people walking on the pavements as there was no public transport.
"There was a man and woman walking along the pavement by Regent's Park. I saw them strike up a conversation and they started talking and laughing. It was a lovely thing to see. Amongst the doom and despair – Londoners wouldn't be beaten."
That day would drag Videcette in "the biggest criminal investigation this country had ever seen."
"We were swamped with more than 50,000 exhibits. There was so much information and there were so many avenues. It took over five years of my life – I know I gave the best that I could have given."
Counter-terrorism since 7/7
7/7 prompted a sea change in how the UK conducts counter-terrorism operations. RT spoke to a number of experts who all pointed out the distinctions between IRA attacks of the Troubles era and this newer Islamist terrorism.
One former intelligence officer who spoke to RT, identified here as "John" (not his real name) to protect his identity, now lectures in counter-terrorism.
The Official Secrets Act prevents John from disclosing his personal account of 7/7, but he claims he had been engaged in "[counter-terrorism] related" work.
READ MORE: Banned Al-Muhajiroun group responsible for 50% UK terror plots – reports
Unlike the IRA, the new breed of terrorists has no interest in avoiding the backlash that accompanies civilian deaths, he said.
"Mass killings of civilians were, to a large extent, criticized from within the [Irish] republican movement."
"Republican terrorism was reasonable easy to penetrate and the terrorists reasonably easy to profile. Warnings were often given."
Annie Machon, who worked in MI5's counter-terrorism section during the IRA bombing campaign on mainland Britain, shared the view that 7/7 was something radical and new.
"The Islamic extremist threat seeks to maximize terror by targeting civilians," she said.
John went further, however: "Islamic terrorism is harder to interdict or disrupt," he said.
"There is no one single pathway to radicalization, nor is there a predictable psychological profile of an Islamic terrorist, nor is there a predictable ethnic, social or gender profile of an Islamic terrorist."
"There is an unpredictability in the choice of target, methodology and attack planning. Civilians, including women and children, are targets," he added.
Lessons
RT asked each of the counter-terror experts what had been learned, 10 years on from 7/7.
Annie Machon said "simplistic media stigmatizations" of terrorism must be dropped in favor of "trying to understand and deal with the reasons behind the modern terrorist threat."
"This is how the Northern Ireland peace accord was brokered and, as the former head of MI5, Baroness Manningham-Buller has said publicly, negotiation," she added.
The topic of increased surveillance is as fraught among counter-terrorism personnel as it is among the public.
For Videcette, who has fictionalized his experiences in a book, "The Theseus Paradox," initiatives like the Draft Communications Bill, known by its critics as the "Snoopers' Charter," are a price worth paying for security.
READ MORE: UK mass surveillance powers upheld in landmark report
"Without the collection of data of everyone, we won't have that capability," he said.
"I believe most law-abiding citizens would favor the Snoopers' Charter if they knew it was there to keep them safe – how else are we going to catch criminals if we can't use what is available to detect them?"
John believes counter-terror law remains "a tangled mess."
What is lacking, he argued, is a coherent grasp of what terrorism involves, and one which "recognizes that civil liberties are of paramount importance."
"I do not believe that there is a sinister plot for the security and intelligence services to gain unlimited access to all our means of communication, but I do believe that they are adopting an all-embracing 'just in case' approach," he said.
Machon is stridently opposed to the drift into what critics call a "surveillance state."
"Privacy is a fundamental right," she said.
"If we do not have it, we self-censor in all our communications and interactions with people, thus losing the possibility of a meaningful democracy and any hope of future freedom."
In John's view, the main lesson of 7/7 is chilling and of continuing relevance.
"It can, and will, happen here," he said. "The perpetrators can and will be UK-born and bred."
"The great British public and its institutions cannot be guaranteed 100 percent security, no matter how repressive the legislation or security measures."
For Machon, stopping terrorism necessarily involves taking a hard look at what Britain does in the world.
"There are always consequences to one's country's actions," she said.
You can share this story on social media: