Syria airstrikes have made 'fairly impressive start' – Fallon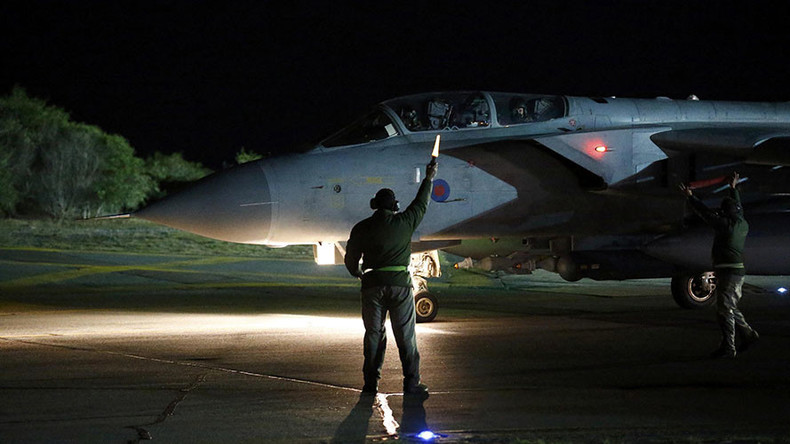 Britain's bombing campaign has hit critical targets, damaging Islamic State (IS, formerly ISIS/ISIL) infrastructure without killing civilians, according to Defence Secretary Michael Fallon.
Speaking to the BBC from Washington on Thursday, Fallon said there had been "a fairly impressive start" and that RAF bombers had already made "some successful strikes on the infrastructure that supports ISIL-Daesh."
He said the types of infrastructure targeted are where IS "derives its revenue and from which, of course, it's been financing terrorist attacks in Western Europe."
Eight days after MPs voted to extend airstrikes from Iraq into Syria, Fallon said the UK's Paveway and Brimstone bombs were ideal for dealing "very specifically with targets like oil wellheads, one particular building but not the buildings next door and it is [these] precision strikes that our allies really wanted us to bring to the campaign."
Within hours of the parliamentary vote, a Syrian oil field said to be under IS control was hit by RAF jets.
Asked whether strikes are being directed from the ground – a method routinely used in Afghanistan through specialists embedded in infantry units – Fallon said: "Well not our people."
The issue of putting 'boots on ground' has been a contentious one, with the UK public still ill at ease with the human cost of the war in Iraq and Afghanistan.
Reports from August, however, suggest UK special forces are on the ground in Syria carrying our reconnaissance and possibly calling in airstrikes.
"Essentially, this is what we call penny packet operations – small individual incursions, which hopefully join up to create tangible results," a senior military source told the Express newspaper at the time.
The source said the operations were seen as a way to soften up the enemy and gather intelligence for further military activities.
"The view here is long – it's about finding and engaging targets, yes, but it's also about assessing infrastructure and identifying where ISIS is hiding its equipment in order to set the conditions for a potentially larger, future engagement."
As a matter of long-standing policy, the UK government refuses to comment on special forces operations.
LISTEN MORE: