7/7 survivor: 'I don't hate Muslims, it's down to bad parenting' (VIDEO)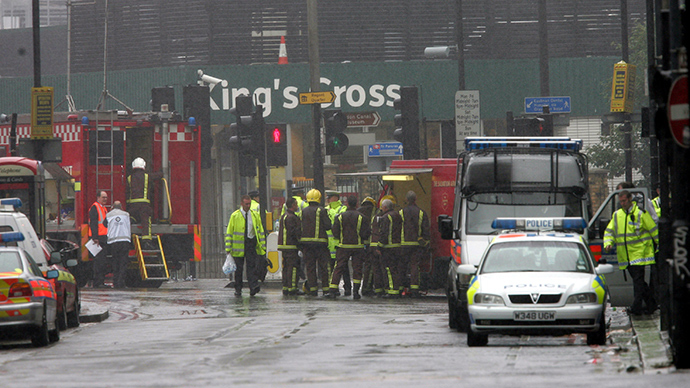 Ten years after suicide bombers killed 52 people and injured almost 700 on London's transport network, RT's William Njobvu spoke to one survivor who overcame her trauma and has refused to blame Muslims for the attacks.
As Britain remembers those killed in the attacks of July 7, 2005, lasting damage remains for those who survived with life-changing physical and emotional injuries.
Speaking to RT a decade on, 7/7 survivor Emmy Georgiou, 48, describes an "extraordinarily packed" Piccadilly line tube train from Oakwood station on her way to work.
Idly reading to pass the time, Georgiou had little clue she was a mere carriage and a half away from 19-year-old suicide bomber Germaine Lindsey.
When the train left Russell Square heading for Kings Cross, Georgiou describes hearing a loud bang and the train plunging "into complete darkness."
"It was like a vacuum, that's all you could hear. It was a really large swoosh noise that ran through the carriage," she told RT. "I thought I was dying."
"One thing I knew for sure, that this was definitely a terrorist attack," she added.
Georgiou describes hearing passengers crying in agony. "That's all you could hear, people in pain, it was awful."
"I just remember thinking this is it, and I didn't want to die that way," she added.
Blackened carriages filled with thick smoke. "You couldn't really see the person next to you," Georgiou said.
Throughout the ordeal she held tightly to her bookmark, which bore an image of her son. "As I looked at this picture, I looked at Emelia, which is my little boy. I thought, I've got to get out for him."
"I looked at my watch and I remember thinking it's 8:50am and at 9:00am, if no one is coming for me ... I'm getting off this train," she recalls.
'Emergency services weren't prepared'
On the day of the attacks, authorities took 43 minutes to realize there had been a terrorist attack.
The first fire brigade crew arrived at Kings Cross at 9:13am, almost 25 minutes after the blast. Its crew did not approach the stricken train until 9:42am, when a second team arrived. Some firemen were advised not to enter the tunnels until they were satisfied the electricity was off.
The rescue operation was hindered by a "lack of radios underground," despite the problem being identified 18 years earlier after a fire killed 31 people in the same station.
The police casualty bureau line received more than 43,000 calls an hour and took the details of 7,823 people who were reported missing that day.
While rescuers gradually learned the scale of the disaster beneath their feet, Georgiou remained trapped underground. She recalls the girl seated next to her shared her name. "We held hands, I just wanted human contact, so I knew that if I died, I wasn't alone."
Without contact from the world above, Georgiou refused to "sit there like a waiting target," as she feared terrorists may strike again.
London Underground and the emergency services were not "communicating with people to calm them down" or letting passengers know "safety will be with you soon," she said.
"They weren't prepared at all."
Those underground were left with no choice but to "make their own mind up" to escape the wreckage, she said.
In a Home Office report, ministers admitted 7/7 victims were "let down by authorities," adding much more could have been done to help those injured.
Survivors found the process applying for compensation "bureaucratic, slow and depressing."
A series of errors, including a lack of communication and co-ordination, were also highlighted in the 2011 inquest.
London Fire Bridge Deputy Assistant Commissioner Mick Ellis told the Independent: "On the day, the emergency services were perceives as heroes, but over the next 72 hours, external criticism came in as to what we did or didn't do."
He said it was "hard" for them to deal with as they did their "best on the day" with what they had available.
After a five month inquest, Lady Justice Hallett ruled scientific evidence in relation to all 52 victims that died in the attacks showed "each of them would have died whatever time the emergency services had reached and rescued them."
'My guardian angel saved me'
Eventually, a man who Gerogiou describes as her "guardian angel" broke through the carriage doors and helped the two women onto the tracks below.
In the dim emergency lights of the tunnel "we looked left and all we could see was bodies on the track," she said.
READ MORE: 7/7 bombing victim's widow jailed for stealing son's £43,000 compensation
Turning right, they walked towards Kings Cross station and were lifted onto the platform by London Underground staff and firemen who asked them what was happening.
Georgiou, who was one of the first to escape, was treated for cuts to her chest by paramedics on street level.
"I remember feeling an intense wind. As I turned around I said to Emmy that's the guy that helped us off the train."
"I went to go and say something and he just disappeared," she said.
"I don't know where he is now or who he was, I just thought that was my guardian angel that helped me out," she added.
'Scared to go on trains for a year'
Researchers at the British Medical Journal found nearly a third of Londoners suffered serious stress after the 7/7 attacks.
They also found 32 percent of Londoners avoided using tubes, trains and buses and made fewer trips into central London.
The traumatizing experience changed the way Georgiou "looked at things" and caused her to develop post-traumatic stress disorder (PTSD).
Georgiou was offered anti-depressants by her doctor but she insisted she needed therapy. She began a course of cognitive behavioral therapy (CBT) to address the emotional trauma.
"The thought of going back to central London ... even when I used to hear a siren ... it used to take me right back to that place again," she told RT.
It took Georgiou a year to get back on a train. She knew she had to confront her issues quickly so she would not "install that fear into my little boy."
"You'd scan everyone on that train, thinking 'is he a potential bomber?'" she said.
'I don't hate Muslims, It's down to bad parenting'
The 7/7 bombings fueled an abrupt rise in Islamophobia in Britain. But Georgiou says she does not hate or blame Islam or Muslims. Rather, she sees the bombers as "weak people that had been easily led."
READ MORE: RT EXCLUSIVE: Racial & religious hate crimes spike in 2 years - UK police figures
The mother-of-one said: "They couldn't have been in the correct environment at home, it's the parents, it's the schools, it's social media."
When it comes down to radicalization "it's all about your parents and your parenting, that's what I believe."
Georgiou, who has recently been diagnosed with cancer, said she "doesn't hate" her attacker Germaine Lindsey, but she "can't believe a 19-year-old child would do that, there was something lacking in his life."
"If I were to ever meet him, I would ask him what made him become that person, how did he become that man, what happened to him in his life that made him want to hurt people."