Jihadi John: A profile of the world's most wanted Islamist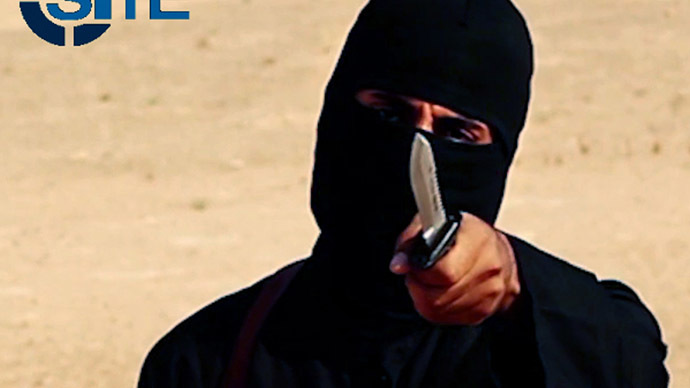 Revelations about "Jihadi John," who was last week identified as Mohamed Emwazi, continue to surface, offering new insight into how the West Londoner became the infamous Islamic State executioner.
A complex profile of one of the world's most wanted men emerges as people who knew Emwazi, before he donned the black mask of jihad, have spoken out, revealing he was both a shy and aggressive loner.
Part of a weed-smoking clique, the rap music-loving and fashion-conscious adolescent who turned into a devout and radicalized Muslim was described as a loyal, model employee.
Emwazi, now 27, was born in Kuwait and later moved to London with his family. The Londoner gained notoriety when he appeared in videos beheading Western hostages.
While reviled in the media for his extremism, those who knew him growing up in West London said he smoked marijuana, drank and was not a strict and pious Muslim.
"I never saw him pray or wear Islamic dress – he would not even mention religion at all. Being a Muslim myself, I was very aware of it at the time," an anonymous former school friend told British tabloid the Sun.
He is said to have been a shy, but also aggressive adolescent, who smoked cannabis and listened to rap music.
"The fact that he portrays himself as a strict Muslim is laughable and shameful."
'#JihadiJohn' known to UK intelligence, but they let him escape – report http://t.co/OBhOm38swUpic.twitter.com/MSZ8RLy4jx

— RT (@RT_com) March 1, 2015
Emwazi was also reportedly "obsessed with Snoop Dogg, Eminem and Tupac Shakur" and dressed "like a gangsta rapper." Former classmates and friends said he was "fashion conscious" and wore branded clothing.
Many have expressed shock that Emwazi has become one of the world's most wanted men.
Londoner Emwazi, who is said to have been an avid Manchester United fan, wanted to become a footballer when he was 10 years old, according to his primary school yearbook.
He attended Quintin Kynaston Community Academy in St John's Wood, London from 1999. Two other pupils from Emwazi's secondary school have since been killed fighting with militants abroad, the Sunday Telegraph reports.
Emwazi completed a computer programming degree at Westminster University between 2006 and 2009.
READ MORE:'We will do everything we can to track down Jihadi John' – Cameron
Reports by those who knew him during these years reveal a shy, reserved and quiet person, particularly around the opposite sex, who kept to himself and rarely made eye contact.
An anonymous classmate told the Mirror: "Only eight years ago, he was a painfully shy, nervous guy who wouldn't say boo to a goose. He was bullied and humiliated by girls. To think he has killed so many people is impossible to comprehend."
Abu Ayman, an ISIS defector who met the man dubbed "Jihadi John" by the media two years ago in Syria, told the BBC: "ISIS play him like a piano. He's a celebrity to attract our Muslim brothers in Europe."
Ayman said he left ISIS after being was ordered to murder women and children.
Speaking of Jihadi John's "popularity," he said: "Some joined ISIS after watching and admiring him; they take him as an example. But some think he is showing off; they think he's being used by ISIS."
From links to 7/7 to 'model employee'
Before his emergence as Jihadi John, Emwazi was on the British intelligence service's radar for years. The ease with which he was able to leave the country and reemerge as a brutal Islamic State executioner has raised serious questions over the effectiveness of UK intelligence agencies.
It also emerged that Emwazi had fostered ties with a terror cell controlled by Osama Bin Laden that was involved in the failed July 21 bomb attacks in 2005, three weeks after the 7/7 London bombings that killed 52 people and injured more than 700.
He was allegedly part of a group of young Muslims called "The North London Boys," which has sent dozens of jihadi fighters to Somalia and Syria.
Mohamed Jasim Emwazi from the Zuhairi tribe in #Iraq. His origins are from the southern city of Nasiriyah. pic.twitter.com/7V6WqFGNFM

— Zaid Benjamin (@zaidbenjamin) February 27, 2015
He had briefly worked as a salesman at a Kuwaiti IT company before he abruptly quit and returned to London in April 2010. The boss of the unnamed Kuwaiti IT firm said Emwazi was "the best employee we ever had."
He told the Guardian: "He was very good with people. Calm and decent. He came to our door and gave us his CV.
"How could someone as calm and quiet as him become like the man who we saw on the news? It's just not logical that he could be this guy."
"I have no answers for this. He wasn't sociable. He was always earnest. He didn't smile. But he wasn't bad."
READ MORE: 'Jihadi John' identified: ISIS killer named as Mohammed Emwazi from West London
Emwazi became radicalized after meeting a longtime al Qaeda operative, Mohsin al-Fadhli, in 2007, according to the Telegraph, which cited Kuwaiti security sources.
Years later, an email exchange between Emwazi and a journalist revealed he had considered suicide after an encounter with individuals who he thought were security service agents when he tried to sell a laptop in 2010.
He told Robert Verkaik, who is now security editor at the Mail on Sunday, he thought security services were after him. He said: "Sometimes I feel like a dead man walking, not fearing [MI5] may kill me. Rather, fearing that one day, I'll take as many pills as I can so that I will sleep forever! I just want to get away from these people!"
Jihadi John's father, Jasem Emwazi, 51, has not been seen at the family's home in Queen's Park, North West London. He has reportedly returned to Kuwait City. The Emwazis are members of the Bedoons, a stateless ethnic group who originally hail from Iraq.
Kuwaiti security services are monitoring Jasem, a taxi driver who moved his family to the UK in 1993, "round the clock."
You can share this story on social media: