'We will do everything we can to track down Jihadi John' – Cameron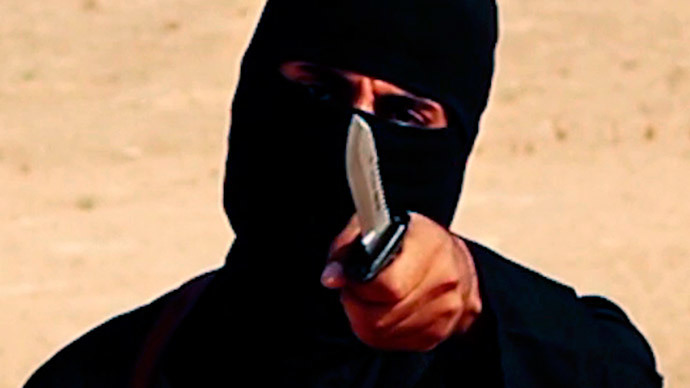 Prime Minister David Cameron has said Britain will do everything it can to track down the Islamic State killer Jihadi John, but refused to confirm the speculated identity of the militant.
Jihadi John was revealed on Thursday by the Washington Post to be Mohammad Emwazi, a young British man from West London who was known to British security services.
Speaking at an event in Wales on Friday, Cameron said he was "not going to talk about specific individuals," adding that the security forces would be working to apprehend the perpetrator of "heinous" crimes.
"When there are people anywhere in the world who commit appalling and heinous crimes against British citizens, we will do everything we can with the police, with the security services, with all that we have at our disposal to find these people and put them out of action."
The Home Office had previously refused to confirm his identity due to operational risk, claiming lives were at stake if his identity was publicly known.
Emwazi is thought to have killed American journalist James Foley in a video released last August.
He is further believed to have featured in the videos of the beheadings of US journalist Steven Sotloff, British aid worker David Haines, UK taxi driver Alan Henning and US aid worker Abdul-Rahman Kassig, also known as Peter.
The widow of aid worker David Haines, who was murdered by the Islamic State militant 'Jihadi John,' says she wants the terrorist caught alive, saying he does not deserve an "honorable death."
Speaking to the BBC, Dragana Haines said the "last thing" she wanted for the man who killed her husband was for him to become a martyr.
Haines' daughter, however, said she wanted to see Emwazi with a "bullet between his eyes."
Following the revelation of his identity, more details of the militant's childhood in West London have been unearthed.
READ MORE: 'Beautiful man'? ISIS killer Jihadi John 'radicalized by UK govt,' claims charity
In photos discovered by the MailOnline, Emwazi is seen to be wearing the uniform of the Church of England school he attended in the middle-class suburb of St John's Wood.
Born in Kuwait, childhood friends of the 27-year-old said he spoke little English when he arrived in the UK in 1993. He was the only Muslim pupil in his class at St Mary Magdalene Church of England primary school in Maida Vale, West London.
He regularly attended mosque with his parents and five siblings, as well as embracing the British culture of his classmates, one source said.
British authorities first came into contact with Emwazi in 2009 after he was stopped during a post-graduation safari trip to Tanzania. They claimed he had links to Somalian Islamist militant group Al Shabab.
According to advocacy group CAGE, which was in contact with Emwazi for two years before he disappeared, he was subsequently denied passage to Kuwait several times. They also claim MI5 tried to turn him into an informant.
Speaking to ITV news on Thursday, David Haines' daughter criticized the security services for letting Emwazi slip through the net, saying she wanted him dead.
"There should have been more security in airports to stop people doing that and definitely for him, obviously he's part of a terrorist group and is out to kill hundreds of people and it's not right," Bethany Haines said
"They need to be monitoring airports more clearly. They need to be asking more security questions. Why are people going to Turkey and then getting a connecting flight? It's not right. You don't just go to Syria on holiday," she added.
On Thursday prison charity CAGE blamed the British authorities for Emwazi's radicalization, calling current anti-terror laws "suffocating."