​Thousands of Britons flee Tunisia as beach shooting death toll mounts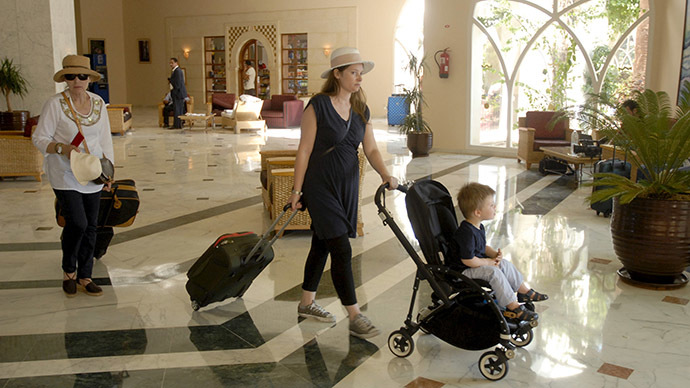 Thousands of British tourists are fleeing Tunisia in the aftermath of the bloody terrorist attack at a resort that left dozens of holidaymakers dead. Authorities said Britons were the majority among the victims.
Tour operators Thomson and First Choice sent 10 planes to repatriate all their customers, a total of approximately 2,500 people. They are, however, just a faction of the 20,000 Britons, who, according to the ABTA travel association estimate, were spending their holidays in Tunisia at the time of the attack.
"More than 3,000 foreign tourists have left Sousse today," said Saloua Kadri, tourism commissioner for the town. "Around 2,200 British have left, and close to 600 Belgians too."
PHOTO Tourists leaving #Tunisia (@Selim_) pic.twitter.com/DkRFxiiVMD

— AirLive.net (@airlivenet) June 27, 2015
READ MORE: Fatal Friday: Scores dead after France, Tunisia & Kuwait hit by terrorist attacks
On Friday, a gunman disguised as a tourist carried an assault rifle concealed in an umbrella to the beach in Sousse in the south of the country. Thirty-nine people were killed in the massacre, which was the worst terrorist act Tunisia has witnessed in years. The Syria and Iraq-based terrorist group Islamic State claimed responsibility for the attack.
Video: Angry British tourists demand to leave Tunisia during heated exchange with holiday rep http://t.co/NrEiLE8jS4pic.twitter.com/L4Mf7Yr3Z1

— ITV News (@itvnews) June 27, 2015
15 of the victims were identified as British citizens so far, the UK's Foreign Office said Sunday. The number is expected to rise as identification continues.
While Britons were the majority among the victims, citizens of Belgium and Germany were also reported to have been killed.
READ MORE: 'Run, run, run...' Eyewitnesses share their accounts of Tunisia beach massacre scene
On Saturday, Buses evacuated holidaymakers from the At Riu Imperial Marhaba and the Bellevue hotels, where the attack took place. Tour operators urged their clients to leave. Tour companies offered full refunds to clients, who chose to cancel their holidays in Tunisia after the Friday attack.
Tunisia's Prime Minister Habib Essid pledged on Saturday to ramp up security in the country.
"We are at war against terrorism which represents a serious danger to national unity during this delicate period that the nation is going through," he told a media conference in the capital Tunis.
Tourists scramble to leave Tunisia after deadly attack http://t.co/yvrtmfgWNGpic.twitter.com/lYCsaxoSl8

— Yahoo News (@YahooNews) June 27, 2015
Tourism is a key industry in Tunisia, which has already declined by a quarter since March, after terrorists killed 22 people at the national museum in Tunis. The country's authorities have vowed to toughen security, drafting in army reserves and arming tourism police at beaches and hotels.
You can share this story on social media: