'Run, run, run...' Eyewitnesses share their accounts of Tunisia beach massacre scene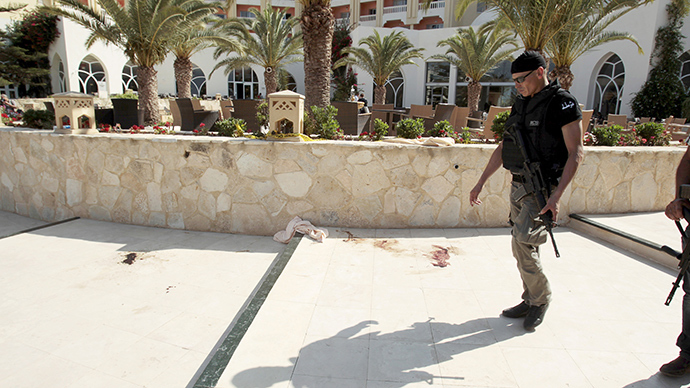 At least 38 people have been killed and 36 injured on Friday, after a gunman opened fire on the beach of a popular Tunisian Sousse resort area. Those who survived the manslaughter shared what they've been through with international media.
FOLLOW Deadly attack on beach near tourist hotels in Tunisia LIVE UPDATES
READ MORE: Fatal Friday: Scores dead after France, Tunisia & Kuwait hit by terrorist attacks
"I ran... past bodies on the beach to reach our hotel. It was chaos – there was a body in the hotel pool and it was just full of blood," the Mirror reported a 26-year old Sarah Wilson as saying. The woman's fiancé, 30-years old Matthew James was injured on the beach after an attacker opened fire while the two were lying on sunbeds.
"He took a bullet for me. I owe him my life because he threw himself in front of me when the shooting started," the woman later said from the hospital. "He was covered in blood from the shots but he just told me to run away," she said.
Without knowing that her husband-to-be was still alive, the woman had to hide in a towel cupboard. Describing the chaos after the shooting, she said that "it was so badly organized with no one to help and hardly anyone speaking English."
"He was laughing and joking around, like a normal guy," a witness of the horrific attack said of the attacker to the Daily Mail. "He was choosing who to shoot. Some people, he was saying to them 'you go away'. He was choosing tourists, British, French."
We were in the pool when we heard automatic gun fire. People ran past saying there was an armed man on the beach

— John Yeoman (@johnyeo68) June 26, 2015
"People have been struggling to get hold of their families," another eyewitness, 19-year old Abbie Douglas told the Newcastle Chronicle. The teenager was sunbathing beside the pool at the Soviva Resort when she heard gunfire.
"Special forces, heavy machinery - a lot of everything" was reported seen on the beach by an eyewitness from Ukraine. The beach has been sealed off following the attack, with the operation there being "massive," Aleksandr Baraboshko told RT.
At least 37 killed as gunmen attack beach outside 2 tourist hotels in Tunisia http://t.co/FbKWUDFzhWpic.twitter.com/OTGnvvW1KA

— RT (@RT_com) June 26, 2015
The man said that he was staying at a hotel in the area, and had been to the beach earlier in the morning.
"When the attack happened, I was in my hotel. I heard shooting from the seaside, then people screaming there. People started running, while the hotel security raced to the beach," the man said.
Police have arrived in 15 minutes, he added.
Hope it's enough pic.twitter.com/XaW4yTpplU

— John Yeoman (@johnyeo68) June 26, 2015
The man said he had no plans of returning to the beach in the following days, adding he would be "very careful."
Haven't spoke to my Dad since the attack, please, please, please RT as he is missing along with his partner #Tunisiapic.twitter.com/s1Mp2loO1W

— A$AP ROSSI (@rossinaylor) June 26, 2015
Unlike Aleksandr, a tourist from Ireland Elizabeth O'Brien was right by the sea when a gunman with a Kalashnikov rifle started shooting at people on the beach.
"I'd just got out of the water after swimming in the sea with my sons... I heard a noise like a firecracker. I knew it was a machine gun that had started going," the woman told Irish broadcaster RTE. She said she then ran to the sea "and got my boys out and ran along the beach. I was telling people around me to run."
Sousse - gunman ran up the beach shooting, then up through foyer of hotel.

— Chris Stephen (@reportingLibya) June 26, 2015
A 60-year-old former British soldier on holiday in Tunisia did his best to help the wounded victims even as the gunmen were shooting. Steve Walls heard shots from the hotel and ran towards the beach in search of his wife, who was luckily left unharmed in the shooting.
"I didn't think of my own safety, I knew there would be people injured," he told local York newspaper The Press. "I was trying to find Jacqui and trying to comfort people who were injured. I put a tourniquet on a woman's shoulder, and helped a man with a gunshot wound to his stomach."
Another tourist, a 16-year-old English national, has reportedly seen his whole family being shot dead. A Tunisian radio station reported the teenager's parents and grandmother were killed in front of him, with the boy himself now being treated from injuries at a local hospital.
READ MORE: Gunmen storm Tunisian consulate in Libya, kidnap 10 staff
More family tragedy has also been described by a tourist from Manchester. Olivia Leathley, 24, saw a woman whose husband had been shot in the stomach in front of her, she told Britain's Press Association, as cited by AP.
The eyewitness said the woman was "dragged away by hotel reps trying to get her to safety but she was a complete mess. She was in hysterics." "All she said was that he'd been shot and that he was there bleeding on the beach and he was just saying, 'I love you I love you,' and then his eyes rolled back into his head," Leathley shared.
If you're in #Tunisia#ImperialMaharba and you've seen this man, please let me know he's safe. #FindJohnStockerpic.twitter.com/BL4fs62Fno

— Samuel Stocker (@SLStocker91) June 26, 2015
Tunisia is facing a shortage of psychological aid for survivors of the hotel attack, AP reported the country's health ministry spokesman as saying.
A representative of a Tunisian travel agent association told local radio that cooperation with tour operators was underway so that foreign tourists could be repatriated should they wish to leave the country.
#FindSueDavey#Tunisia haven't spoke to my mom since attack an phone has been handed in please RT !! pic.twitter.com/RfwQQv49le

— Conor Fulford (@ConorFulford) June 26, 2015
While there have been reports tourists have been desperate to leave Tunisia as soon as possible, the attacks have not deterred all holiday-makers.
READ MORE: Israeli tourist terror: Seven killed in bus bomb attack in Bulgaria (PHOTOS, VIDEO)
Some said they didn't want the terror act "to interfere" with their holidays. Russian tourist Aleksey Petrov, who has been staying at a hotel close to the massacre scene, told LifeNews that people started getting back to normal quite soon after the attack. Although the man himself saw "three elderly people who have been shot" on the beach, he didn't have plans to travel back home, he said.
READ MORE: Global terrorism, insurgency attacks surge 150% in 5 years – report
The Marhaba Hotel is said to be affected the worst in the Friday terror. The occupancy rate at the resort was 77 percent at the time of the attack, with 565 guests staying there, the hotel said in a statement.
READ MORE: ISIS claims responsibility for museum attack in Tunisia - reports
The massacre in the resort area in Sousse has become one of the deadliest attacks on tourists in the Arab world. In 1997, more than 60 people, the vast majority of whom were foreigners, were killed by Islamist militants in Egypt's Luxor. Tourists in Tunisia have suffered from terrorists earlier this year, when 22 people including foreigners were killed in a March museum attack in Tunis.
You can share this story on social media: