Gunmen storm Tunisian consulate in Libya, kidnap 10 staff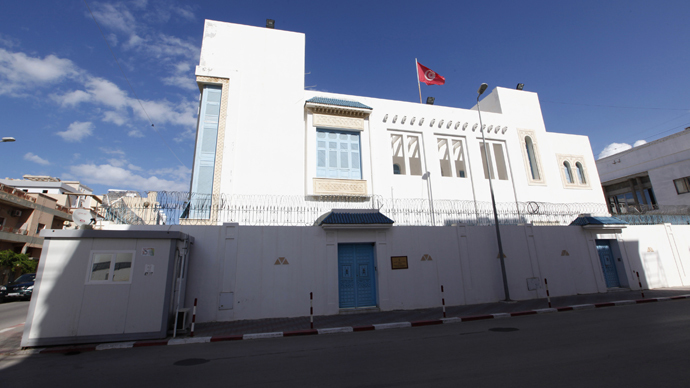 Ten people were kidnapped when gunmen stormed the Tunisian consulate in the Libyan capital of Tripoli on Friday, the Tunisian Foreign Ministry said.
The ministry described the incident as "a blatant attack on Tunisian national sovereignty and a flagrant violation of international laws and diplomatic norms," Reuters reported.
Tunisia remains one of the few countries to maintain its mission in Tripoli, which is controlled by a government not recognized by the international community.
Attacks against foreign diplomatic missions have been frequent in Tripoli, with the embassies of Algeria, Iran, Morocco, South Korea and Spain targeted since the start of the year.
The majority of the shootings and bombings are linked to Islamic State (IS, formerly ISIS/ISIL), which announced its presence in Libya in October 2014.
Despite Tunisia announcing its neutral approach towards the events in neighboring Libya, the reopening of the consulate in Tripoli earlier this year angered the Torbuk government, which treated it as diplomatic recognition of the enemy.
The Libyan government's information minister, Omar al-Gawairi, even threatened to kick the Tunisian diplomats out of Tripol.
"We will soon be in the capital and we will kick out all the ambassadors of countries that support and collaborate with terrorists. The people doing so will pay dearly for insulting Libyans by insulting their government," Gawairi wrote on his website in mid-May.
In May, Tunisian authorities arrested Walid Kalib, a member of the Libya Dawn Islamist group, which is now in control of Tripoli.
Earlier this week, a Tunisian court refused to release Kalib, who faces kidnapping charges in Tunisia.
Libya has been in chaos since the 2011 civil war, which saw long-time leader, Muammar Gaddafi, overthrown and assassinated by Western-backed rebels.
There are currently two governments fighting for power in the country, with the one considered legit by the UN stationed in Tobruk. Their rivals are holding out in Tripoli.
Also on Friday, 7 people were killed and 30 injured during an anti-IS protest in the eastern Libyan city of Derna.
According to the locals, the demonstrators marched towards the jihadist base after Friday prayers, and the gunmen opened fire at the crowd.
You can share this story on social media: