Global terrorism, insurgency attacks surge 150% in 5 years – report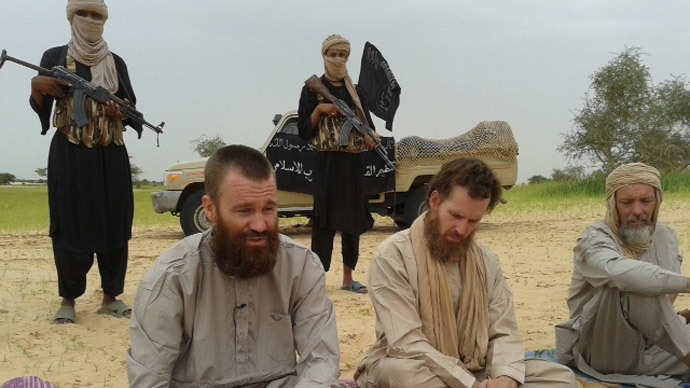 The number of terrorist and insurgency attacks worldwide has increased by more than 150 percent since 2009, driven in large part by suicide attacks in Iraq and an ongoing civil war in Syria.
Riding on a wave of violence, notably across a large swathe of the Middle East that began with the so-called Arab Spring in December 2010, terrorism and insurgents have witnessed a sharp increase in the last five years.

"In 2009, a worldwide total of 7,217 attacks were recorded from open sources. In 2013, that number increased by more than 150 percent to 18,524," said Matthew Henman, manager of IHS Jane's Terrorism and Insurgency Centre (JTIC), the organizers of the study.

The highest rate of violence last year was reported in the Middle East, with major "pockets of violence" moving like a contagion to parts of Africa and South Asia.

This movement led to a dramatic rise in the number of militant and non-militant casualties.

In 2012, the deaths of 13,872 militants and 10,562 non-militants were recorded from public sources. Last year, non-militants fatalities nearly doubled to 17,554, while militant fatalities were reported at 21,490.

"These are some of the largest rises we have recorded in the past several years," Henman said.

Jane's defines an attack as any event in which a sub-state actor, whether an individual, individuals or organization, commits politically or ideologically motivated acts of violence with the goal of coercing others to adopt or comply with their objectives or to submit to their authority, that results in death, damage, or disruption.
A single spark
It is tempting to blame at least part of the surge in regional violence on a single individual, Mohamed Bouazizi, a Tunisian street vendor who immolated himself on December 17, 2010 to protest what he believed was ill treatment at the hands of local officials. His death became a catalyst for the Tunisian Revolution, which stoked the fires of what came to be known as the Arab Spring.

Following the 2011 overthrow of Tunisian President Zine al-Abidine Ben Ali, the revolutionary fires spread to Egypt, where millions of protesters demanded the overthrow of Egyptian President Hosni Mubarak and his regime. Violent clashes broke out between security forces and protesters resulted in 846 people killed and tens of thousands injured.

Violence and political upheaval continues to plague both Arabic nations, the report noted

"In 2013, JTIC recorded a spike in activity by non-state armed groups in Tunisia and Egypt. Attacks in Tunisia grew from 21 in 2012 to 72 in 2013. In Egypt, the number of attacks recorded jumped from 63 in 2012 to 431 in 2013."

Violent protests erupted once again in June 2013 following the toppling of President Muhammad Morsi, who replaced Mubarak just over a year earlier. Egyptian violence accounted for "the majority of sub-state violence recorded by JTIC," Henman said.

In Libya, meanwhile, which suffered an 8-month civil war in 2011 that led to the toppling of strongman Muammar Gaddafi, there were 237 attacks recorded in 2013, up from 81 in 2012.
Syria and Iraq smoldering
Syria, where rebel and Islamist forces have been attempting to oust the government of President Bashar Assad since March 15, 2001, has witnessed a two-fold increase in attacks between 2012 and 2013.

"Due to a plurality of factors, the anti-government insurgency in Syria intensified notably in 2013," the report read. "Between 2012 and 2013, the number of attacks recorded by JTIC almost doubled. In 2012, we recorded 2,670 attacks. In 2013, that number jumped to 4,694."

Meanwhile, Iraq, struggling to get back on its feet after a nearly nine-year-long occupation of its territory by US-led forces, is coming under a barrage of suicide attacks.

"A key indication of the intensifying level of violence in Iraq was that the number of suicide attacks in the country quadrupled from 2012 to 2013, with the 2013 total almost triple that recorded in neighboring Syria and almost double that recorded in Afghanistan," the report said.

In 2013, 207 attacks were believed to be carried out by Al-Qaeda in Iraq (AQI), which represents a 160 percent jump from the 79 recorded in public sources in 2012.

The report pointed to the "AQI's predominant role" behind the 52 percent increase in the recorded number of attacks in Iraq and the 148 percent surge in non-militant fatalities.

"In 2012 there were 2,297 attacks in Iraq. At the end of 2013, that figure stands at 3,499," the report said.
For RT's report on Iraq carnage, click here.
World of Warfare: Top 10 most active non-state armed groups in 2013
1. Barisan Revolusi Nasional (Thailand)
2. Taliban
3. Islami Chhatra Shibir (Bangladesh)
4. Communist Party of India – Maoist
5. Al-Qaeda in Iraq
6. Harakat al-Shabaab al-Mujahideen (Al-Shabaab)
7. FARC (Colombia)
8. New People's Army (Philippines)
9. Jabhat al-Nusra (Syria)
10. Unified Communist Party of Nepal – Maoist

Source: IHS Jane's Terrorism and Insurgency Centre
You can share this story on social media: